by redazione666 on Apr.12, 2018, under ALBUM, J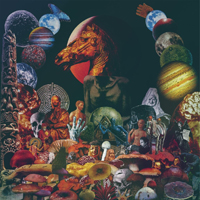 (Svart Records) Terza prova per gli occult rockers finlandesi, capitanati da Jess, la lead vocalist che si spinge sempre di più verso il soul. Il nuovo lavoro torna ad un rock ricco di energia, groove e sonorità marcatamene vintage. Un po' si perde quella direzione psichedelica, ma si intensificano keys e organi, offrendo un feeling caldo, organico, intenso, confermando quella provocante direzione occulta. La line up cambia nuovamente: se con il primo album c'erano tre chitarristi e con il secondo due… ora ne rimane solamente uno, Thomas Corpse, fondatore e compositore principale della band. Ma la band continua a crescere, ad evolvere, a cambiare il suono prendendo direzioni diverse, rimanendo comunque dentro un contesto personale ed estremamente identificativo. Ricca di pulsazioni prog "Death Is The Doors". Dannatamente vintage "Shining". Progressiva e molto rock "Return to Hallucinate". Infinitamente melodica e deliziosamenrte graffiante "(Here Comes) The Rainbow Mouth". Intensa e ricca di suono sanguigno "You And Eyes". Evocativa "Anyway the Minds Flow", un caleidoscopio di suoni avvolgenti. Musica ricca di sentimento, spirito, passione. Grove illimitato. Suono corposo. Musica carnale, vera, composta e suonata con il cuore, prima che con gli strumenti musicali.
(Luca Zakk) Voto: 8/10
Attenzione / Warning

È vietato copiare, riprodurre, ripubblicare, pubblicare, visualizzare pubblicamente, codificare, tradurre, trasmettere o distribuire qualsiasi parte o contenuto di questo articolo senza previo consenso scritto da parte di METALHEAD.IT. È tuttavia liberamente consentito pubblicare un link diretto a questo articolo sui vostro canali e social network.

It's forbidden to copy, take screenshot, repost, publish, broadcast, show in public, encode, translate, transmit or distribute any section or content of this article without a written approval by METALHEAD.IT. It's allowed to post or publish a direct link to this article on your channels or social networks.
:
recensione