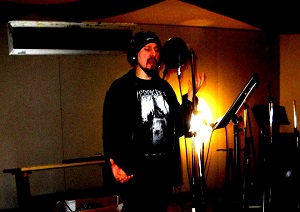 Part 2 (here's the part 1) and the video of "The Nameless City"
So the work has been done following the usual order as any other album has been recorded, in November 2012 if I'm not mistaken Claudio Tirincanti recorded the drums at Domination Studio in San Marino, Claudio's files (along with Alisa's demos  as reference) have been sent to the Americans Gabriel Monticello (Spaceseed) and Sparky Simmoms (Acid FM), respectively bassist and guitarist, who recorded their parts, in parallel Alisa was refining the various synthesizers, to let me have at least 80% of the songs ready, so that I could sing having enough definitive material to enter in perfect harmony with the music. Then the missing 20% ​​was actually made up of guest appearances, as Cyndee Lee Rule (violin, Spaceseed), Bless (piano, Hortus Animae), James Hodkinson (mellotron and moog, Pre-Med) and Nik Turner (sax and flute, Hawkwind), so I had all that was the necessary basis to work properly.
So, I recorded vocals in March 2013, again at Domination Studio, then there was a wait of a couple of months to receive the files from Cyndee, Bless, James and Nik and, at that point, Alisa has jumped, body and soul, into the process of mixing and mastering, which ended around May 2013 to be able to release the album in August by the Swedish label Transubstans Records, which is the same one that released the first episode of the trilogy. I do not know how she got the proposal because Alisa is the one who takes care of this matters, but I know that Transubstans is one of the most valid labels for the music style we offer, so it was the best that could happen. Even the artwork and frontcover matters are all on Alisa, who relies on Kevin Sommers, working with Space Mirros from the "Majestic-12: A Hidden Presence" album of 2008, our third album and the first to see my participation . Kevin's style very much reflects both the musical and lyrical style of Space Mirrors.
To sum up, I personally am very pleased with how "The Other Gods" turned out , the songs are full of impact, the arrangements are more targeted, the performances more precise. In short, the team was more tight-knit than usual! And I'm hoping for an even better result for the next record, and there are all the numbers to make it easily happen. I am pleased to collaborate on this project and to express myself in territories which for me are always ground for challenge. I like to overtake my limits.
About lyrics, they are, as I have already explained, completely work of Alisa, but I am comfortable there, as myself I was a great devourer of Lovecraft's works years ago. So there will be another album that follows these coordinates, I assume with exactly the same line-up, and I'm curious to see which twists and turns we'll chase out once completed this trilogy!
(Martyr Lucifer)