Comunicato stampa
FESTERING WOUNDS UPON THE ALTAR
Sabato 7 Gennaio 2017
Blue Rose Saloon
Via Carolina Romani 1/11
Bresso (MI)
Orari:
Apertura porte: 20:00
UNCREATION: 21:00 – 21:30
EKPYROSIS: 21:40 – 22:10
NECRO: 22:20 – 22:50
MEFITIC: 23:00 – 23:45
DEMONOMANCY: 00:00 – 00:45
Ingresso: 10 euro
Evento FB
Descrizione:
Sabbath 07/01/17
FESTERING WOUNDS UPON THE ALTAR
[Leviticus 22:22]
+++ DEMONOMANCY +++ Nuclear War Now! Prod.
From Rome, this abomination masters the blasphemous arts of the black/death tradition of the mighty Beherit, Blasphemy, Archgoat… The oath of black blood shall be sealed, as all hells break loose!
+++ MEFITIC +++ Nuclear War Now! Prod.
In one of their selected live appearances, a ritual of occult death/black will rejoice us in bestiality thought the cult of Incantation, Profanatica, Von, drowned into an abyss of echoing woes of pain and death!
Last date in support of their Woes of Mortal Devotion album, and exclusive Italian appearance for 2017.
+++ NECRO +++ Iron Bonehead
Freshly exhumed from a Fulci's set graveyard, these Impetigo/Massacre/Necrophagia worshippers stand for everything old school death metal should be: the ugliest and most disgusting form of musical expression!
+++ EKPYROSIS +++ Memento Mori
Straight from the local area underground sewers, these young death-dealers hail to the morbid inheritance of Incantation, Sadistic Intent, Grotesque… Death metal in the filthy and relentless ancient way!
+++ UNCREATION +++ Locust Swarm
Once known as Morbid Upheaval, they are back from the dead, more rotten than ever.
________________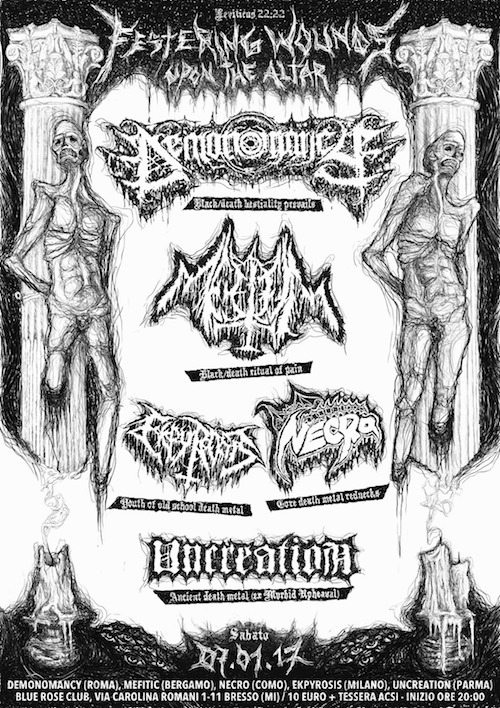 (N.Brambilla)