by redazione666 on Gen.20, 2020, under NEWS
I SONS OF APOLLO, la band formata dagli ex-Dream Theater Mike Portnoy e Derek Sherinian, Ron "Bumblefoot" Thal (ex-Guns N' Roses), Billy Sheehan (The Winery Dogs, Mr. Big, David Lee Roth) e Jeff Scott Soto (ex-Journey, ex-Yngwie Malmsteen's Rising Force), hanno fattoi uscire  Inside Out Music il nuovo album "MMXX"!
L'album è stato prodotto dai The Del Fuvio Brothers (Portnoy e Sherinian) ed è disponibile QUI nei seguenti formati:
-standard CD package
-Limited Edition 2CD (contenente mix strumentali e a cappella dell'album)
-2LP + CD
-digitale
Un breve commento della band all'ultimo singolo "Desolate July":
I Sons Of Apollo hanno recentemente pubblicato un video per questo brano, diretto da Christian Rios e dedicato alla memoria di David Z, l'artista e collega della band tragicamente venuto a mancare nel 2017:
Copertina e tracklist: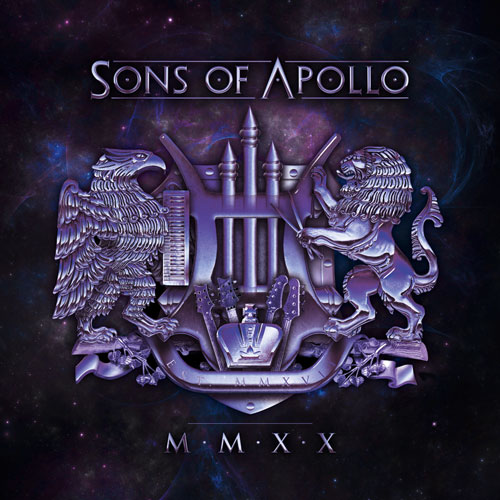 1. Goodbye Divinity (7:16)
2. Wither To Black (4:48)
3. Asphyxiation (5:09)
4. Desolate July (6:11)
5. King Of Delusion (8:49)
6. Fall To Ascend (5:07)
7. Resurrection Day (5:51)
8. New World Today (16:38)
I SONS OF APOLLO saranno in Italia per un unico show l'11 marzo 2020 presso il Live Music Club di Trezzo sull'Adda (MI), di seguito tutte le date del tour europeo:
Attenzione / Warning

È vietato copiare, riprodurre, ripubblicare, pubblicare, visualizzare pubblicamente, codificare, tradurre, trasmettere o distribuire qualsiasi parte o contenuto di questo articolo senza previo consenso scritto da parte di METALHEAD.IT. È tuttavia liberamente consentito pubblicare un link diretto a questo articolo sui vostro canali e social network.

It's forbidden to copy, take screenshot, repost, publish, broadcast, show in public, encode, translate, transmit or distribute any section or content of this article without a written approval by METALHEAD.IT. It's allowed to post or publish a direct link to this article on your channels or social networks.
:
news