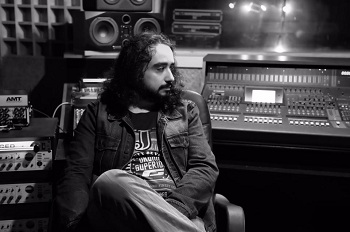 A virtuoso that's able to add this middle east feeling, this exotic taste to the neo-classical guitar playing. Amadeus Awad entered the scene almost silently, but immediately showed the world what he can do with that guitar. An absolute new talent, a great musician, an artist that can really paint pictures with the melodies he plays. Focused on his project, he attracts a wide range of top artists, so much they seem being in a queue to be a guest on his albums. Here at METALHEAD.IT we noticed him when he released his first album. We simply foresaw the world was about to be gifted with a new genius. So, right before his new album gets completed and released, we wanted to dig deeper, and get to know this mysterious guitar player; It turned out he is very open and kind, we had a very nice talk about his music, life and country. [versione italiana]
Hello Amadeus, thanks a lot for the time you gift us of METALHEAD.IT
Well, you know I came to know about your music when you released "Time Of The Equinox". I found out about that because Mark Boals was singing in it. You're getting known around now. Can you tell us something about your career and how you entered the virtuoso metal scene?
To make a long story short, I started playing in cover bands at a very young age, but I always knew that one day I will be releasing my own music and I invested all my time and efforts to achieve this.
In 2010 I started my carrier as a solo artist and all was going great, I released my first EP "Ghost Stories" and then my full length album "Time Of The Equinox" which was followed by "The Live Equinox" tour.
Late last year, the members from my solo project and I, especially the amazing drummer Patrick Stephan, started working together on the new EP. The amazing harmony that we built through years of playing together resulted in very solid bases for what was later called "The Book Of Gates", and as everyone knows now, we are operating under a new name: "Amadeus Awad's EON". The band now is one working entity and we are very happy with what we have achieved. Amadeus Awad's EON is Elia Che on vocals, Samer Zouein on bass, Patrick Stephan on drums and me on guitar.
How did you get in touch with Mark Boals for that album?
I sent an Email to both Mark and his manager, they heard the material and in few days we signed a deal.
This was the best moment in the history of my carrier as a solo artist, Mark is one of the best metal singers out there, I was obsessed with his voice!
You are from Beirut, Lebanon. There isn't much rock from the Arabic countries. Also I am sure that not all middle east countries are the same. How does it work over there?  How do you live and play in your country? Can you briefly describe your country, your culture, to us western people, so we can understand better the scene and the music?
It is very very hard to maintain a life as an Artist in Lebanon, especially that the music that we play is not really what the Lebanese average listener expects, we are somehow considered aliens on some levels. Lebanon is a mixture of paradoxes, we a society that it is so diversified; it can be scary at times. We act like Europeans and think like Arabs, some of us live like there is no tomorrow, others as if they will meet their maker in a few seconds. It is so modern yet barbaric. I am lucky to have managed to lead a life as a musician, and this is due to hard work and endless efforts, I hope things will get better soon. The ultimate thing for the band now is to get signed and start touring, and we are on the way to achieving this.
Your view on the middle eastern area? Where is it going? What does future its hide?
The Middle East now is a war zone, look at what is happening in Syria, Egypt and Lebanon! This is really a very sad time for us and it is affecting everything, we were supposed to play three shows in Syria last year and all was cancelled. I am sure that the situation, as sad at it is, is inspirational, in the end art is a kind of a social movement and it is highly affected by what is happening on this level. As for metal music from this part of the world, it has evolved in a wonderful way in the past five years, there are many great bands who are making wonderful music.
I know that there are some guests on the next album. Mostly Timo Tolkki, Kevin Moore and Amanda Somerville. How did you manage to get these guests? Have you ever met them, known them before? Other guests on the way?
I am a dreamer, the kind of dreamers that work hard to achieve what they want. When I started thinking of recording this project I was determined that the diva Amanda Somerville will be the one singing the female parts, and I believed in myself and in my music enough to make this happen. Timo & Kevin are my childhood heroes, I used to cover Stratovarius in one of the bands I played with before and they are one of the few power metal bands that has an impact on me, Timo is a very sensitive person and I adore his song writing, and I truly believe that Kevin is the best keyboard player to ever walk this earth, the guy has got it all. I believe that the artists I am working with believe in me and in my work, and this is a huge honour. And yes we have other major artists to be announced soon.
Any plans to be a guest yourself in somebody else album? Where would you like to be a guest player? Maybe returning the favour to Timo, or maybe in some rock opera project like Avantasia or Ayreon?
Actually I was asked to guest on an album by a huge prog/psychedelic band in the future, I just cannot say who right now. As for Timo, he is like a brother to me, and I would be ready to do whatever he asks me to.
Playing with Avantasia is a dream, it might come true, who knows?
You made public the title and the cover of your upcoming "The Book Of Gates" album. Can you tell us how it is going to be? Also who painted the cover?
"The Book Of Gates" is a middle eastern progressive metal opera, it is a fusion between a lot of elements and sounds, all mixed together to serve the story. Expect a very heavy and angry album with very emotional interludes. The album art was designed and executed by Bernard Bou Kheir, and I believe that it could not get any better, the whole story with all its complications is imprisoned beautifully in one frame.
Your music production rates you among the virtuosos, like Yngwie Malmsteen, Axel Rudi Pell, Joe Satriani, Richie Blackmore. A clear style and brand. Each of these guitar player have their own style. Can you describe your style, your choice of melodies, chords and some juicy info for those guitar freaks out there reading this interview?
As much as I would love to do this, I really have no answer!!! Everything I play is an expression of what I am feeling, the choice of notes and chords is just a projection of the energy that would be flowing inside me at that moment.
How do you create your melodies? How do you craft your songs, and where do you get inspiration from?
I always say that music is my voice, it is my connection to everything around me. I developed a close relationship with the different powers and elements of Nature; Winter Storms, Cloudy & Starry Nights and in particular the moon; this relationship is what crafts everything that is Art for me.
Can you say something about your gear? What guitars, amps, racks, effects do you use? Are you endorsed by some of these brands, or are you still without sponsors?
My main guitars now are Ibanez, but I might be moving away from that soon because I am receiving endorsement offers from other companies. I am an AMT artist and I love their products, the AMT Stonehead amp is my main weapon now, I use it with a Laney Iron Heart cabinet and the combination is explosive!!! I recently got a Delay Lab from VOX and I like it.
You previous album was sold digitally. Did it exist on physical format too? What about the next one? Any plans do to a vinyl too?
"Time Of The Equinox" was available in physical copies in Lebanon, I am not sure about the next one, the band will take a decision regarding this when all the work is done.
You self released "Time Of The Equinox". I mean, there was no label. How is it going to be for "The Book Of Gates"?
We are in contact with certain labels, we cannot share information about this now, but expect good new very soon.
What is your view about music industry? I've been talking this topic with Timo Tolkki, your guest. He also tried Pledge out. I'd really like to know your opinion about this topic. What about the old industry, the new digital markets, ownership of the rights of the music and independent free labels?
Well, as odd as it might sound like, I am not into this for the money. I do not want to become a product, I am in for the artistic side; the money will help sustaining the production. Of course I want people to buy my music, but I do not feel bad that a lot of them got it for free, in the end it belongs to them, I am talking to them.
A musician should play live. So, about touring: Is there a chance we are going to see you touring? Will we see you in Europe sometimes?
The best part is playing live, I am in love with this!! I hope that "The Book Of Gates" will open the door for us to have a decent European tour. We turned down many offers in the past year because we do not want to simply go and play in empty clubs, we want a well-managed tour.
If you had to go for a long tour, who would you support or who would you like to be your supporters?
We would love to be touring with Kamelot; I think it is too early for us to think of someone to support us.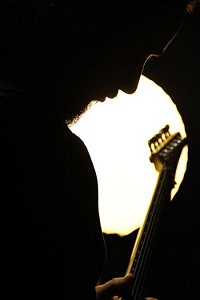 One final question: artists you like and that inspire you? What never leaves your mp3 player playlist?
Anything by Ritchie Blackmore and Pink Floyd. For me this is where music is hidden.
Ok, Amadeus. It has been a pleasure. You can close this saying whatever you want, not forgetting, anyway, to salute our loyal METALHEAD.IT readers in Italy and around the world.
Thank you for this opportunity, you are doing a great job on your website, we promise the Italian fans that we will be visiting them soon.
(Luca Zakk)