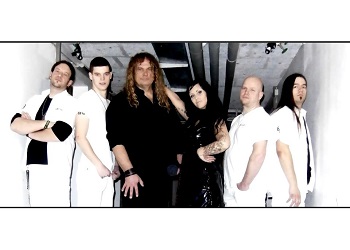 Interview, in english and german, to Heinz Zürl (Eisenherz)
Hi there, thanks for this interview. Have you ever been interviewed by an Italian webzine?

Hallo, und Dankeschön für dieses Interview!! Hatten Sie schon ein Interview mit einer Italienischen Webzine?


Thank you too – No, it´s the first time we make an Interview for Italy.
Ich danke Dir auch! Nein, das ist das erste Mal, dass wir ein Interview mit einem Italiener haben.
In 2006 your debut album and six years more to have "Fluch der Zeit" out. What did you do meanwhile?
2006 haben Sie ihre erste Schallplatte veröffentlicht und dann sind sechs Jahre bis die Veröffentlichung der neuen "Fluch der Zeit" vergehen. Was haben Sie in der Zwischenzeit getan?

About five years ago we accomplished our first edition "Fluch der Zeit" (Oath of Time). Then we recorded songs by Michael Mainx to a perfect level. We could have released FdZ already two years ago. But unfortunately we had to check some points first so the release of our album had to be delayed.
Vor ca. 5 Jahren hatten wir bereits die ersten Demos zu "Fluch der Zeit" fertiggestellt. Danach haben wir die Songs bei Michael Mainx im Studio aufgenommen und diesen den feinschliff gegeben. Wir hätten FdZ schon vor 2 Jahren veröffentlichen können. Es mussten jedoch vor der VÖ einige wichtige Punkte geklärt werden, die den Release nach hinten verschoben haben.
You sing in German, while everybody is used to English. Do you think this could be a problem for an Italian, a Spanish or any other country listener? Did you ever get this pointed out by non-german speaking people?
Während alle Metalbands auf Englisch singen, benutzen Sie Deutsch. Denken Sie, dass das ein Problem für die ausländische Zuhörer sein kann? Haben andere nicht-deutschsprachige Personen das schon bemerkt und gefragt?
I think this way to sing in german fits perfectly to the songs. It leads to a more dynamic effect. There are already some other examples where fans worldwide sing along songs in german. It depends on any song itself.
Ich denke die Art auf Deutsch zu singen passt genau zu den Songs somit hört sich das ganze sehr dynamisch an. Wir denken es wird da keine Probleme geben. Es gibt ja bereits einige Beispiele da singen die Fans weltweit die Songs in Deutsch mit. Es kommt immer auf den Song selber an.
I liked the album as it flows on beautifully. The symphonic component is well mixed to the rest. Is press rewarding you? What did press got out of your sound?
Ich mag die Platte sehr, es klingt wunderbar und die symphonischen Elemente sind sehr gut mit den anderen Teilen gemischt…
Our sound with elements of classic music is accepted very well so far. They were produced by the Frankfurter Symphoniker in a studio. You will easily find out that these parts reflect a high level of quality.
Unser Sound mit den Klassik Elementen wir sehr gut angenommen. Diese haben Musiker der Frankfurt Symphoniker im Studio eingespielt und man merkt das die Klassikteile nicht aus der Konserve kommen.
Can you briefly tell me what your lyrics are about?
Können Sie mir bitte die Themen Ihrer Textlieder erklären?
My songs are based on personal experience. The contend deals with socio critical subjects like mobbing or existential fear. There are also songs that tell about love triangle, separation and acceptance of separation. The stories also lead the audience in a world of dreams and illusions.
Die Songs brassiere zum Großteil aus persönliche Erfahrungen. Inhaltlich werden sozialkritische Themen wie Mobbing und Existenzängste in den Songs wiedergegeben. Weiterhin gibt es noch Songs die von Dreiecksbeziehungen, Trennungen und Trennungsschmerz handeln. Tielweise führen die Erzählungen den Zuhörer in erotische Traum- und Scheinwelten.
How does Yvonne Groh relate to the music? Does she take part during early songwriting, or later when the song is already structured?

Was ist die Rolle Yvonne Grohs? Schreibt sie die Lieder mit den andern Bandmitgliedern oder beteiligt sie sich nur am Ende, wann das Lied schon fertig ist?
Yvonne's part is always recorded last. This gives us the opportunity to try out different variants. This operation method has worked out fine so far.
Yvonne singt ihre Parts immer zum Schluss der Aufnahmen. Das gibt uns die Möglichkeiten verschiedene Varianten zu testen. Die Arbeitsweise hat sich bis jetzt sehr gut bewährt.
Thank you for this interview. I really hope you can get a wider and wider fanbase as you deserve it. Metalheads from Italy are reading your words, tell them something, salute them.
Dankeschön für dieses Interview, ich hoffe, dass Sie die breite und umfassende Fanbase, die Sie verdienen, erreichen können. Die Italienischen MetalHeads lesen dieses Interview, bitte begrüßen Sie unsere Leser!
We thank you too. We are lucky of having a good worldwide fan base. You can check out
http://www.facebook.com/EISENHERZofficial We have a huge feedback worldwide and would appreciate tours in all those countries. We still have backlog demand according to live concerts and we are looking forward to playing in Italy as soon as possible!
Vielen Dank auch von unserer Seite. Wir haben weltweit in vielen Ländern eine gute Fanbase das kann man über unsere Facebook Seite http://www.facebook.com/EISENHERZofficial sehen. Hier sind fast alle Nationalitäten vertreten, jedoch würden wir uns natürlich über Touren in diesen Ländern freuen. Wir haben sehr viel Nachholbedarf was die Live Aktivitäten betrifft. Italy wäre auf jeden Fall eine super Sache wenn es in naher Zukunft klappen würde.
(Alberto Vitale)
Thanks to Luca Zakk and René Urkus