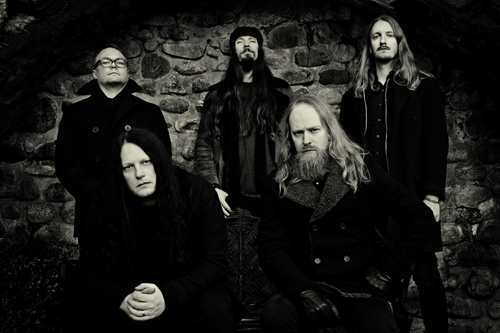 Not happy with a "normal" interview with Daniel Moilanen (drummer), Metalhead.it wanted to double and, as a kind of social experiment, wanted to ask the same questions to Niklas "Nille" Sandin, bassist of the band since 2010, with many surprises about the answers we got. You can judge and see where lies the truth… (leggila in Italiano)
MH: Hello from Metalhead.it! Let's go straight to the core: your 10th album, "The Fall Of Hearts" is a good candidate to become an essential album of your discographty. The final result is fresh and very new, even after several spins… was it your target from the beginning to make it sound like this?
NS: I'm not sure if this was the target. I think it was just something that came natural with this album. It has lot of ingredients from the past catalogue and I'm really happy with it. It's a bigger album in that sense than the previous ones.
MH: Many, comparing the new album with "Dance Of December Souls", might be disappointed given the very marked style difference… But I believe, as I said on my review, that all your releases are somehow part of grand scheme of things, some kind of human emotions compendium…
NS: (laughs, editor's note), yes it's quite a different sound scape found on the new album compared to that one. But it's nothing new since the main difference came with "Discouraged Ones" released back in 1998.
MH: Well, if we wanted to compare your albums to human emotions, what emotions would be connected to the new release?
NS: It's not the joyful emotions you might find when listening to upbeat power metal. The emotions you might find yourself having when listening to Katatonia is dark and bleak. It always has been and the new release isn't offering anything different.
MH: Still talking about the last album, I'd dare to say that "The Fall of Hearts" is your Rock album… long shot?
NS: It's not a long shot, but I don't think i'would call it the "Rock album". I think the earlier mentioned "Discouraged ones" and "Tonighs Decision" has a more straight forward approach. Since the new release is so big and encapsules almost all corners of Katatonia, you'll hear this on "The Fall Of Hearts" as well.
MH: I've had the luck to see you live in 2006, "The Great Cold Distance" tour. That night Jonas wore a Tool hoodie. I remember this details for two reasons, one if that I love the american band, but also because I always found some kind of similar sounds between the two bands. Am I wrong or are you aware of this parallelism?
NS: I bet it was a cool evening and that was even before my time in the band. There's some similarities in some riffs between TOOL and Katatonia. Especially on "The Great Cold Distance" and even in some songs on "Dead End Kings". I heard it from people and also seen the parallel online.
MH: Many fans are hoping about a return to the origins, maybe with growl singing and other stuff of the like; on the other hands, other fans -such as myself- are thinking that extreme music doesn't mean extreme sounds, I mean that somehow you still create extreme music… What do you think about?
NS: There's no plans whatsoever to return to a more stripped down and extreme approach with Katatonia. That's in the past and sometimes we're celebrating that era in the band by picking out some songs live. But further than that I have a hard time believing we will take it. And yes, I also believe that you can be extreme without doing the harsh vocals. But Katatonia is not about being extreme. It's about delivering dark and beautiful tunes to touch your inner dark soul.
MH: I've seen you joined the Record Store Day in 2014, with a vinyl full of rarities and b-sides… What do you think about these "music-days"? Do you still believe in the physical support? It seems that you still stick to the vinyl, since you seem to always offer a 33rpm version of your works…
NS: I do believe in the physical copies and i'm myself a consumer of those. It's just something more rewarding to put on a vinyl when enjoying music. Even CD's beats the MP3 or Spotify. And that makes you feel more supportive to the band, which is more important today than it has ever been.
MH: Change of topic. Different projects such as My Dying Bride (Evinta project) and Anathema ("A Sort Of Homecoming" gig) and your "Sanctitude", do you think that you can push yourself further ahead, maybe with a real orchestra?
NS: We're actually doing a gig with the Plovdiv philharmonic orchestra later this year in Bulgaria just before we're heading out for the lengthy European tour. It's a format we've never tried before and it's taking the whole thing one step further. We're also playing "The Great Cold Distance" in it's entirety that evening, marking the albums 10th anniversary.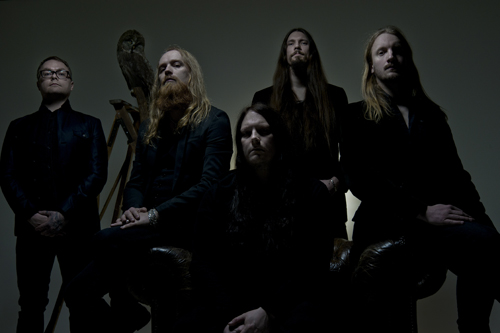 MH: Well, since we talked about these projects, can you tell me more about "Dethroned And Uncrowned"? Why such a singular choice?
NS: It was an idea spawned from listening and realizing how much life there's in the ambience sounds of "Dead End Kings". Could this actually work as a re-vamped acoustic version? Yes it did, and we could also take it out on the road with some brilliant musicians.
MH: Do you listen to music in your daily life? If so, what genres?
NS: This is gonna be a short but sweet answer. Yes! And all music in all genres that's good gets my attention.
MH: Do you think your very beautiful country has influenced your songwriting?
NS: I think it's more our ever changing weather and long periods of absolute darkness has some kind of influence (laughs, editor's note).
MH: Ok, we are ending this. Thanks for your kindness. Let's hope to have you in Italy again. Please end this as you prefer…
NS: Looking forward to play in Italy again and i'll make sure to catch an pizza á la the original!
(Enrico Burzum Pauletto)