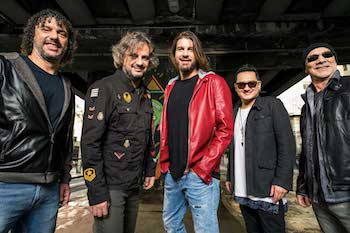 At the end of 2017 the Brazilian band Republica was in Sweden to open the Scorpions shows and in France and Belgium as Alice Cooper's opener. It was a chance to talk with Mike Maeda, band's drummer, and in particular about the new album "Brutal & Beautiful".
I like your songs, because they are true songs. You created an album full of energy, melody, rock, hard rock and metal. There is a lot of stuff in "Brutal & Beautiful".
Thanks for the kind words. This album had a long process of development. We began to write the songs before the Rock In Rio 2015. In a first moment we recorded  a demo with Lampadinha. He is a Brazilian record producer and a good friend. By the way he is living in Los Angeles now and doing very well. The idea since the beginning was to make a heavy rock album but modern where the members could explore their personal music influences. All members of the band brought ideas of melodies, harmonies, grooves and lyrics. The process was very intuitive and natural. These material we sent to Matt Wallace. He loved our stuffs and agreed to work with us in a short period of conversation. When we arrived in LA during the pre-production, Matt made a magical work! He altered the structures of some songs, made suggestions to change lyrics, melodies, harmonies. In our opinion he is the difference in the final result. Today we can say that we are a big family. He is the guy!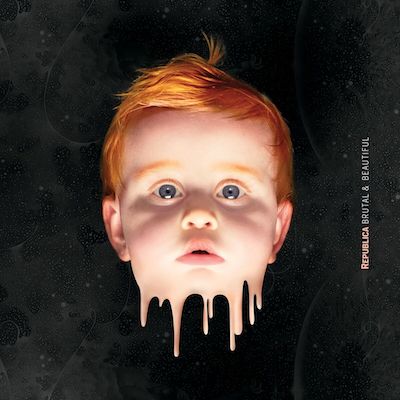 The artwork is shocking. It's looks strange, impressive… How did this artwork came out?
The artwork was created by Sérgio Gordilho. He is a very well know and respected Brazilian creative mind who won a lot of important awards in artwork, advertising, design, etc worldwide. We sent him the new songs and told him how was the process of recording it in LA with Matt Wallace. After that he spent a time analyzing the lyrics, the songs and the idea behind the name "Brutal & Beautiful". One day he invited us to a meeting and showed us the "baby" cover. I remember that day perfectly because was love at first sight for all of us. We knew that that was the cover, it represented the whole concept of the album……it was Beautiful and Brutal, strange, impressive and even disturbing…….just PERFECT!
Why Matt Wallace? It was a perfect choice, but was he immediately your first choice? How was working together?
Matt Wallace was the record producer of  Faith No More and other great bands that we are fans! He also is a hit maker of Rock! The perfect choice for a band with the ambition to stand your ground worldwide. When we began to think about who would be our record producer of this album, we made a list with some names. After that we sent the material to them. Matt and other record producer answered to us and we choose him. Matt Wallace is an amazing human being. The process to work with him was MAGICAL and very impressive. He is a great musician and an excellent dealing with people, specially musicians. Work with him means to have the best of you!
Do you have good feedbacks in the other countries of South America? In which ones?
We released the new album very recently. But we know some fans in Chile and Argentina and we will certainly focus South America next year, Our main goal now is to do well in Europe.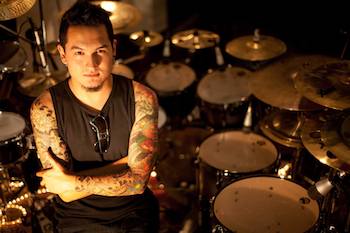 What's the origin of the band's name? You think it is good for a rock band?
The name refers to the idea of union and family, gathering of people with a common interest. For me it's a perfect name to a rock band because Republica means republica in al every country in the world.
Republica will play in Europe with Alice Cooper and Scorpions. Will it be the first time for you in this continent? Will you come back in Europe after these dates?
Yes, this is the first time of Republica in Europe. We are going to be back very soon! It's a promise.
What does it mean to play at Rock in Rio? It's one of most important festivals of the world!
It's a honor to play at Rock In Rio. Always! We played in the festival for three times and all gigs were very very very special! We have a very close relationship with Rock in Rio and they know that they can trust us to deliver a great performance every time.We love the festival and also is very cool to make a BIG concert in our home country.
Thanks a lot and good luck in Europe. Hope to see you in Italy one day or another! Last words are for you.
Thank you very much Metalhead for this opportunity! We hope to play in Italy very soon and we invited all Italians metalheads to listen to our new album  "Brutal & Beautiful". Enjoy without any moderation! See you soon fellas! MUITO OBRIGADO!
(Alberto Vitale)