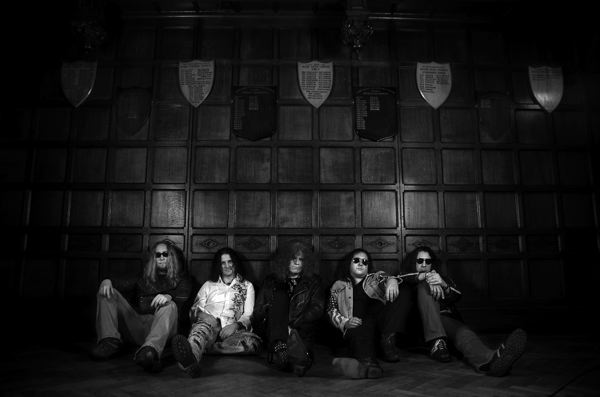 They are new, they come from one of the countries that crafted the greatest sounds of the planet. They are different somehow, they play an hard rock with a new feeling: if 80s hard rock reflected the craziness of that age, Scream Arena's sound sticks to that genre rules, but paints everything with a darker shade of black, like if once again hard rock can describe the feelings and the attitude of an age. I had the luck to talk to Andy, the singer, who was kind enough to stand all my random questions, answering with details and passion. After all this is the way he sings and the way the whole band plays this wonderful music.
Hi there! Thanks for the interview! I had the pleasure to review your debut album, and I definitely loved it. Good change to ask you few questions, let's go: As press release clearly says, you come from something like the great land of rock. Your country, UK, offered the world great acts. How did you get to form your own band? Is is "the land", is it that "you felt you had to do it"?
Andy Paul: Hi, Luca, and first of thank you for your kind words about Scream Arena, such support is much appreciated. The band, or rather the idea of it, first came into being around 2006 when I met a bass player and songwriter Nick Daniel who, much like myself, was frustrated by what had happened to rock music in the UK. Nothing had really emerged since Whitesnake and Def Leppard. Of course there was The Darkness and they wrote great songs but there was always an air of impermanence about them. Nick and I found a guitar player, a great player Christian White, who had spent time at G.I.T and we spent a year or more just writing songs before recruiting other members and then taking the band into the live arena. It was as you noted something we simply felt we had to do, which on reflection may come across as a little arrogant but that was not the intent. Everything we had grown up on inspired us to put Scream Arena together, and that is as complicated as it gets.
How do you relate with the incredible rocking tradition of UK? Do you feel you are keeping it at high level, and what are your plan to keep on doing that?
Andy Paul: It is something in the water!! LOL. One would have to live under a rock not to be inspired by the tradition and culture that gave us the Stones, Led Zeppelin, Bad Company, Yes, Magnum, The Who, Deep Purple, Queen, Iron Maiden, David Bowie, Def Leppard, Free, Glenn Hughes, Whitesnake, Rainbow, Judas Priest, the list goes on. It would be immodest in the extreme to make any claims for Scream Arena, we simply aim to write the best songs we can while paying due respect to those who have gone on ahead of us.
Few tales about how the band arrived with current line up? Few words about your story, few key facts…
Andy Paul: The line up of the band has changed along the way, people come and go, their goals and priorities change and and I am the last man standing from the first faltering steps that the band took. There have been no great dramas other than one drummer who quit the band via text 36 hours before a show and is now claiming he formed the band and was the driving force behind it which will result in he and I have some words before too long LOL. However, Scream Arena's identity remains the same because people come in understanding the principles and having sympathy for them and the current line up of Alex, Phil, Mick and Lincoln is simply one of a group of musicians who understand each other, respect each and can play and revel in the creative process.
Nice moniker, and with an impact attitude. How did you crafted it?
Andy Paul: Hmmm. The name came about by pure dumb luck and then a democratic vote. We were recording some demos one night and arguing over names. So while everyone else got intense with guitars I retreated to a quiet attic with a note pad and pen and followed the Def Leppard Principle, i.e. put two words together that make no sense together but sound good together. I must have written thirty or forty ideas down and Scream Arena was one of the last and everyone jumped on it et voila Scream Arena it became!
I was impressed by something that I really loved: your album is hard rock, purely hard rock, but it sounds so dark, so evil, if I may dare to say it. For some reason I felt some vibes I can find on Kingdom Come music, and also some WASP production (I love both!). How would you describe your music?
Andy Paul: Well, from what I have seen and read so far, people are finding all sorts of reference points in the music of Scream Arena. Kingdom Come, WASP, Ratt, Collective Soul, Accept, Lordi, Lynch Mob, Judas Priest, Van Halen, Queensryche, Tesla, Blue Murder the list goes on. I leave it for others to make the comparisons though some do leave me scratching my head in wonderment, Collective Soul being an example, however, to me it simply melodic hard rock music, based around good hooks, good riffs and storytelling in the lyrics. Though I would add that WASP are a collective favourite of us all and of course our producer Paul Sabu has some association with WASP, i.e. the song "Scream Until You Like It".
Most of the darkness I feel comes from how you sing. And also the lyrics got a feeling, not the usual hard rock party oriented stuff.
Andy Paul: Our producer, Paul Sabu, had a vision of how he wanted me to sing, with a dark raspy edge which he insisted was more soulful and involving. My natural inclination is to sing in a cleaner tone but I thought that Paul has been in the industry for a long time, he knows more than I do, so I would try and adjust my voice to his vision. Lyrically I try and tell a story, for example "Born Ready" which opens the album is a story of a getaway from a heist, inspired by the opening scenes of the Tarantino film "From Dusk Till Dawn", while "Forever" is based on the lyrical conceit that sometimes what you are looking for in life is where you started from in the first place, while "The Price of Love" is a true tale of high adventure set mostly in Paris.
What was the overall plan when you got to write this beautiful album? Musical rules? I like, just to name one thing, how keyboards show up without having that pop-hard rock dominant position (in "Racing To The End Of Night" keys are fantastic!).
Andy Paul: There was no overall plan, we wrote 40 songs or so and for reasons of fairness thought it best if Paul Sabu chose the ones for the album and we simply tried to write songs balancing melody with crunch and if something had to be added to the song, such as they keyboards on "Racing…" so be it. Indeed "Somewhere" had keyboards removed because we wrote it with a big Hammond keyboard line on it and Paul felt it inappropriate! So whatever it takes, whatever the song seems to need we go with.
Another thing I appreciated a lot is that you didn't to the same lazy 30 minutes album (nowadays there are production badged as albums being barely longer than an EP). You pleased your public with 11 great tracks, and 50 minutes of solid hard rock. How did that happen? I guess you may have more tracks that weren't included in the debut and I also guess you're one of those productive artists…
Andy Paul: Well as mentioned earlier we had 40 songs for the album plus there is a whole other catalogue of songs in storage which may appear in time, while we are writing new songs now. Indeed we include a couple of new songs in our live set. So we will never suffer from lack of songs or least not for a little while lol. I do think that sometime people put too many songs on an album, I would rather listen to 8 good songs than an album of 15 songs where mediocre songs have been included just so an album can appear as value for money
How is the album diffusion going? Was it a "let's see how it goes" idea? Future? More music?
Andy Paul: The album came out on April 7th, so that is a week as I answer these questions and Mighty Music and our manager Dave Tedder have been working hard to get the album out there. So we shall see. Of course not every review has been positive but in general most have. The future will simply see more music from us and probably a video.
Touring: it's hard nowadays to go on tour, it's damn expensive, and going abroad isn't surely easy. What's your plan? Any hope to see you in Italy?
Andy Paul: Touring or even playing shows as an originals band is difficult. Venues and promoters have a real problem with even paying basic expenses and some even get offended if you broach the subject. Indeed we reckon a rock and roll minute is the time between a promoter making a proposal and the conversation ending once we have asked "and expenses?"!!! Of course we would love to play in Italy and if the album does reasonably well and creates interest then perhaps opportunities will arise that our management and label can look at. Let us hope so.
"Heartbreak Hotel". It isn't so common to cover Elvis…. and the result turned out so damn heavy I didn't recognize it (but listed as my favorite tracks of the album!)
Andy Paul: No, not common at all, and it was Paul Sabu's idea, he saw it as a means of opening up some doors that would be otherwise closed to a new band and I daresay in due course we will see the wisdom of that idea. I will be honest, I did not want to do it or indeed any cover at first but I guess I have been proven wrong and Paul right in terms of the interest that has been generated. I think people are wondering at our cheek, as if we were whizzing on a Picasso! Still it has been done with all due respect to it's origins, so I think we are safe.
Ok, thanks! Would you please close this interview with a message to your supporters and readers of Metalhead.it?
Andy Paul: On behalf of Scream Arena I would simply like to say thank you to all those who support us, who take the time to listen to us and are prepared to give a new band a chance such as the good readers of Metalhead.it. We cannot ask for anything more and we do appreciate it.