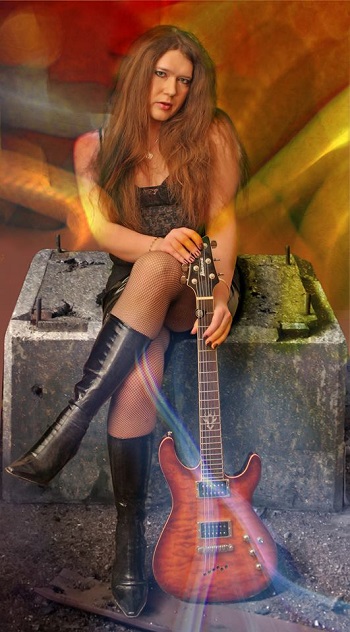 Interview to Alisa Coral (Space Mirrors)
Hello Alisa, thank you very much for your time. It's good to me and Metalhead to be hosting your words. How are you?
Hello Alberto, I'm fine, thank you, excited and waiting for the release of our new album.
I've always read that you have founded Space Mirrors. Where have you conceived this project? Also, which is the reason the line-up has always been very widespread and mutable as well?
The idea appeared after I released a solo synth album. I was talking with the Australian guitarist Michael Blackman about a possible collaboration. We tried a couple of songs together and then it was a done deal. Space Mirrors was born. I always wanted it to be an international project with many known guest musicians (like Arjen Lucassen who played on our debut). The music changed from album to album. With each album I got a more and more stable line-up. Martyr Lucifer is the singer of Space Mirrors since 2007. And actually it's him who could bring the stability to the project and it became more like a real band when we recorded our previous album "In Darkness They Whisper". He is responsible for the Italian part of the band. I always thought that musicians with heavy metal background would be the best for Space Mirrors and his friends from the band Hortus Animae were great choices. Through Martyr I contacted our new drummer Claudio Tirincanti known for playing in the Blaze Bayley band. So he also became a part of the new solid line-up. At the same time my American music friends also joined it. Sparky Simmons (Acid FM) became the new permanent guitarist, after he recorded for one song on the previous album and the professional upright/bass player Gabriel Monticello (Spaceseed) completed the new line-up. I hope the band with these current members will continue in the future. This is the band with which I'm sure we could play live and go on tour. We also have regular guests like Cyndee Lee Rule who plays violin, Nik Turner playing sax and flutes. I hope Bless (Hortus Animae) will play more piano on the future albums.
Five albums and the latest is the recent "The Other Gods" that comes with lyrics inspired by the "Cosmic Horror" by HP Lovecraft. Why these stories for the album?
Actually it's the second album inspired by the Lovecraft stories. The first one was "In Darkness They Whisper" and "The Other Gods" is the second in the trilogy. The Lovecraft stories are a great inspiration. I would recommend everyone to read this essay to understand more about what's behind his works. http://www.hplovecraft.com/writings/texts/essays/shil.aspx
How did all of you work? Did you meet for the recordings or you had to work remotely? For example, did that crazy Nick Turner guy physically materialize among you guys?
Sometimes we meet, sometimes we record at distance. Space Mirrors was one of the very first bands to start working over the internet back in 2002. So I know how to do that really good. It's not a problem these days and many bands work now this way. Nik Turner usually records at studios (this time in California, at Paul Inder's studio) out of our physical reach. He is a super busy musician but still he finds time for us each time. I would like one day to get him play with us live at some gigs, that would be awesome!
In your equipments also appear dated, vintage instruments… Or do you use only modern equipments?
Yes, we use some vintage instruments like mellotron and minimoog. But I also like modern synthesizers. Especially by Korg and Novation. For recording purposes I prefer modern equipment.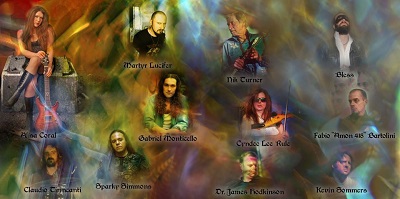 Will Space Mirrors be touring?
It depends on the financial situation. Space Mirrors just can't go to a local pub and play. We need to bring musicians who live in different countries to one place. Then there should be time for rehearsals. There are two places where we could have a rehearsal base – Italy or USA – because the main musicians of Space Mirrors are from these two countries. Musicians should be paid, they need something to eat, somewhere to live. We would have to hire roadies. Then we would have to create the show, decorations and special costumes. I can't imagine our music to be played live without the visual part. For me a live gig is a special event. To make a tour would require lots of money. So we probably need a sponsor for that.
The video format is often something that you have used (here). Is there any project in view on this kind of media?
I plan to release a couple more videos from the new album. But nothing really serious.
One question to the musician and one to the keyboardist. I ask the musician which band or other musician has been a real and strong source of inspiration. Then I ask the keyboardist who is the keyboard player that, more than anyone, has taught you something.
There are two sides to my music. On the cosmic, space/classic rock side it was Hawkwind (especially Robert Calvert and 80's eras) and Blue Oyster Cult. On the metal side it's Iced Earth, Iron Maiden (especially long epic songs) and Tiamat. As a keyboardist it was Tim Blake from whom I learnt everything. His work with Hawkwind, Gong and solo albums (especially "New Jerusalem").
You're also a sound engineer and you deal with mixing and mastering, moreover you play more than one instrument and you write songs and who knows how much more. I suppose you're able to take care of all the stages of making an album. Once finished what you do? Supervise promotion, sales and other?
Yes, once I've finished with the music part I switch into manager's role. I talk with the record label, do the promotion, etc..
Thank you again.  Final words for Space Mirrors… Go!
Well, I hope these words are not final and I hope you will hear from us again, ha-ha! Thank you for the interview! And thanks to all those people who support us, buy our music and spread the word!
(Alberto Vitale)
Thanks to Martyr Lucifer