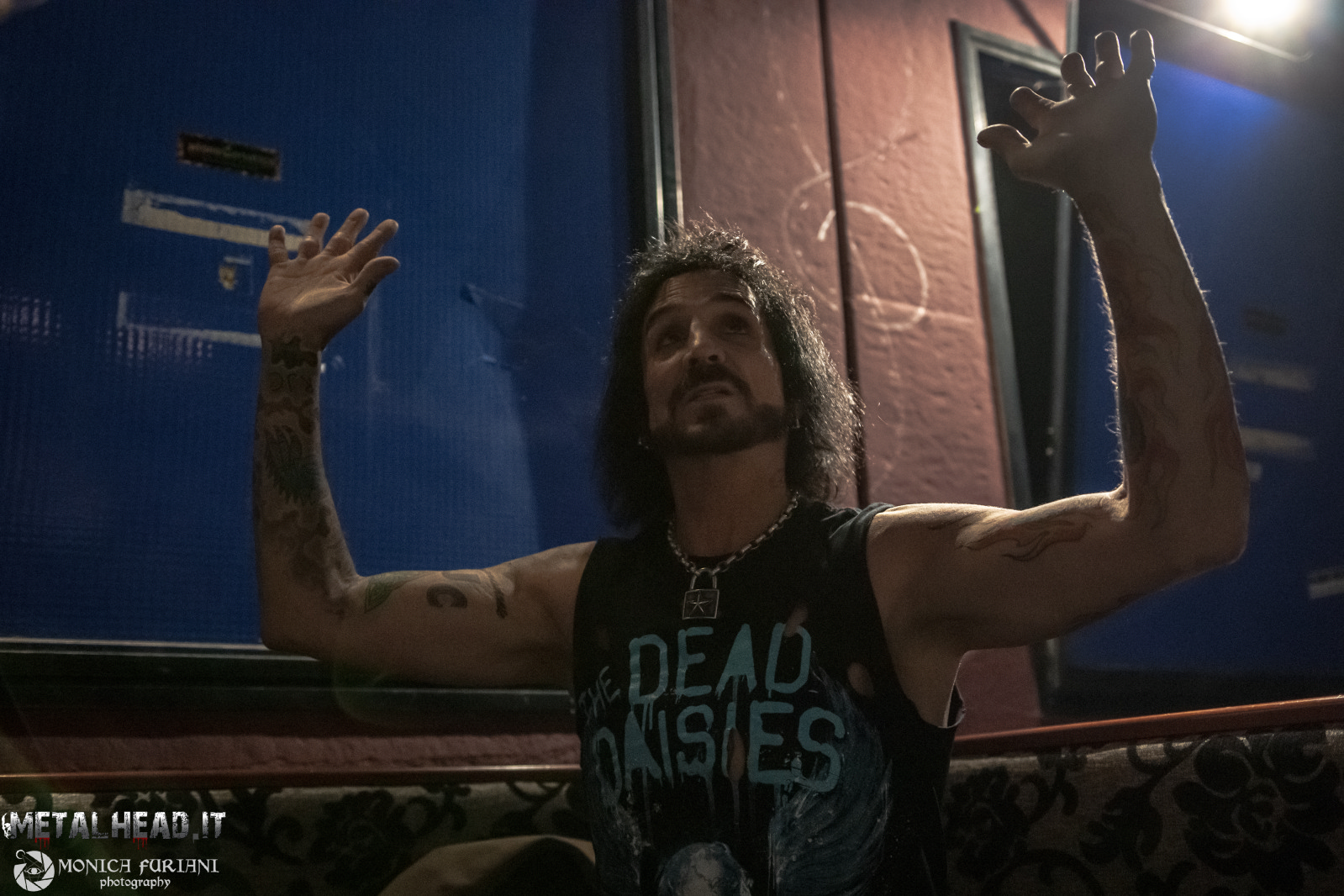 (QUI IN ITALIANO) A legend. One of the best drummer around… He drummed with the greatest, his skill is amazing. But when he is not sitting at the drum kit he is also damn funny. Always smiling. Extremely kind. But he is a live wire somehow: his energy can't be controlled, he is a bag of top fuel excited nerves, ready to hammer that drum with atomic energy and endless fun. He lives to go there and drum the hell out of his body! But that didn't scare me! I sat down with him for a while, before the gig, asked him whatever I wanted. He answered, smiled, we had a laugh… but I felt this strange sensation: his replies were so immediate and quick and natural… Like if he knew the questions in advance! The truth? Probably both our minds are rock'n'roll driven, fully synchronized, and what you read here below is a chat full of simple and pure passion for the most powerful music of the human history!
MH: It's such a honor to meet you, interview you, man! I mean, as journalist I meet a lot of famous artists, but few are somehow symbolic in my life…
DC: ohhhh… woooow! Thank you!
MH: When the promoter told me I would interview you, I told her… "what the fuck can I ask him?"
DC: (laughing and clapping hands! Editor's note)
MH: I told her I would just leave the recorder there and tell you to say whatever you want, it would be ok anyway!
DC: (laughing and clapping hands! Editor's note)
MH: But… I did my homework and got few questions for you!
DC: OK!
MH: Just to start, how is this tour going?
DC: It's been incredible! We started in… March, we've been around since March, we started a first leg in Europe, we started in Glasgow, 8 of April, and we've been pretty much non-stop in Europe and then we did Japan, then back to Europe, and the States, and then back to Europe again! So three times in Europe and the U.K. It's been really busy but great.
MH: I've seen you play this unusual gig, the acoustic set, then also acoustics on the main gig, then some electric, and some covers too. And you got also Mendoza singing, everybody is singing basically. How did this idea, this nice idea came up, this intimate thing…
DC: Yeah! That was management's. There was this manager who thought… you know, David Lowy has always had the vision of linking the fans more, to be a part of the band, because nowadays you spend from few hundreds to one thousand Euro to see a band, you know, to meet a band, take picture and you go, …next… you take a picture and you go. And David Lowy always said that if the fans are buying the ticket, paying for gas, possibly having a babysitter… why should they pay to meed a band! You should meet them! You know, you already spent enough money. So they talked this, we know kids do acoustic sets, as they did before Daisises, and we take a photo and have a kiss, it's been great. And we love it!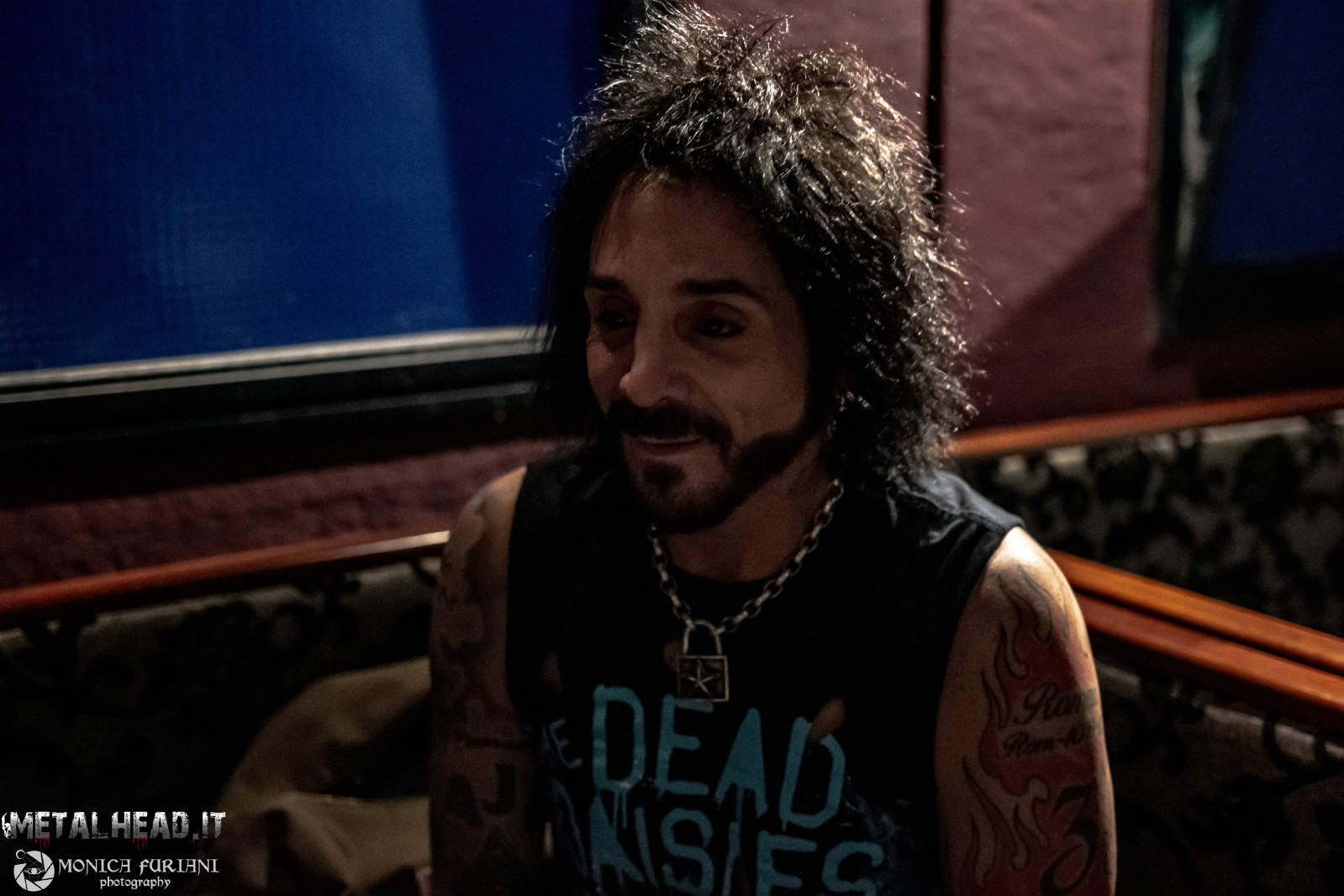 MH: And why do you play also covers? I mean you got four albums to pick songs from. Why covers?
DC: I think for us… it's we are such big fans of classic rock, rock 'n' roll in general, and we like playing the songs! You know? We just love them and the fans love them too, it kinda connects us with them, their fans, and they need to know we are fans just as much as their fans…
MH: Passion!
DC: Yeah! Exactly!
MH: Something about you. This is a supergroup with big guys… well, how did they manage to have Sir. Deen Castronovo in the line-up? Both in studio and on the road! Did they beg you to come?
DC: They didn't have to beg! I've been a Dead Daisies fan since the beginning, when Richard Fortus (guitarrist of Guns'n'Roses, editor's note) was in the band… and Dizzy Reed (keyboard player of Guns'n'Roses, editor's note). I love Brian Tichy (former band's drummer, also player for Ozzy, Whitesnake, etc, editor's note), he is one of my favorite players. One of the most underrated players out there. So when Dough called me and said Brian is about to leave to pursuit other projects, he said 'are you available?'… instantly I texted him big capital letters "YES!"! I couldn't wait to be in the band! And it's so much fun!
MH: Well, you're famous to be a session player, with all the big names of rock'n'roll. But, do you feel like you are in your own band now? And what are the plans? Do you feel this is your band or that you're here just to play?
DC: You know, I feel like I joined a union of musicians. The chemistry is perfect. I get along well with them. We play well together. I love this kind of music, I've always been about hard rock, you know this… you know with Journey I was there as a player because it's not so hard rock, you know…
MH: Here it's heavier!
DC: Yes!
MH: ok, not like Cacophony!
DC: Exactly, bro!! (laughs, editor's note). But for me to come in and to this, I feel like home, this is the kind of music I love playing!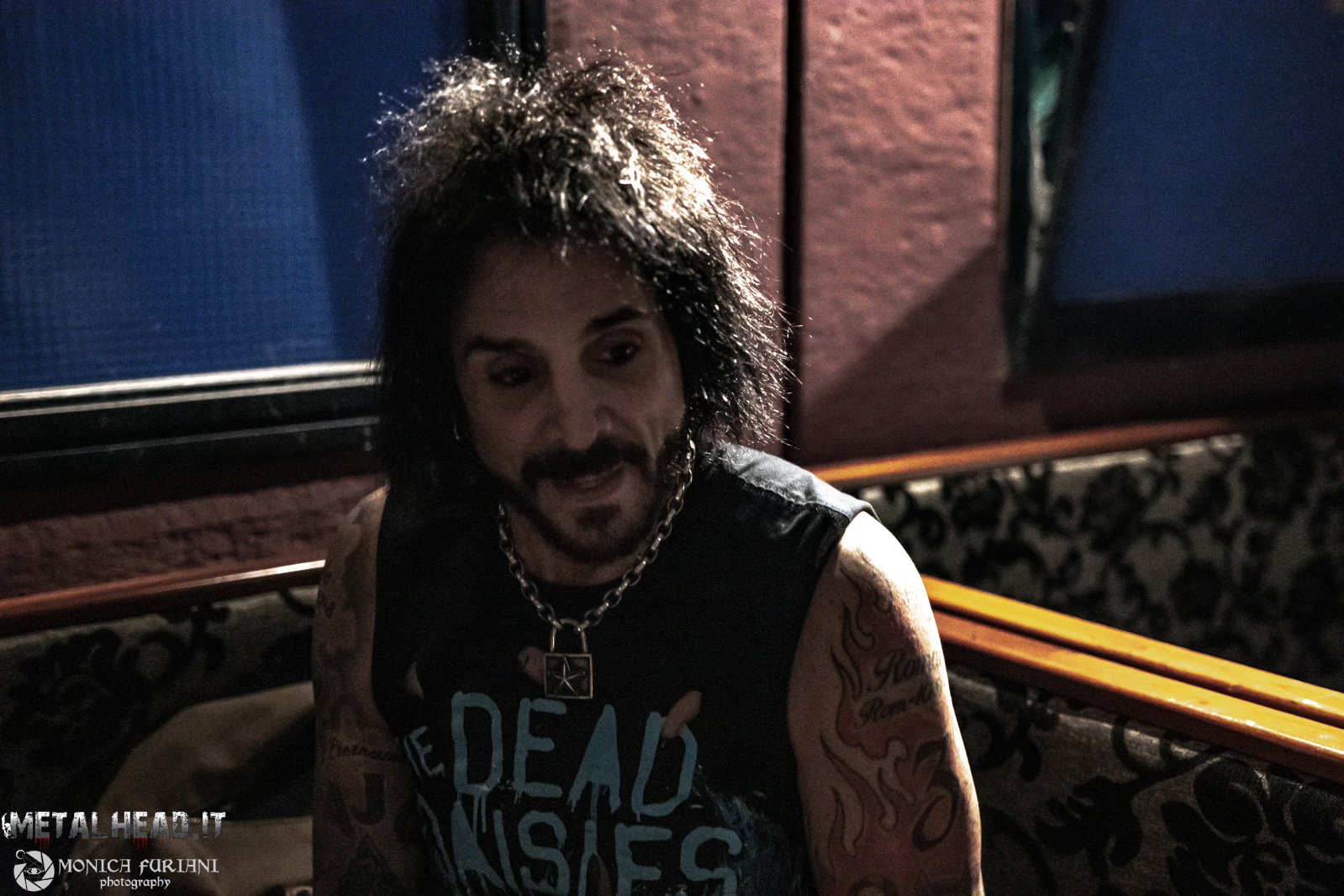 MH: You joined when this album was about in the songwriting process, but what about the next? Do you plan to be part of the songwriting too?
DC: I hope so. I've never really written a lot… I wrote a little bit of stuff for Revolution Saints, but I haven't really, you know, put my music in this band…
MH: and lyrics?
DC: and lyrics? Well, that's John's, he is the guy. Everything that is broken gets fixed… John does a great job so it's all about him.
MH: you learned, of course, the songs of all the four albums to play the gig.
DC: Yeah
MH: You come from "Burn it Down", of course, but also "Make Some Noise" is a fantastic album. What are the songs that you prefer out of the whole discography of this band?
DC: You know, I like the stuff of "Burn it Down", and I really love the music of "Make Some Noise". I learned the songs previously, but this is not what we are doing in the band. That's where it gets more interesting, with all of them. But with Dough, I played him before… and I was like 'let me check this out'. And he wrote the song. And of course the way I approach the songs on those records, I play like Brian; I don't deviate, because Brian's part is perfect for that album. You know, so I don't try to mess it up to do my own thing.
MH: So you just enjoy it…
DC: Yeah!
MH: and drum it hard!
DC: Exactly!!!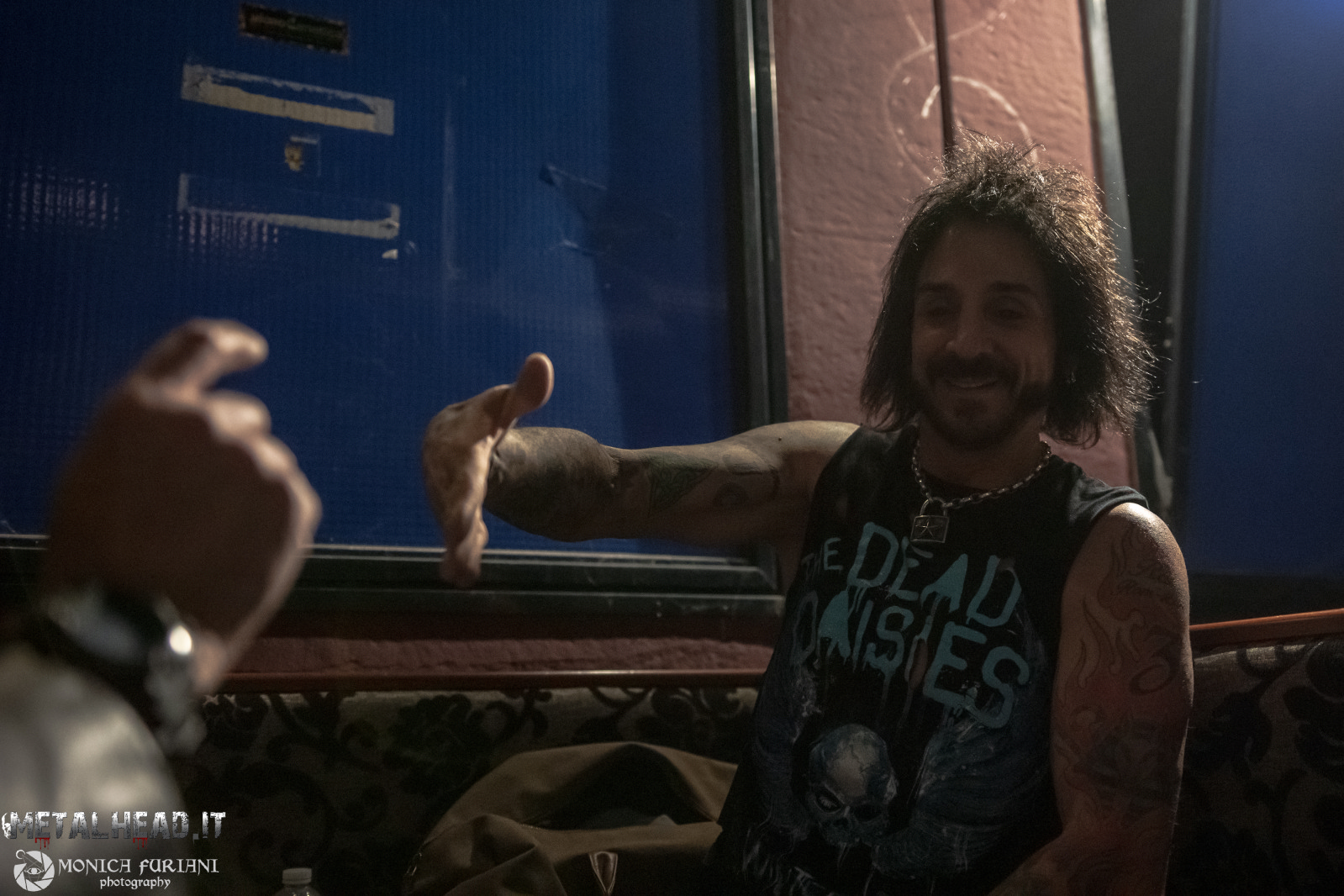 MH: Well, the band is five guys, everybody are famous or about, and with a strong ego. How do you get along together without killing each other?
DC: (laughing loud, editor's note) You know, we have the love of music and the respect of each other abilities. We all know. Everybody knows everyone in this band and can stand out and is a good player. But we did realize that, as a union, that there is no time for ego. This is a band, and I love that it is a band, there is no 'I am the Guy!'… 'no I am the Guy!'… 'no I am the Guy!'…
MH: Because all of you guys are "The Guy!"…
DC: Yeah, exactly! This is a band! The chemistry and the players… you can't get any better than this, so, ego aside, we just come out and have fun!
MH: Just to go around you personal career: Is Revolution Saints still on?
DC: Yes! We are playing a new record in March.
MH: and how do you mix the million things you do with the other guys that got the same issue… how do you keep all the things going, begin active in all the bands you play and all the gigs you get?
DC: You know, The Dead Daisies are my priority, so everything gotta work around Dead Daisies. Like I got this Revolution Saints coming in March and must be doing a tour with Neal Schon and Gregg Rolie, the original Journey guys, and Marco… we are doing this called "Neal Schon's Journey Through Time", and we are going all around playing some of the old Journey classics, and I'll be singing and playing drums. That's gonna be really cool, it will be a lot of fun.
MH: What about Gioeli-Castronovo ? I love that singers so much!
DC: Johnny is amazing! He is one of my favorite singers! He was amazing in Hardline. I don't know if we must do any tricks as he is damn busy with Hardline, and you know I got The Dead Daisies, so maybe there's a thought with him in doing an acoustic set with him ad the Frontiers Rock Festival, but I am not that sure, I mean the Frontier Records festival is in April. So, well, I'll be there, so…
MH: Since you are a singer too. How do you compare your style to Corabi's one or Gioeli's one… and if that was possible, what would you tell them to do or not to do…
DC: To me I am a drummer that happens to sing. I am not a lead singer. I mean I've done leads but I've always seem myself as a drummer first. And John is so damn good… you know how can I tell him (bully voice, editor's note) "Hey dude, you need to sing this like …ah!". No! He knows what he is doing and it would be probably like him saying "Hey Deen, you need to play like this!", and me "Nooo!"… you know, he is great in what he does, I am not gonna tell him how to do the sing! He is great! I am just a drummer that happens to sing, you know, I do pretty good, I am not amazing; John Corabi is amazing; Johnny Gioeli is amazing.
MH: Well the single you did with Gioeli, I really love your singing… after you hang up the phone (I refer to the video for the song "Through", this one, editor's note)…
DC: (we both went LOL!, editor's note) I am in the back of the best rock singers, Johnny is amazing, so for me to sing over high step behind him is fantastic. I am happy there!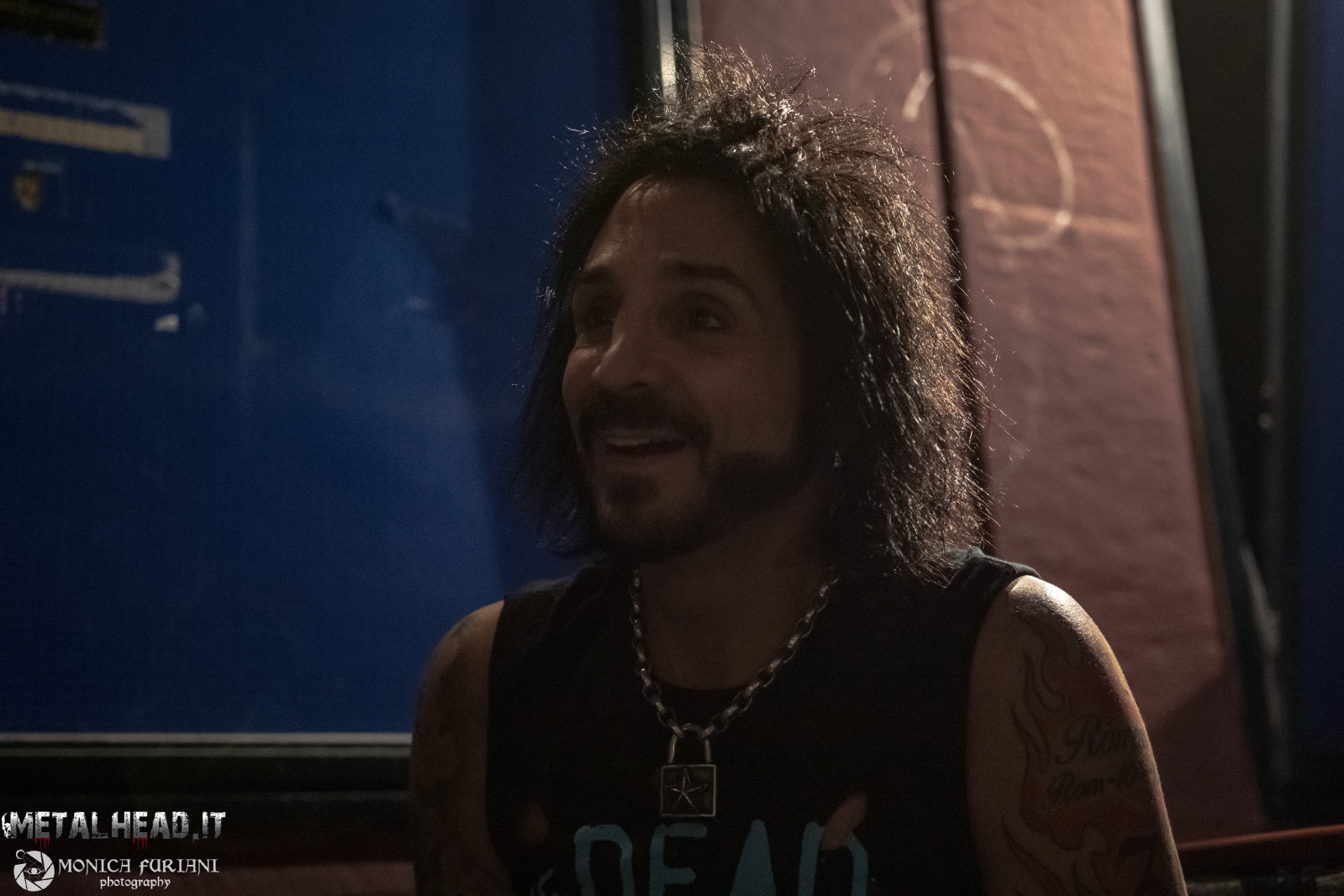 MH: About your Italian background, given your surname…
DC: that's it!
MH: …you have a band with another Italian guy, and then Gioeli…
DC: Yes!
MH: …then you're in touch with Frontier Records, which is Italian…
DC: Yep!
MH: what's your connection with the country you're playing…tonight?
DC: My family, my mother and father, are Sicilian. So they've been born in Sicily and they moved to America in 1939-40 so, you know, that's my connection… and also I got to play with Vasco Rossi, many years ago. So that's my connection, I mean, but playing in Italy, just being here it's like home to me. I've got a lot of cousins in Milan, and when I go there it's awesome, and the sad part is I don't know how to speak the language. My father… fluent, my mother… fluent… but I learned all the bad words! Especially playing with Vasco! They taught me all the bad words!
MH: Of course! It's like this!
MH: I want you to judge me. When I reviewed "Burn It Down" with a high rating, I said (here): "they are five nasty and angry boys (BOYS!) with a stratospheric career behind. They reinvented themselves, regenerated themselves and get back to that punky rebel attitude of the teenager they were some 30 years ago". Did I get it right?
DC: Yes! Definitely! That's the deal of having career with other things and we got all the knowledge and experience to get into this band. But we go out there and throwdown, man… we are not like, well, it's a saying, an american 'face': "We don't call it in!". If you know what it means. We don't go out there like "Oh yeah, yeah yeah, you know ok ok ok". We go out there like it's our last show, I mean, I am out there playing a gig like it's the last one I am ever gonna do and I drop dead. The whole band is like that!
MH: This is far away from a commercial set up of the band, you know…
DC: Yes!
MH: There is the passion behind it!
DC: It's a rock band, it's a throwdown and get burnt in rock'n'roll hell!
MH: Another personal question for you. How do you feel when you're drumming. What's that inner force and essence that transform Deen the guy, Deen the man, into Deen the great drummer you are? What happens when you get behind there…
DC: Gratitute! A constant feeling of gratitute! I get to play music again. After three years off because I drugged into alcohol addiction, I get to play music. I have a second chance! So for me to play and do what I love again, seriously, thank God, I am playing and do what I love. So it is a constant feeling of gratitude! I can't get this smile…! You see! I can't stop smiling!
MH: I see! And she can see it too (pointing to the photographer, editor's note)
DC: (screaming toward the photographer, editor's note) Yeah! You know! You know! I am very very fortunate!
MH: As I told to the promoter: to close say what the hell you want… with greeting to the readers of METALHEAD.IT.
DC: Thank for your support. Thank you for the support to The Dead Daisies. Thank you for just being there for this band and we are gonna tear it down anywhere we'll play. You come to see us and we'll give you an entertaining hi octane show. Come and see us!
(Luca Zakk)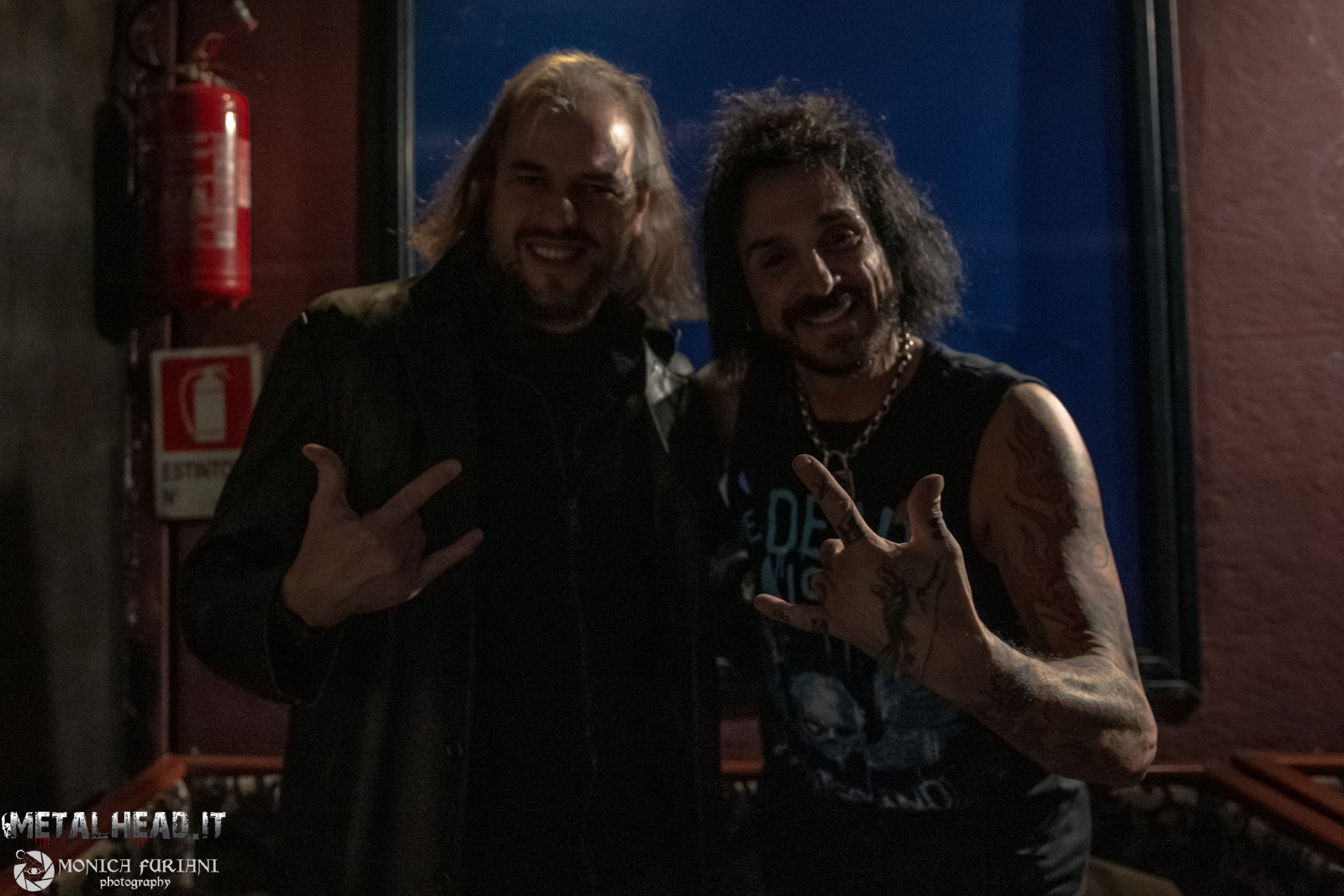 Foto: Monica Furiani Photography
148122
false
false
true
false
true
true
false
auto
true
ease-in-out
100
false
0
true
true
%curr% of %total%