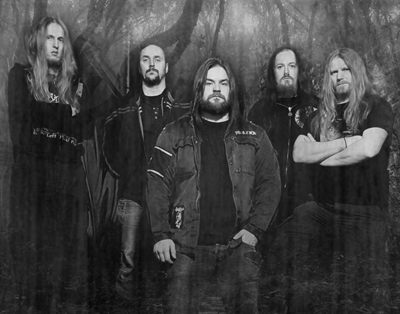 With a strong album, influenced by a wide range of musical genres, The Drowning answered some questions to better understand the birth of this release and its guidelines (qui in Italiano). 
MH: Welcome to Metalhead.it! Your fourth album has just been released (review here). Many bands say their new album is the best, but this time I dare claiming it: it's your best work so far, the most inspired and well done. Do you think something happened, something different from your past, or is it your slow but constant artistic evolution?
Mike: It's definitely a step away from earlier albums the departure of the original vocalist James Moore was a blow at the time but was never going to leave us in a hole. After the rapid recruitment of Matt Small there definitely became a whole new outlook to the sound of the band. Matt brought a much more death metal sound to band and allowed to write songs in ways we couldn't before the writing process is much easier now as we aren't stifled as we were before.
Steve: Matt juts gets what we're trying to do and is more open minded than the previous vocalist so the song writing flows a lot more and we work together better as a band. This coupled with bringing Dicky onboard as a much more accomplished bassist and with a wealth of knowledge relating to recording and music as a whole has allowed the band to continue the bands slow and constant artistic evolution but at a much more natural and organic pace. To put it simply we have the right lineup now so nothing is holding us back.
MH: I tell you a secret: reviewing your album, I spent 5 complete spins to find out the several musical influences that I could spot every time. It was long time this didn't happen to me, and it increased the interest I have for the album. It's impossible missing My Dying Bride among your influences, but am I wrong but your background isn't strictly related to doom/death? I also refer to the fact that part of your line up comes from a band busy playing music that isn't quite at all…
Mike: We have never classed ourselves as just doom, if anything we would say we are dark metal, we all love different genres of metal and bring our influences to the band.
Matt: As a whole we love the misery and dark elements that influence our music but fucking love metal so we don't shy away from riffs and ideas that just sound heavy and badass as opposed to limiting ourselves to a strict doom death genre. For example Mike is heavily influenced by Judas priest and while you will never hear a priest riff in the drowning you'll get some thrash elements, Steve is a big fan of Mike Portnoy and again whilst you won't get a straight up gene beat you will get some influences shining through.
MH: Five years since your previous work. Did it take so long to write the new one? Anyway, how did you write the song? Is each member involved.
Mike: There was an issue with getting new band members up to speed but if anything that took 6 months, Steve (our drummer) spent some time in Australia tattooing which put the band on hold for a while but the biggest thing that held up the album was issues in the studio.
Matt: We lost the first draft of the album and therefore 6 months recording, this coupled with other issues meant that when we re-recorded we took our time going over every detail because it took so long we wanted it to be perfect.
Steve: Mike writes most of the material and then brings it to the rest of the band and we all write the rest of the song together coming up with our individual parts with everyone putting forward ideas about how the song can be developed. So we do write together but Mike is The Drowning.
MH: Sticking to this topic: everybody together in the studio, or each one recorded its own part that have been mixed with the rest?
Matt: We all record our own pieces in the studio individually but with as many members of the band that can be there, once again Mike is there for everything. We all had an input in the final mix but as far as arrangements and strings and the overall sound that was all Mike working with the albums producer.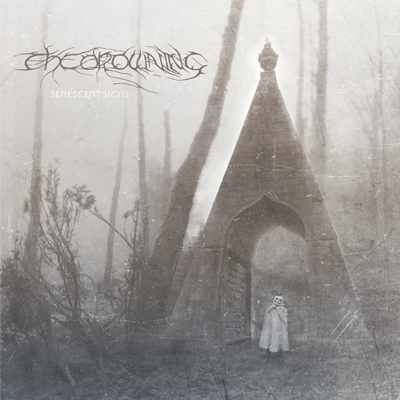 MH: Cover: it feels like a tribute to decadent doom releases. Can you tell me something about? How has it been created? I give a lot of value to the cover, it's important to me, it's almost a bonus track of the album…
Mike: Whilst we are influenced by the big three [we guess he menat the big three of doom, so Candlemass, My Dying Bride and Black Sabbath, editor's note] we don't see it as a tribute more a natural evolution of our sound. We don't want to sound like other bands but obviously in this genre we will be compared to the huge doom scene of the 90's. If people see it as a tribute we take that as a compliment that they can see our influences as opposed to trying to sound like them, we want to take other sounds a grow into something completely our own.
Steve: We went with Matt Vickerstaff for the artwork he has worked with some of the greats in the business. With him we let him have free reign, giving him the album to listen to and some rough ideas. The fact that he came up with this is good feedback for us that he has heard the album and exactly understood what we are trying to convey, he translated the music into images perfectly
MH: Quite an evocative title. Can you reveal it's meaning?
Matt: Senescent signs is the signs of age and decay. With life passing by so quickly we can all loose track of our fading youth. With the band being around for ten years we feel that we can reflect back upon where we were and whilst we are all slowing dying and decaying we can take this and channel it into our music. We are all victims of the laws of entropy everything with eventually be broken down to its smallest parts starting with out bodied and our loved one. The album is a mournful cry in the face of the ever-constant grieving march of time
MH: How is live business doing? Can a band playing your genre afford a tour?
Mike: We're doing ok, we haven't had much time for gigs as we have been working on the album but we feel the second half of 2016 things have picked up at least as far as we have had reviews and interviews from all over the world, we just want to turn that into gigs. As far as a tour goes we have got to the point in our career that we are going to have to finance the next stage, we are currently looking into setting up a European tour in 2017. So if there are any venues or promoters in Italy or anywhere who can help us sort something out GET IN TOUCH!
MH: Can you live off music? If not, what do you to keep going? I ask this because in my country the average metalhead, musician or fan, isn't well seen. What about up there?
Matt: There is no money in what we do if anything we are traveling t-shirt salesmen just to help us fund the next album or tour. Mike is a self-employed carpet fitter, Dicky works as a chef, Steve is a tattooist, and Jason works in an office, as do I. In the UK playing the music we do or playing anything that isn't just some new bullshit appealing to kids it takes years to get to a point you can make money. All we want to do is to make enough to be able to play as many shows a possible I know it is cliché for us is 110% about the music and playing to as many people as we can.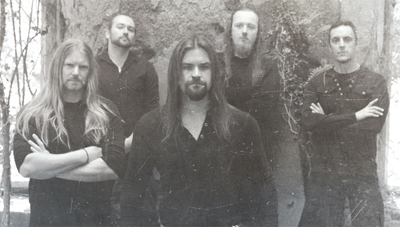 MH: Maybe I am wrong, but I believe the place we come from can influence the art. Thinking of your music style, what places of your country with your album as soundtrack shall a visitor check out?
Mike: Wales as a whole is probably 70% rural and steeped in history we have strong Celtic roots which date back the pagan worship of the earth and a mythology as old as the Norse myths in the Mabinogion. The landscapes still retain the ancient primordial past places to visit have to be the Brecon Beacons on a freezing winters night, and any of the many castles but not the ones in major cities but the castles broken down by age and decay being slowly consumed by the land.
MH: I love to listen to doom on vinyl, if possible. What's your opinion about the nowadays vinyl revival? And is your music genre compatible with the rising digital music business?
Mike: Vinyl is great format and always has been, it's a huge collectors market right now it seems to be one of the only things fans will shell out money for sometimes even above going to the gigs.
Matt: We would love to put out some sexy gatefold vinyl's and we will be we need to gig more now that the album has had such positive reviews to get the seed money as producing vinyl is so expensive, with the drowning as the songs are so long we would need release a double gatefold which pushes up the costs. We feel that the digital music business in some respects has killed the genre as everything is at everyone's finger tips so music is more throwaway as opposed to being something that you take time over and really captivates your attention, but at the same time we would not have reached so many people if it wasn't for YouTube and Spotify I guess it's a double edged sword and for better or worse this is what we have to deal with now so we will keep going doing our best and try to play as many shows as we can to as many people as possible.
MH: Perfect, thanks a lot for your time. Please close this the way you prefer…
Matt: Water filling our lungs accepting the dark oblivion, we are The Drowning…
Mike: See you on the next one, cheers.
(Enrico Burzum Pauletto)