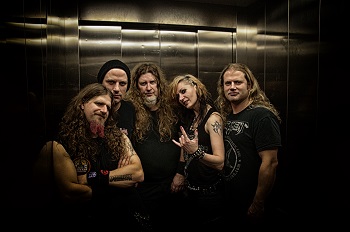 X-Tinxion, is Dutch thrash metal. Old or modern style, isn't important, because the songs from "From the Ashes of Eden" deliver an immense strength and a incredibly overwhelming thrash. I talked to Monica Janssen,  extraordinary and fierce frontwoman leading this band from Dordrecht. (versione italiana)
I believe that "From the Ashes of Eden" is receiving acclaims everywhere. What was the best and perhaps more unexpected compliment?
Yes, we are very pleased to hear all the positive reactions! I don't think I can name one specific compliment that was the best. What surprised me was that whilst some people put emphasis on the modern touch on the album, others named it an old-school thrash album. I thought that to be really cool, because it is two ways of interpreting.  A lot of the old-school reviewers  named the song Uniformity as one of their favorites, whereas the more modern reviewers named songs like Amalgamation.
The thrash metal is the meeting point between all of you?
Yes that is exactly true!! We all love all kinds of different styles, but the thing we have in common is thrash. But even in thrash metal there are different kinds. I think most people forget there were also in the '80's thrash bands that experimented. That's also what we do. We combine thrash with other cool styles.
It is true that you have taken a long time to write the pieces because of the different commitments of the various members of the band?
Not really. It had taken us longer because we have had a change in bandmembers, but also becasue the process in writing songs as a band is just a lot slower than if there is one songwriter. Every member of the band has contributed to the songs.
A world in ruins and a face with the plugged mouth… what happens on the cover of "From the Ashes of Eden"?
That is a nice description! (she laughs, ndr) Well if you put it that way, it is even clearer, that while there are definate signs and talks of this world going to ruins, 'we' barely listen. From The Ashes Of Eden could be complimented by the words "we rise" but what comes after paradise? Humans do weird and amazing things. Every brilliant invention can also be our undoing. As in the bliblical annalogy, knowledge can lead to destruction.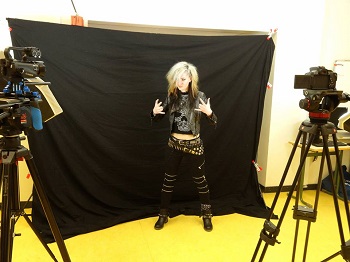 Music, film, theater, books or the world… What inspires your lyrics?
All of the above! I also love to read philosofical articles and articles on theoretical physics. I recently read a theory on the laws of gravity not being acurate and black holes and dark matter. If someone dares to challenge Einstein, that is really cool. I am not a scientist, so I can't retell the exact story, but what inspires me, is the consequences of this, were it right. I also like to turn things upside down in my lyrics. They are stories about what might be true.
How did you live the lineup changing over time? Was there a difficult time to overcome because of farewells and arrivals?
Yes there were difficult times. We had had a reasonably steady line-up with a change in bass player during the recordings of the Act The Injured Innocent EP (2010) With our rythm guitarist as our main song-writer. When we won the Dutch Wacken Battle in 2011, we already knew he was quiting the band. The show at Wacken being his last. Shortly after his farewell, the bass player also left and there were only three of us. Peter, Conrad and myself decided not to give up. We believed in the band and in ourselves. Although we have had some pains even after deciding to go on, we are really glad with the way we are now. We believe that this is the team we need to go into the future and leave the past behind us.
It's true, five years ago you played in one of the Wacken stages! How were they for the X-Tinxion the last five years?
Well as you can imagine, they were hard with all the line-up changes, we had to start again from scratch, although we still play some of the songs our first rythm guitarist wrote. Also we are still friends and on good terms with all the ex-members. But it was still shitty having to leave behind what had just going in the right direction. They were also good years, because we could write new songs which we are proud of and because we found the team we are today. I don't just mean the band either, but the right people around us as well. Crew and management.
Thank you very much and once again: a very good album! I will leave to you the last words for the readers.
Thank you so much!! I hope to see you at our gigs somewhere! And stay tuned for the release of our new video clip.
(Alberto Vitale)
[foto of Monica Janssen by the official Facebook band page, all rights reserved]