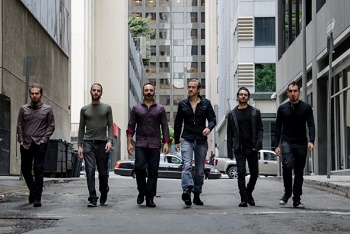 Interview with Andrew Kzirian, Vi-Za's oudplayer.
(versione italiana)
(all photos by Kaspa Fotos)
Hi, thank you for time you provide to Metalhead and this interview. I would like to start with my congratulations, this album is wonderful like the others you composed!
Thank you very much! It's a pleasure to do the interview with you at Metalhead. Glad you are enjoying the record.
You were in Italy more than once. What do you liked and disliked in particular of my country?
We came to Italy in August 2010 at Estragon in Bologna with Serj Tankian. This was our first show ever in Italy – and it was awesome! I still remember how passionate the fans were and how it felt to take the stage that night.  It really blew us away as a band… we were overwhelmed with positive energy and love from the fans. Then we returned in October 2012 at Alcatraz in Milan again with Serj – which was a huge show and one of our favourite shows we've ever done. There is something quite special about the Italian music fans – they are so intensely supportive and passionate – as an artist it is very humbling and touching to experience this in person live. The only thing we dislike is that we have not been back to perform for more shows in Italy! J But we are hoping to change that very soon…
I could tell you many things about your music, but there's one thing that I especially noticed: no matter if it's metal or rock, but in your last albums you always wrote aggressive songs besides others with sweet melodies and folk influences…
One of our main natural instincts is to write music that incorporates our inherent styles and influences – so we get some aggressive music mixed with folksy and traditional melodies – sometimes as separate songs and sometimes within one song. It's the beauty and unpredictable nature of our band!
It would be very simply to talk about your cultural roots and about the sense of belonging to your original communities, but Viza also comes from many different cities like Los Angeles, New York or others on the East Cost. Is this another element of your background?
Our members are from several cities, including Los Angeles, Philadelphia, New York and Yerevan. So just from that you have a great diversity in backgrounds.  Aside from mixing our Armenian and Greek ancestry in our music, our members grew up in the United States where we were all exposed to so many different kinds of music from rock and metal to jazz and classical. So this fusion creates something new and different – a unique blend of different cultures and musical traditions – through the lens of our experiences as musicians growing up in America.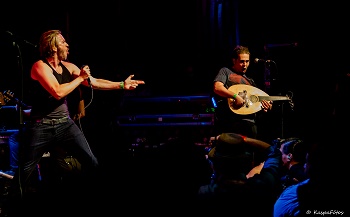 Could you give in a few words a 'designation' or a 'definition' for every album you composed?
The band's earlier works were more acoustic-based and emotive in terms of the group's sound – but with an edge. For the last few records – which is in some ways the beginning of our current sound and journey as a band – "Made In Chernobyl" (MIC) was the first record that showed the transformation of the project in some ways departing from being more ethnic and folk in the albums done before up until that point, to being more of a real mix of rock with our cultural backgrounds. MIC was our first venture into this direction – and the first record we took on tour. "Carnivalia" was our first record after the transformation into more aggressive experimentation, that was written after our first real touring experiences with Serj Tankian and also on our own throughout Europe – and this is reflected in the songwriting of that album, which is a bit eccentric and experimental, reflecting our new and developing perspective on music and going out and travelling all over the world. Then most recently was when "Aria" arrived, and this album presents a more stable and mature work, where we have experienced much as a group, and are very ambitious about realizing our collective vision together through our art and music. "Aria" is many ways an evolution for us, as it was the first real album done as a team and collaboration in many ways.
I have somewhere read that "Carnivalia" is actually the first album that you wrote really together. Makes it a difference between the old and new Viza? How have you written "Aria"?
"Carnivalia" did feature some more balanced songwriting from the band, which was a progression toward "Aria", where everyone contributed in their own manner to the final project.  It's not that it's really a difference between "old" and "new" versions of the band – but more accurately this progression represents a continuous spectrum of growth and collaboration together as a family of artists. "Aria" was definitely a team effort, and really embodied a great way to make music.
I know that you are also involved in beneficence projects. Would you tell me something more about your activities? 
We take our role in the community very seriously – not just as artists but also as involved citizens that care about what happens in the world around us. We try to take responsibility for our actions and how we are perceived as members of the community, because we are stakeholders and really care about society and our community. Which is why we organize fundraising concerts to benefit needy charities and also to raise awareness of the Armenian Genocide.  It's important to give back and do our part as artists, because art is a powerful medium through which a message can be communicated to your audience. Politics, news, TV – they all play a role – but music is one of the most powerful ways to educate society and call attention to issues that need to be addressed.
Would you like to receive a proposal for composing a film soundtrack?
Of course – we are always open to considering projects.  As long as there is good energy, interest and a passion to create something special then we as artists will always take a look!
Thank you so much! Italians fans are reading this interview, would you like to hail them?
Viva Italia! We cannot wait to return to you to perform!
(Alberto Vitale)