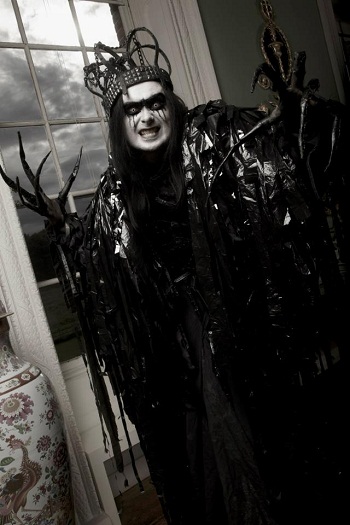 I meet Dani Filth right before the Bologna show, November 26th. We took a seat inside his tour bus. He wasn't feeling ok. Quite sick, cold, coughing. But this creature of the night has been still very kind and patient with me. Gave me all the time I needed to ask him my questions. And, after the interview, he did a killer show, and nobody could guess he wasn't at the top with his health. I met a legendary musician and songwriter. One of my myths. A guy that wrote a wide slice of that music pie that's my life soundtrack. When met in real, you wouldn't guess he is that crazy vampire endless jumping around the stage. In the end, it has been a meeting between two mid aged buys, both in love with what they do. And sharing passion for the music with one of my "heroes", has been simply a great experience. [versione italiana]
Hello Dani, Thank you for being here in Italy. You've been here quite a few times…
Yes, of course!
…Last time I saw you was again here in Bologna, with Gorgoroth. Tell me, what do you think about italian fans?
I think generally our fans are mad the world over. There are slight difference between areas of fans. Pretty cool, pretty mad, very young, verbal and loyal to the band…
…I agree…
… which is good.
…Me too, I've been following you since the beginning as well.
How Cool!
A Funny question: we're famous for the food here in Italy, they say, have you been eating something good in this country?
We haven't really had time over the last time to take care of it, really, just some pizza. I wish we had time, but we must go straight to a signing in Montpellier, France.
Another silly question: aren't you tired you guys to do the interviews all the time and been asked the same questions?
Well Not really, no, it's that at the present this horrible cough cold thing which makes you really sleepy.
You previously have been touring with Gorgoroth. Well now it's still King and Gaahl. You two bands are in touch, are you friends or something?
Tom plays in my side project band which is called "Temple Of The Black Moon", which is King, plays bass, we got guys from Anthrax, guys from Enslaved, The Cult. So Yeah, I've been to his house in Norway quite a few times, five times, so I know him, I know well the people in God Seed.
It's like a steady bill, you two together…
Yeah.
Your opener here, for this leg of the tour, is DARK END, an Italian band, they are friend of mine, how do you rate them? Do you like them?
Yes, Yes, I do, they remind me of a younger Cradle Of Filth mixed with elements of  Mediterranean  sound, I really like it. I've really managed to snag some their albums  from the guys of the band. Yeah yeah, I think They are really cool, it's just a shame  the guys are going  home actually, they are only playing tonight and tomorrow, then the tour is over for them. (Dark End took part to the first leg of the tour, playing up to the Milan gig, November 27th, editor's note). Which would be a blessing for my cold I guess.
But I tell you one thing: tomorrow in Milan they will have a big present for the rest of the bands, they will bring food, wine, from their local town, so it's gonna be a big surprise for everybody else. (Dani talks about this party on his blog).
Well, The next question is: how the hell did you find a bass player named Firth.
(Dani Laughs)
It's fantastic!
He was suggested by the producer of the last album, when we needed a day for being recording all that, he said best guest somebody that sounds very much in this so style, in this character. To stand a bit discussion with Daniel Firth. But he is quite a bass player,  so we can live with the similarity in names, it's not much the names it's the age actually or so.
I've rated your new album 8 out of 10 on my review, which is very good because we're quite strict with the ratings. I've read other reviews around the internet and a lot of journalists say it's another Cradle of Filth album sounding like the others. What do you say to these unfaithful bastards?
I think those  haven't listened to it. One of the reviews that said that, said that the first song "The Unveiling of O" was you know really fast, and was like Orchestra piece, I don't think, you know. Another misquote is that the guitars have been Paul Ryme which is our old guitarist from the first record. So I don't think they haven't properly listened to it. I mean it's like any band, you know, (Opeth so, you know) every band is gonna sound a lot like the previous records, because it's just the nature of this way they sound, but it's quite creative, it's a very different Cradle of filth album, and in that respect they haven't listened to it properly.
I think, anyway, that Cradle Of Filth has reached such an artistic level that reviews can only compare Cradle Of Filth music with previous Cradle Of Filth albums. Kinda like you guys created your own religion, your style, and all you can do is trying to sound better than…. well… Cradle Of Filth itself. Do you agree? What can you say about?
I think we always been doing something different, and you know we've taken a lot of flak over the years for doing what we do, but we always stuck true to and it's always been original, you know, hopefully free of the set of contrivance, you know, of sort of being created for the sole purpose of selling records   rather than records actually is being a, you know, real labours of love.
Upon my own tastes, I believe that the most emotional album that you wrote, especially on the lyric side, is "Cruelty And The Beast". It's one of my favourite. Do you think it was your highest lyrical target, and do you think you can out beat it?
Yes, it was very new and people doing something like that at the time so, the subject matter helped quite a bit as well. But we've also grown into a band, you know, tries to make the music a little bit more soundscapish and album was quite busy lyrically so yeah possibly but I think it was just the fact it was about the countess Bathory came a special time for people that helped it.
How do you manage to rape the english language that way, because the choice of words you have in your lyrics is something that blasts me away, how you turn words around, create your own language, which is still english somehow, you are unique on it. How can you reach that?
Well it's one of those things I have always been good at and I think exploring every little facet  of what cradle of filth is about whether it's videos or….   which we just started a new video …..for the track "For Your Vulgar Delectation". On top of it is gonna be a second video, it's not finished yet, it's like a mini horror film, lots of zombie getting…
…like "Cradle Of Fear"?
No, it's just like a long playing scene from a horror movie.
Anyway I really love the way the lyrics sound, because most of the public that doesn't speak english, ignore the lyrics, they just enjoy how they sound in the music but when you manage to read them they are fantastic, I love it.
Thank you!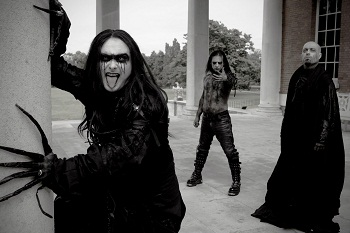 Well, there are labels like Misantrof run by Vrangsinn (bass player for Carpathian Forest, also friend of Gaahl) that sign bands, ask no money, digitally release for free, and leave them all the property of their own art. Unlike typical record labels. Other artists like Therion right now decided to ignore the label and run their own distribution and sales. What do you think about the independent music  and these concepts outside the industry?
Well, it's interesting because obviously record companies have to start to realize they can become extinct almost. I think they become very useful I think we have struck very lucky curve ball with being on Peaceville cuz it's not too big and it's not too small. We're really like a big fish in a small pond being on them, as oppose to, when we were on RoadRunner, is a smaller staff and because of that they just seem little bit more concerned about the music and less…. some times you know too many cooks spoil the food, and I think Peaceville is a relative the right size for us, seeing as we go, we get distributed by different record companies, in different territories like Nuclear Blast from America for example so we are quite in a good position for that,  but I understand the idea of Pledge music.
Pledge music is a nice idea.
Yes, yes, it's a cool idea.
What would you do if the record label would tell you "no, we won't produce this album because we don't like it" ?
Well I guess we would take it elsewhere, I don't know, that hasn't happened fortunately, but record companies have had their opinion about what song you should be video of and stuff like that in the past.
Do you think Cradle Of Filth is, or has ever been, a black metal band?
Ahem, I don't know really it depends how we classify black metal. I suppose in a earlier forms as  "The Principle of Evil Made Flesh" people may have called us black metal, I don't know we always hopefully done things our own way, and the biggest accolade that we could have as a band is to be solely known as Cradle Of Filth, and people know definitely straight away, what it entails.
What about you and religion…
I don't have a religion. I've bits that I enjoy lots of different kinds,  different parts, which is due staying in India for quite a while like six weeks a time…
Of course I connect to your early production like "Jesus is a cunt" stuff…
I think that's more antagonistic or a little  …. it's just us getting out of the bed the wrong side proverbial grave and doing something a little bit risky which we have done all of the time.
Well you and me are the same age. I've son, you've son, family and everything. How does it feel being out here doing what you have been when you were 20 right now, and are you guys still crazy as it used to be? You know, with responsibility at home, family….
Yeah, guess we have grown up a lot, I mean, we got to a point now where we really need to be good and be very professional band staff. Yeah we do party quite … it happens, but no, nothing interferes with the show and at the moment we are all a bit run down with cold and flu and stuff we picked up along the way, we had some difficult early morning, people get tired, you know, lot of  borders, borders crossing, playing in eastern block countries like poland, Belarus and Ukraine, has been really quite hard,  everybody's a bit sick at the moment.
Well, about that, I miss my 20, when you go bet at 5 and be up and ok at 7.
…Yes, yes, exactly!
Today there are so many new bands out there, young people setting up bands, even because of the internet, myspace and something like that. Some of them are doing good, some not, but none of then are moving forward to the legend status, like Cradle Of Filth, or Iron Maiden or all the old school, I mean, most of them if they will be successful it's because a record company is gonna decide if they make money or not, it's no more pure art taken to the masses. Where is art going today?
I couldn't tell you to be fair. There's a lot of music I really don't understand, and more and more I listen to music I used to like and finishing collecting all that,  there's few bands around that I do like now, but I couldn't answer really it's the world itself is suffering a little bit of a decline at the moment but I think it's gonna get better, I don't know how but I think you know the fact, the monetary situation in Europe has been suffering, well, really the world over,  it's, you know,it's had an eventual backlash in the music industry as well and well, obviously cuz people can't afford to go to a concert, pay the tickets, and buy albums, bla bla, downloading then for free, then the artists haven't the money to live and produce the work.
There are a lot of rockers that are at retirement age, like Lemmy Lemmy of Motorhead, Steve Tyler of Aerosmith, Mick Jagger of Rolling Stones. All those of that kind, old school. What do you think you  do when you will be over 60? I mean, it's still your job and it's ok at 20,30,40 and maybe 50, but at 60? Being on stage with Cradle Of Filth?
I don't really think I can see that happening, but maybe writing books, maybe be involved in films, something I like along those lines.
I think I will still enjoy quite a few years of your music. We are still young. And we start tonight, as I really look forward to the show. Well, gift us with  killer shows here in Italy…
Yeah!
…today and tomorrow, and say something to the Italian fans and reader of Metalhead.it
I would just thank you for your continued support, on this latest album, and which is "The Manticore And Other Horrors", and it's just great to come cuz we did no press day here in Italy and it was just quite a surprise in here how many magazines came out, and it just remind us, you know, that Italy has been a stead worth companion for some years, so well, it's cool. Thanks so much for your support, thanks to everybody that's reading METALHEAD.IT.
(Luca Zakk)