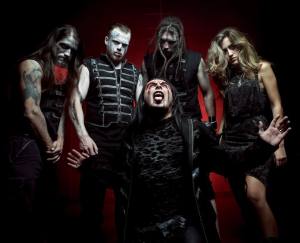 Devilment became immediately interesting thanks to the frontman, not surely an unknown character in the international metal scene, Dani Filth. But it wasn't him creating the band. He kinda boosted it probably, put more fuel on the fire. It was the idea of a guy… who now left. So Devilment is an evolution coming from some great musicians, some great artists, definitely some great people: they all together found out this wasn't a side project or a free time thing. They all found this is heavy, groowy and damn amazing. They recorded, toured and shown us how promising their music is, setting some new rules on the metal scene. I loved the record, I reviewed it, I went to see them live… and now I even interviewed them. All. (leggilo in Italiano)

Hi there! Thanks for the opportunity! I reviewed you and I definitely loved the album. I had the chance to see you live in one of the Italian gigs (Treviso) and I was truly amazed. So here we go with few (well…) questions, that I'd like to ask to each one of you.
To all: Can you tell me the origin of this project, how it developed, how members were put together?
Dan Finch had started the ball rolling a few years ago, writing demos and getting a first lineup together with Dani. Nick and Aaron joined during the summer and Colin and Lauren followed in the new year. Everyone has known each other in some way for years. Being local to each other and playing for years in the local scene meant that at some point we had been on the same bill as everyone else!
To all: It seems like the original idea came from Daniel Finch. But he recently left the band. What happened? And what's going on now?
Yeah, Dan played a key role in the genesis of this band. We think he realized after the tour that he was in a different place in his life to the rest of us, had different priorities etc. He said he wants to be able to spend more time with his family and he has other projects now. We wish him all the best!
To Dani: Dani, I follow your music (Cradle Of Filth) since the beginning, and on a previous interview I did with you two years ago in Bologna (tour with God Seed, Rotting Christ and Dark End) you explained me a lot of things. But this side project starting later than, say, Temple of the Black Moon, has already released and done a tour. What's your view, plans, projects with Devilment, also compared with COF (a band that must keep you pretty busy I guess)
Devilment is first and formally a fully operational battle station, in the fact that a lot of people have asked me whether this was a project or a real band. Well, I can tell you right now, it's a real band! Obviously my day (night, surely?) job keeps me exceedingly busy, but Devilment is something that acts as a much-necessary pressure valve, to release a lot of pent-up musical steam and to keep me on my toes. A lot of things have happened quickly for the band and now it's time, as a unit, to prove that we're worthy stalwarts in the current Metal scene and that we now progress from strength to strength, especially with the onset of Summer festival appearances and the glint-in-the-Milkman's-eye writing of album number two… Future plans aside from those just mentioned are a second video, another photoshoot, summer festivals, a tour of our own somewhere new outside of the UK and announcing our new guitarist this week!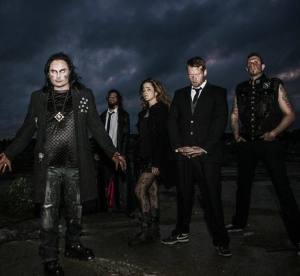 To Dani: I can recognize your lyrical style on this Devilment album. How was to let your inspiration free on a completely new project?
It was a lot of fun and not as restrictive as Cradle, as obviously with twenty years of work under our collective belts, there are certain limits attributed to expectation. With Devilment being a totally new entity, there was no prior knowledge of the band to influence the writing, as no one outside of the band knew what to expect. I'd compare the lyrical style on this album to the vein of Sylvia Plath, Tim Burton and Roald Dahl as opposed to the late nineteenth/early twentieth century authors that have grown to be so synonymous with Cradle Of Filth. It is quirkier and more a modernistic dark fantasy we're peddling here.
To Dani: one further question: I observed you on stage with Devilment. Mind I saw you with COF a dozen times. You are "you" but it's different with Devilment. Your singing feels different, somehow more passionate. It's hard to explain. Can you?
No!
Sorry that would be a pretty crap answer!
With Devilment it is a different musical experience, a different mindset and mentality and definitely a different band altogether! Most, if not all the songs are in a different key. There is a different atmosphere prevalent here, but also a sense of guilt by association?! In truth I love both bands, this is just the newborn baby of the two.
To the rest of band: how was to have Dani writing those amazing lyrics and front your band?
Honestly, its great! We'd never played live before our first gig in Bristol on halloween so other than seeing Dani in Cradle, we hadn't really experienced him as a frontman. Over the course of the tour we saw, every night, just how truly awesome he is. That was great as it really helped us to feel relaxed on stage and allowed us to concentrate on what we were doing.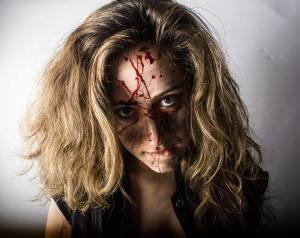 To Lauren: usually women on a metal band are either keyboardists, backing/female vocals, front ladies. Happens they aren't on the line up either. You are different: great keys, which isn't really "background keyboards". And a fantastic voice. Can you briefly tell me what's your artistic background?
I've been gigging with different musicians in a variety of different styles since I was about 16. I've sung lead and backing vocals in other bands and on tracks for music libraries in a range of styles. I have to admit, I never really thought I'd end up in a metal band, but when Nick asked me to put together some backing vocals for "Girl From Mystery Island", I found that it all came to me much more easily than anticipated! I loved having the opportunity to get my teeth sunk into writing synth parts, I'd only ever written on the piano and dabbled with acoustic guitar before, so it was a totally new experience for me.
To Lauren: I loved how you played live, I felt the "jamming", the extra chords, you know. I could feel the difference from the album, I could hear you going creative. Where do you think Devilment will take you on the keys side? Also vocals: will there be more of yours, some lead? More duetting with Dani?
I became a member of the band fairly soon before we started recording "The Great and Secret Show" and so a lot of my piano parts were written over guitars which had already been laid down in the studio and weren't able to be changed. However, with the title track, we all had a part to play from the very beginning, so there was less of a restriction on what I could write or where I could put it. Now our writing is a lot more collaborative from the beginning, so I don't think there will be as many boundaries on what I will be able to come up with and that's pretty exciting. With vocals, I guess what is needed will emerge as songs start to take shape. I certainly will be singing though (laughs, editor's note)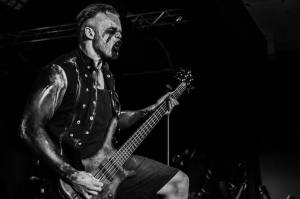 4 or 5 years ago I always played metal with a pick. I felt it was easier to play quicker and with more clarity to my sound. I started to develop a pain in my picking hand which I believe some sort of RSI which made it really hard to hold on to a pick so I switched and started playing everything finger style. My hand got better and I did start to use a pick again for some songs. This is the approach I take with Devilment, some songs suit finger style and some suit a pick so I swap between the two styles of playing throughout the set. I remember when I started playing there would always be bitchy debates on internet forums about what was the best technique to play bass, the old 'fingers VS picks' debate. I think if you want to play intelligently you should be equally as good at both techniques as well as being able to incorporate slap etc etc if and when needed. Theres no right or wrong, just what works for you and more importantly the song.
To Aaron: at the gig I was by your side of the stage. I could feel a lot of work behind the drum, far more than what I found on the record. You too, are letting yourself free onstage, right? What is your background and how do you feel your groovy drumming is influencing Devilment music and songwriting?
Yeah, I like to play hard and get into the songs, I think the groove we bring as a band helps people to follow the music, nothing to technical just straight up hard hitting music with plenty of hooks and riffs. I'm hoping for the next album to maybe get a bit more expressive with things and maybe a bit more dynamic with the playing.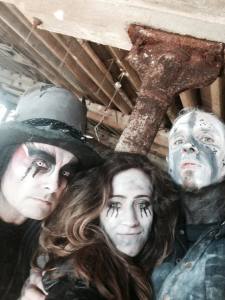 To all: What's next? Headliner tour (you deserve it!)? Another album?
We've already started booking festivals for 2015 – so far we've been confirmed to play Graspop, Hammerfest, Summerbreeze and Rockharz with more to be announced! We've also started writing some new material, so it's all going great (laughs, editor's note)
To all: will you stick on that "unique sound … that was both creepy and heavy, but indelibly groovy", a perfect description in my opinion (just quoting the press info…), or will you let inspiration flow and create something that could even be completely different?
We have already started the writing process for the second album and yes we are working to keep that same sound and vibe but also expand on it sonically and try to take the listener somewhere different.
To all: a new band, a new album, a new tour. You pretty much tested yourself lately. How was it? I mean, how do you feel, relate to each others, after having composed, recorded, released and even toured around Europe all together? Is the original energy still there and ready to be even more creative?
Its been a busy year for sure! Aside from Dan leaving the band we are stronger than we have ever been and hungry to get our new ideas out to you! It feels like we have found our feet somewhat with this first album and we are now in a position as a band and with each other individually to be able to really knuckle down, experiment get creative. Yeah the energy is there, more than ever. We are 100% ready to bring it.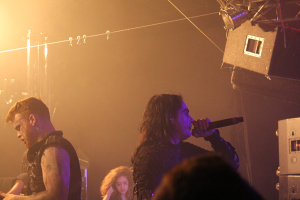 To all: thanks a lot for the opportunity to interview you guys. Please close this with a message to your fans in Italy -you probably have many, after this tour- and to the readers of Metalhead.it.
Thanks so much to everyone who has supported us so far. Our shows in Italy last year were some of the best of the tour – the audiences were fantastic and it was great to see people singing along so soon after the album had been released. We're really excited to be playing at Hammerfest next week as well as Graspop, Summerbreeze and Rockharz over the summer months – maybe we'll see some of your faces there! We've also got a very exciting announcement about our new guitarist coming up this week and we're already busy writing some new music together in the studio. So keep up-to-date with our facebook page and please keep in touch with us!
(Luca Zakk)