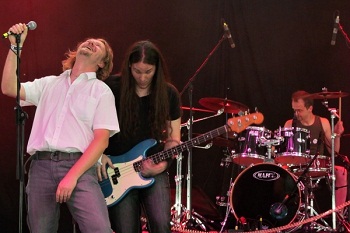 Well-skilled and likeable are the members of Czech progressive metal band Edain: MetalHead is very pleased to introduce them to the Italian readers with this interview with the vocalist Martin, who talks with us about the new album "Of those who worship Fire". Enjoy reading! (versione italiana)

Hi Martin, thank you for your time! I hope you can introduce the band to the Italian readers…
Salve! We are five guys from Brno, Czech Republic, who like technical metal music and we formed EDAIN back in 2007, when we left our previous bands ABSURD CONFLICT, CARBON DIOXIDE and SPITFIRE. Myself, I do all the singing and talking and keep the band going by telling the others to "do something". Pavel, guitar, is the music man, he takes care of composing, arranging and is also involved in the studio works. Franta, guitar, is the jazzman, he brings experimental, jazz and fusion ideas into our music. Zdenda, bass, is our Steve Harris – his finger playing style and stage appearance are unmistakable. Lately, he was listed among top 10 sexy metal musicians in one Czech online magazine for women. And Jirik is the rockstar – guys admire his drumming skills and girls admire his … eh, am I talking too much?
"Of those who worship Fire" is one of the best progressive albums that I've heard this year 2013. But why is it so short?!
We are pleased with the reaction. Naturally. I would even say we didn't expect so many positive reviews. Yes, the running time, we considered it … and decided to put out only the material that works together. Adding any other songs might make it less consistent, although perhaps just from our point of view. For instance right now we have two new songs recorded that will probably get released as a single. I guess we are comfortable with short releases, in fact, if people point out that it is short, I guess it is better than if anyone complained that it is boring.
I wrote that OPETH are one of your main influence, but I don't know if you would agree… can you tell me who are your 'muses', in the metal field and more generally?
I cannot complain if somebody compares our music to OPETH or just any other respected band. Of course, we combine death metal heaviness with acoustic and jazzy moments, so in that respect we maybe fit within the rank, but then again CELTIC FROST did the same thing at certain point, and I sometimes – proudly – also refer to them. Seriously, I try to be modest about it, we didn't invent the music, we simply love all these bands, so if someone traces any influence, we wouldn't probably deny it. Luckily, each of us listens to slightly different bands, so if we work on a song together, it gets very different input from everyone.
"Silent Weapons for silent Wars" is my favourite track. Can you tell me something more about it?
Indeed, I guess it is our highlight, we managed to combine everything into one song that is both, technical and epic, and I especially like its gradating atmosphere. Pavel likes to compose complex songs, and I enjoy to develop my ideas along with the progress of the song. We usually play it as the last song of our shows, with a short drumsolo introduced. And I leave stage for the last minutes, so that guys get more attention from the crowd – they certainly deserve it.
I've read your lyrics and I find them beautiful but hard to understand… what are the 'main lyrical themes' of the album? Is there a concept, a 'strong idea' beneath your texts?
It has happened so, that there is a connecting idea, although not necessarily an intended concept – all these songs, including our previous single "The Sulphur Breather", have background in geopolitics and especially energy security. I study international relations with focus on Balkans and Middle East, so it all comes from there, with some historical and philosophical references. But it is not necessarily our only topic, the first album was more personal and some new songs get back to psychology and even drugs and erotics, because, after all, we are a rock'n'roll band, aren't we?
Please, tell me something about the Czech metal scene! I think that it is almost unknown in Italy…
Hm, it may be difficult to judge from inside, because I know we have very good bands, but if we do not get international recognition, it is nobody's fault but our own. But in general, we do have a rich music scene, with hundreds of bands, young and old, and for example in my hometown Brno there are 5-6 clubs of different size where we can play, there are several shows every week, about 15 webzines, 2 big printed metal magazines, and probably everyone knows our biggest festivals Brutal Assault, Obscene Extreme or Masters of Rock, so there are things for all kinds of metalheads. But maybe because we have it all, we are so self contained … which actually reflects Czech mentality, we love our comfort and beer, for better or for worse.
What do you do in your 'normal' lives? Are you all involved in the music business?
Apart from me running the record label, we are not professionally involved in music, we have our day jobs, more or less creative, some have families, and lots of other hobbies. So I would say we are not such a hard-working band, although especially the guitarists approach their role very responsibly. For example, Pavel has a home studio where we recorded and mixed parts of the album, and after several weeks of work his wife complained that she does not remember what he looks like without headphones on J
Thank you so much for this interview! Would you like to greet the Italian readers?
Si! Miei cari amici Italiani, thank you for your attention and support. Italy is a very popular country over here, be it the Alps, the seaside, the historical sights and of course the football, and I am proud to have a big collection of Italian CDs and some vinyl as well. So it is an honour for me to get presented in Italian metal media! Grazie mille!
(Renato de Filippis)