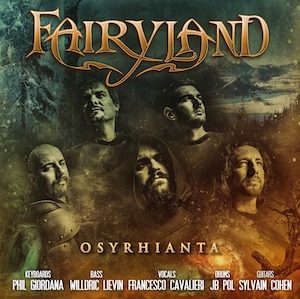 The publication of "Osyrhianta", the new Fairyland's album, is something like godsend for all fans of good old symphonic power metal with fantasy themes… Metalhead spoke about it with Phil Giordana, leader of the French band. Enjoy reading! (IN ITALIANO QUI)

Hi, and thank you very much for this interview! The first question is very simple: why so many years gone from the last album?!?
Hi Renato! Well, this last decade was not an easy one. I had a couple of accidents and subsequent surgeries plus hospital stays. I also got married (yeah!). Willdric [bassist of the band, ndr] got a son, and Sylvain [guitarist, ndr] a son and daughter. Francesco [singer, ndr] got married too (marriage in Tuscany is something everyone should experience at least once in their life). In short: we got lives \o/
Would you like to present to our readers the concept of "Osyrhianta"? Is it a sort of prequel, am I right?
I'll make it short: "Osyrhianta" (meaning 'The Age of Light') is the story of the creation of Osyrhia. It also deals with the rise of Cenos, along with the first gathering of all the people of Osyrhia. Mostly, it paints a picture of the different 'races' and their lands, along with Cenos' fall from grace. It's the start of a history yet to be complete.
Please, tell me something more about my favourite songs in the tracklist: "Heralds of the green Lands" and "The Age of Light"!
"Heralds of the Green Lands" is the presentation of Illundaria, a continent south-west of Eleandra, which is the central continent. It deals with the Illundarians and their journey to the first gathering. "The Age of Light" is a somewhat naïve and optimistic look at what the people of Osyrhia expect for the future, keeping in their mind Osyrhia's Primal Dream. And yet they don't know what doom will come.
Again about "Heralds": how it was to realize the video?
That was one tough day, I can tell you that. 8 hours in full costume, playing the song again and again and again. But at least the catering was good. Then came lots of technical delays for the CGI work, and we had to change companies. In the end, I'd say it doesn't look too shabby, but I'm not eager to repeat the operation any time soon.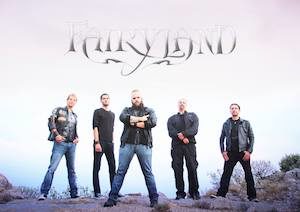 How did you get in touch with Francesco Cavalieri? Is it easy to work with a singer who lives in another country?
Francesco contacted me back in 2015, wanting to know if we had a singer for the new album. He sent me a link to his amazing rendition of Symphony X's Paradise Lost, and I was hooked. He lives 450kms away from us, so that's not much of a problem. Right now, with the borders closed, it's a tiny bit more difficult. But…
Elisa C. Martin is guest on one song… was it fine to work again with her? Why did she leave the band after the first album?
Elisa did a great job on her track. I only regret that we didn't take more advantage of her talent. Of course, as always, it was a delight to work with her. Her work on the first album is what legends are made of. She left along with Willdric for interpersonal differences. And in insight it was my fault as I hadn't matured yet in dealing with band members. You could say I'm still not a champion on that front. On the bright side, Elisa is back as lead singer (Francesco is tied up with Wind Rose).
Just a question about the past (yes, I am a long-date fan): just some information about my favourite Fairyland's song, "A Soldier's Letter"…
It was dealing with one of the main characters from "Score to a New Beginning", Ban Arbigail. He was a companion of Doryan and single-handedly defeated the Leviathan that was blocking the way to Duna. After this fight (Master of the Waves), he wrote a letter home to his wife, but this letter was intercepted by the forces of Cenos and warned the Dark Lord about his impending doom. If you want a visual reference, you can imagine Maximus from Gladiator walking in the wheat fields. That's how it is to me, at least.
Is it easy to promote your album during the pandemic? Wouldn't be easier to postpone a little the publication date? You have already waited for 11 years…
I think it is vital to release this album during the pandemic. People are stuck at home, bored to their teeth, and a new album might ease their suffering. It's not much in the grand scheme of things, but still I hope it brings the fans a bit of comfort.
What do you think about the future of symphonic power metal? 20 years ago, albums like yours where very common, 10 years ago a sort of rarity… now they are an absolute exception!
I don't really know. I've seen lots of bands cutting down on the symphonic side of their music, but I've also seen a few who just punched it up. I realise that the style might be considered "has been", but I also know that there are many people out there still craving for it. As long as I can compose, Fairyland will still be symphonic metal.
I leave you as usual the end of the interview… thank you for your time and see you soon!
Thanks a lot René. I hope you all like the new album. Hopefully, we'll see you on the road soon enough. Stay safe and take good care.
(Renato de Filippis)