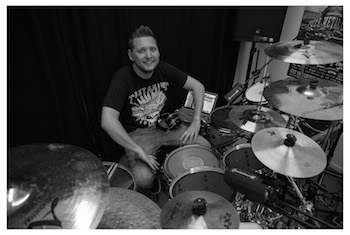 He plays with Dew-Scented and I Chaos and has played with Epica, After Forever, ReVamp: the Dutchman Koen Herfst is the prototype of the modern drummer, capable of dealing with multiple genres and styles with a wealth brilliant technique. "Back to Balance", his first solo album – that hosts many musicians like Mats Levén (Therion, Yngwie Malmsteen), Mendel Bij de Leij (Aborted), Coen Janssen (Epica) and many others – offers a chance for a conversation about the present and future. (versione italiana)
Koen, where do you live and what part of the Netherlands are you from?
I live in The Hague, close to the beach in a part called Scheveningen! (It's in the north of Den Haag, nda)
"Back to Balance" is the product of the participation of many musicians. Can you tell to me and to readers about its birth? What is there behind it and what inspired you to make it happen?
I've been writing music on the computer since I was 18. After a few years I also started playing some guitar and bass. Over the years I've recorded literally hundreds of ideas, jams, riffs, etc. Some of them were used in my bands and projects but most of them just didn't fit in and I always liked them. So the idea behind the album was to collect the coolest ideas I had and turn them into a soloalbum, with guest musicians. But I had so many ideas and also so many people I'd love to be on the album that it became really diverse; 14 tracks with 25 guest musicians and over an hour of music with influences from progrock, blues, electronic music, hardcore, crossover, fusion and of course lots of metal. I'm really proud of it and of course it was fun to record it.
Someone wrote that your album has too much content and is too long. I wrote that taking the right time to listen to it is the best thing to do. However – allow me to ask – don't you think that, by these rushing times where most of people listen to the music from a phone (and no longer from comfortable HI FI), over an hour of music might be too much?
I don't think it's too long because in the end the artist always decides what he wants to put out there. But it was a crazy amount of work getting it together with so many guests and songs, so not sure if the next album will be so long!
Are you willing to repeat the experience of writing a solo album?
Yes, I'm already slowly writing some ideas here and there. But there's absolutely no rush! And maybe, to add to your previous question, I might work in singles or EP's…we'll see!
Which bands are you still part of and which projects are in sight?
I'm playing in I CHAOS (death metal), Dew-Scented (thrash metal) and I'm forming a new band actually with a singer from…Italy! Have a listen to the last track of my album and you will have a hint! (Valerio Recenti of MyPropane, ex Xandria, nda) Also, I'm open to any cool projects in the future.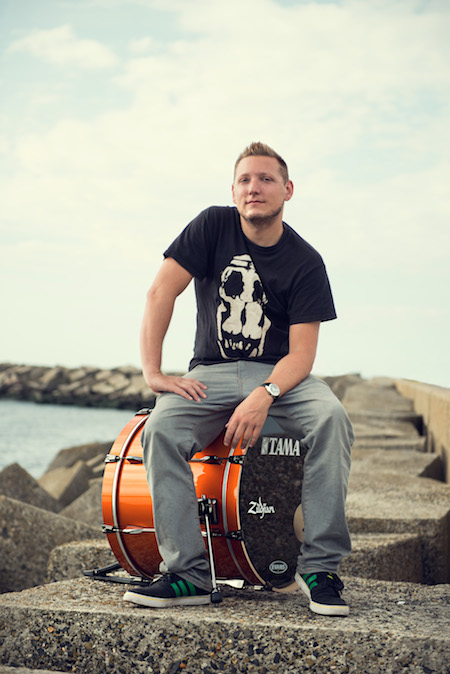 I'm not a drummer, but I listen to music all the time and to me it was impossible not to notice the sound of the pieces that compose your drums. It seems a real sound and not artificial.
Yes, the drums are all natural. Since it's an album by a drummer I thought it was important to mind the details! Very happy how the drums turned out and learned a lot from the process too: I record drums in my own studio too so artists can contact me for drums on their tracks!
From what I understand the electronics and the use of programming is something that interests you from long time, right?
Yes..I just love messing around with crazy sounds, beats, and what not. Started with that when I was 18 and still doing that every week actually. Also mixing electronic drums to my acoustic kit is something I like to do!
What can you tell me about of your collaboration with Armin van Buuren? How did it start?
He asked us (Bagga Bownz, where his brother and my friend Eller plays in) to create a track together in our style. It's the titletrack of his previous album 'Mirage'. Then we were asked to play the piece live at the previous tour, I showed what I could do and that's how my role got bigger in the last worldtour. It was an amazing experience!
How was the Herfstfest – Drumfestival Den Haag (here's)?
It was so great! Over 700 visitors and everybody was so excited about the day….I've decided it should be a yearly event and maybe even go International.
You are an endorser for several brands: what does exactly consinst of this role?
I do lots of clinics for my brands Zildjian, Tama, Evans, Balbex and Roland. I love telling (young) drummers about what I do and how I do it and it's always very inspirational and rewarding to see all the happy faces and get the compliments how I inspired them.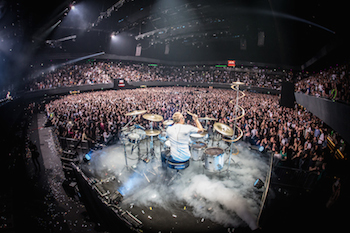 Who would you like to create a whole album with?
There are lots of artists I admire…from Wes Borland (Limp Bizkit) to Jordan Rudess (Dream Theater), from Devin Townsend to Trent Reznor and from Mike Patton to Mark Tremonti….so maybe, with them all? But seriously; be sure that there will follow lots and lots of new music from me! Stay tuned via www.koenherfst.com, www.facebook.com/koenherfst, Insta @koenherfst.
Thank you for the interview. Hope to hear the sound of your drums soon! Congratulations again for the album!
Thanks you for the interview! I hope to play Italy soon, maybe in the form of a clinic or with a tour…a presto!
(Alberto Vitale)