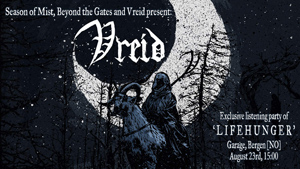 The August 23rd 2018, was the first day of the Beyond The Gates. Bergen, in Norway, was packed with events, and stuff running around music and metal. Hours before the Gates beyond would open, Season of Mist set up a listening session of the new VREID album, "Lifehunger", at the famous Garage Rock Pub in the center of the city. A little before the schedule time, the label kidnapped me, my photographer and Jarle "Hváll" Kvåle, bass player and composer of the band, and pushed us downstairs, in the empty venue in the pub's underground. We had beers, sofas and plenty of space. We didn't mind being kidnapped… not at all! But having a limited time, as Hváll would attend the listening session of the music he'd written… we had to go quickly to the core. We had to talk about the new album, out at the end of September… and luckly I could have two spins of it right one hour before the meeting: while I was talking to Hváll, I could still feel the vibes of the new beast! (CLICCA QUI PER VERSIONE IN ITALIANO)
MH: The previous "Sólverv" had longer songs, and on my review (here) back then I wrote it was somehow a return to Windir roots….
Hváll: Yes.
MH: This one, the new one… it's so powerful, in your face, you kind of had another twist to your style.
Hváll: mmh… I agree in a certain way with "Sólverv" that… When I wrote that album I spent a lot of time in my cabin back in Sogndal, where I grow up, so I am pretty sure that inspired me in many ways, and also we did a 20 years celebration of all our band, I spend a lot of time digging back out catalog. And notice that kind of color of the music and lyrics. With the new album we've taken a longer break; it's been 3 years, not a long break between the albums, but for Vreid it's a long time, we used to have one or two years for every new album… and with this it came a lot of new inspiration, and we changed our booking agency, changed our label, changed our studio, we changed the designer, I just wanted to strip away from the safetyness, you know, and kind of ask 'where are we at now?'. Not having any guide like you have to do this or wanna do this, or you should do this…
MH: Like a reset!
Hváll: So, we asked where do we go from here now… but many things are rooted in our history and what we do, as we are not a different band, but I think it's give us some freshness that we wouldn't have gotten without doing all these things.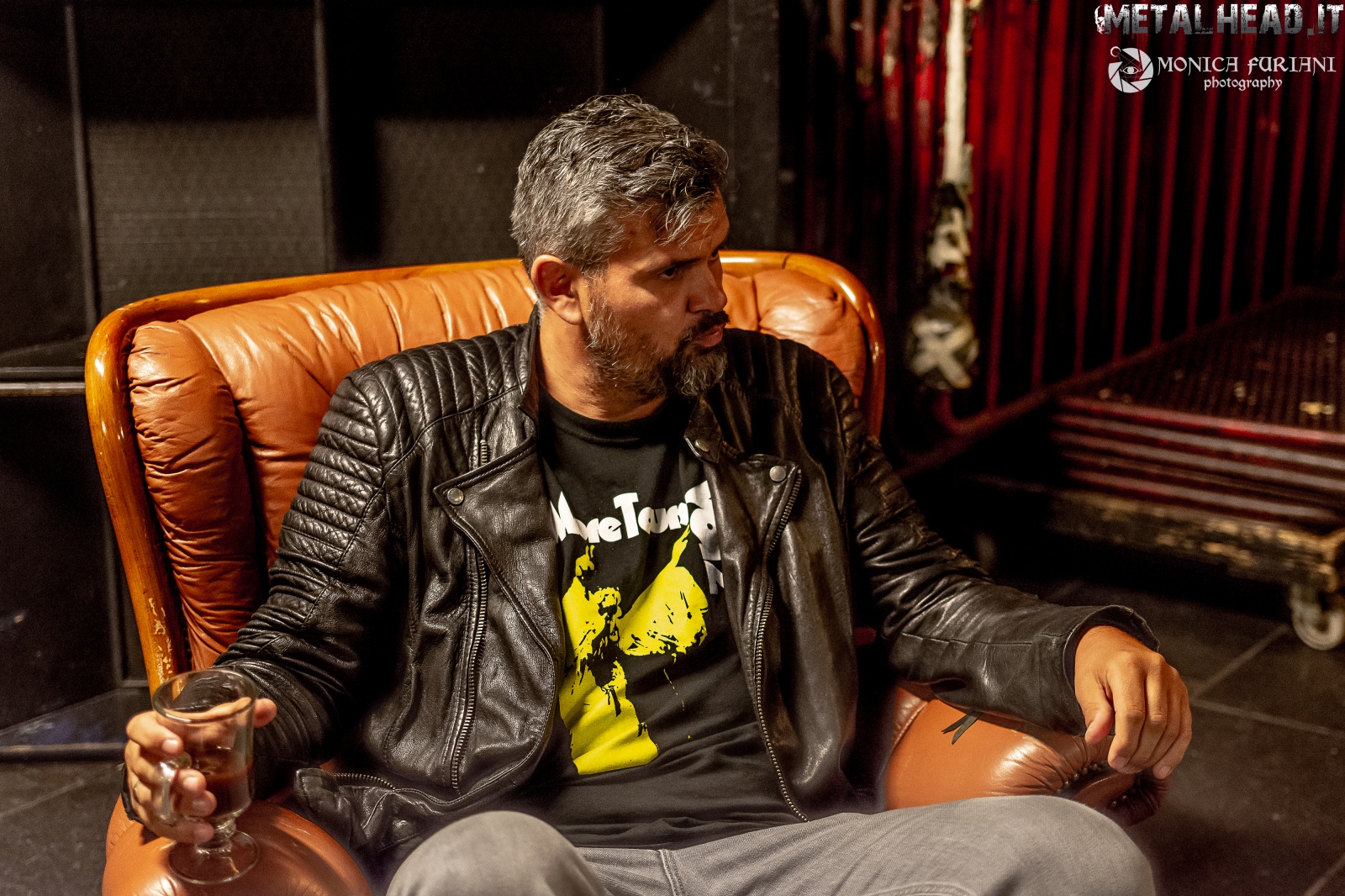 MH: This one comes straight from the listening I had today. Well, the label says it's 'black'n'roll', but I disagree. I just listened to it two time in a row, half a hour ago… so I am pretty fresh with it.
Hváll: Yeah!
MH: And well… it's to me black metal, heavy metal … there is even a song with a riff and a solo that are quite heavy metal, and it's rock'n'roll. But these three entities are not a mix creating 'new' stuff such as the black'n'roll thing, they are rather put together in a compatible way, one by the other. This is what I felt.
Hváll: Well, I appreciated that, as I said… personally I don't mind the genres, I get annoyed, I don't care what label calls us. But I am deeply rooted of course in the norse, in the black metal, it has been a part of my life for so many years, also folklore has been a part of it, but there are so many others aspects of the music that I listen to, that I get to work with, I like a lot of kind of music, specially 70s music: 70s rock, 70s heavy metal is what I grow up with, I spend the most time listening to… so those things will always shine through, I think it's just natural. I don't put any limits at all. So, how well they combine? There's you excited that they fit like a glove, but you know there are other listeners to satisfy. I think that this might be a little difficult for some people to understand that, that there is rock, heavy metal parts… but that's the way you make of the music an art, I don't plan to please anybody else but myself. There is not any tension. Of course when people like it, it means a lot to me but I've to ignore what distracts me and this is the result.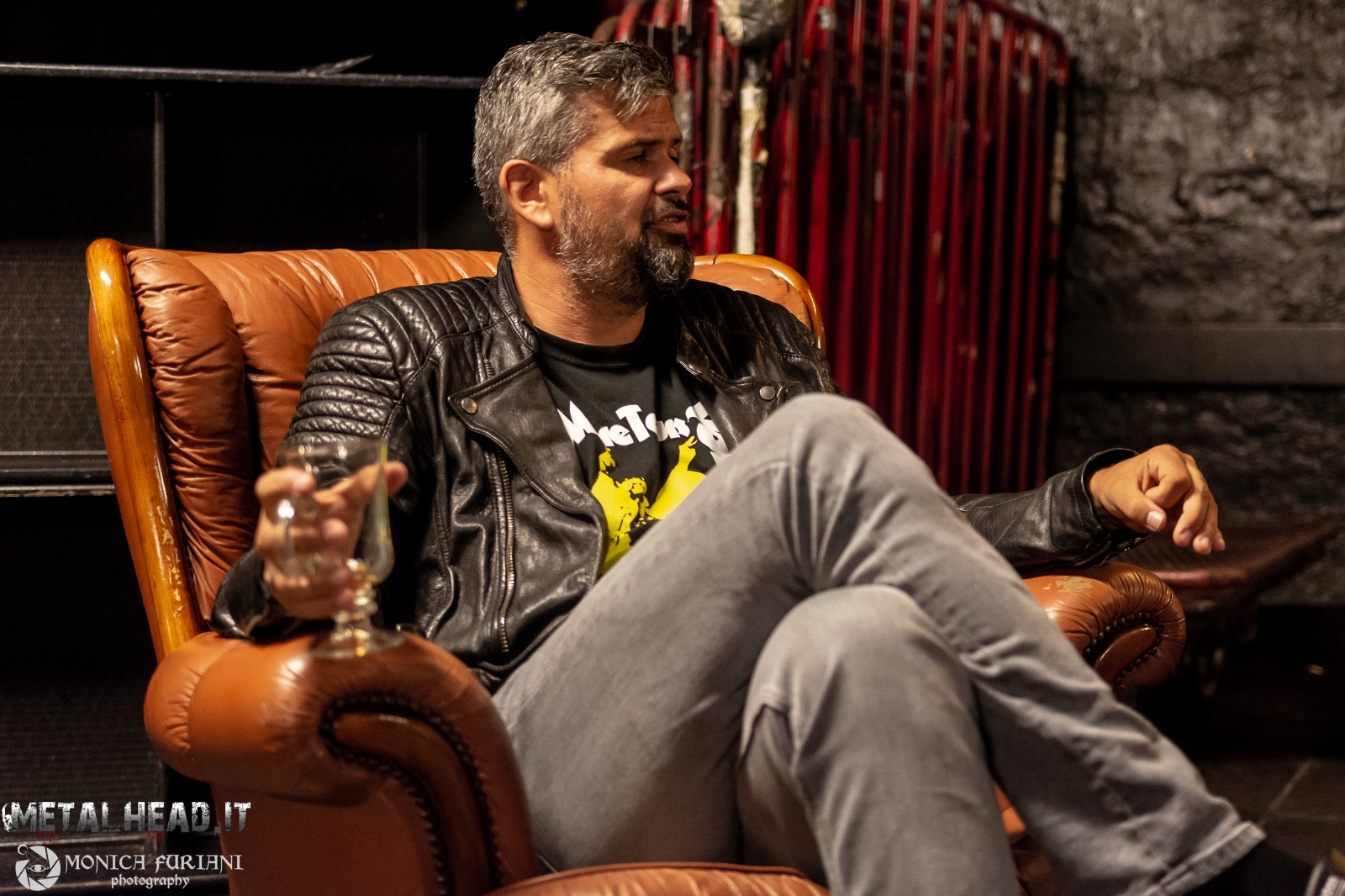 MH: But for sure the songs of this album should be quite… an impact when played live. They really are 'on your face'
Hváll: We recorded a lot of the songs live, you know. We set up in a more… in a different studio… and a producer doesn't really work with that stuff. And of course I produced the album with him, it's my thing, I would make the final decision but … he is like, he wants to set everything… 'how do you work live, how do you do it live…' and that's what we wanted. Rehearse a lot on the song, record most of it live, then work on the details. Trying to catch that feeling.
MH: And this is really 70s: go in the studio, play the song, record it and put it out.
Hváll: I think that's the way it should be and also it creates a stronger and unique atmosphere within the band, you know. You feel you're doing something together. I write all the music, I write all the lyrics, but everyone is sitting and working on that, it's not sitting one by one in the studio and then putting your part on.
MH: This way it is very cool!
Hváll: Yes, it's too cool, you know, and I think that the music of Vreid needs a lot of strength and warmth with the sound, you know.
MH: It should be fun to play the new album…
Hváll: Absolutely! We already did a first show, we played Summer Breeze where we played two new tracks and they felt so good, and we've seen the audience instantly reacting to it, you know.
MH: I agree with this!
Hváll: But I think it's an album with a lot of layers, so you need to spend time with it but I think it's possible to listen to it two or three times to get it, and this makes sense to me.
MH: For me it was there for the first time. I did a second listening to focus on these questions…
Hváll: That's really good! But you know for some albums you like it instantly and then get tired of it. I hope, of course, that we can grab listeners quite immediately, and keep them in time and let them find something in it… I'm very fond of albums that grow, but still you need having something catchy; I think there's nothing wrong with catchy… because it's something that gets you curious instantly.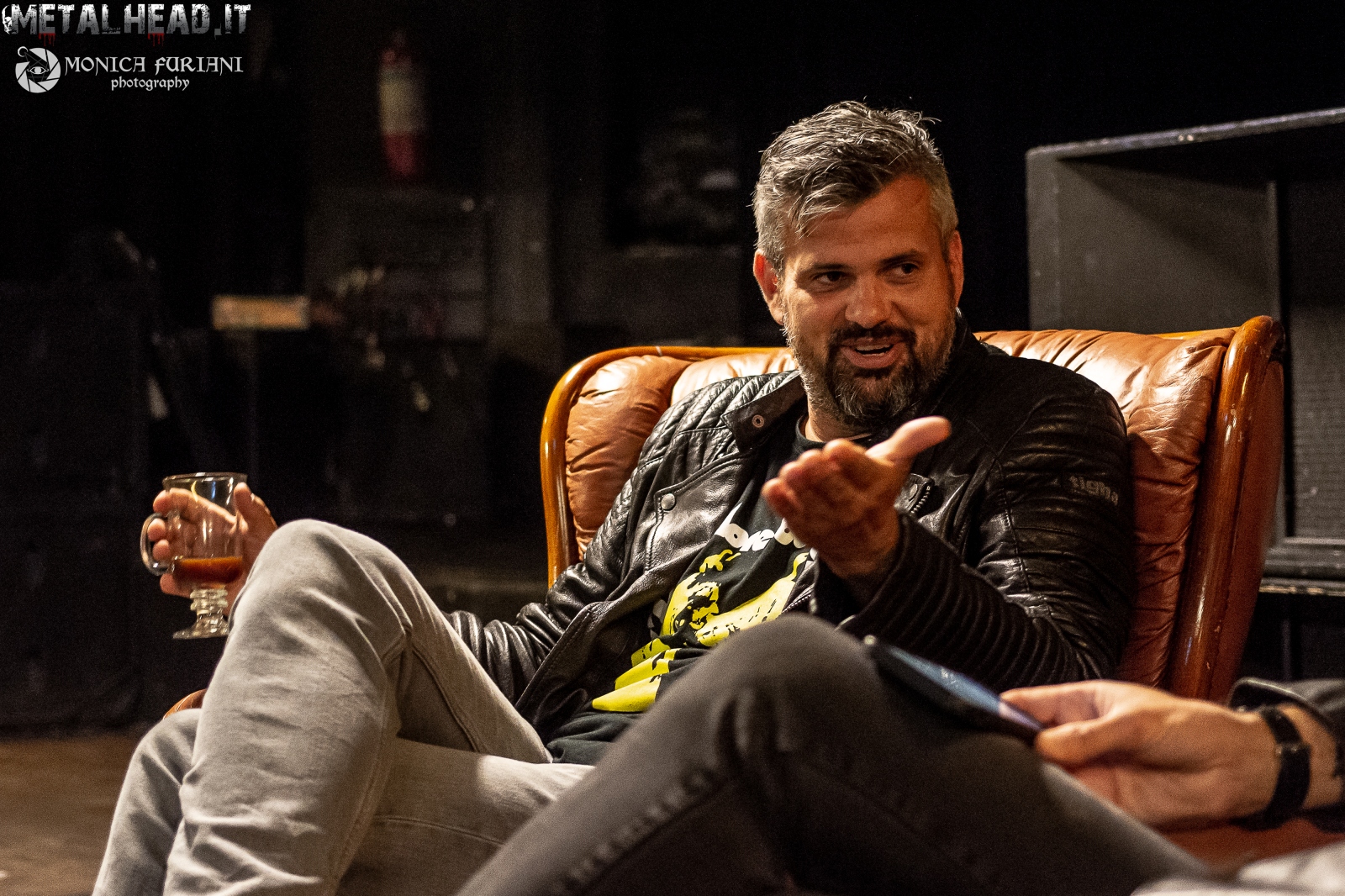 MH: What about the title. It captured me somehow. And putting it on that cover… it somehow takes away an equilibrium, I mean the cover is far from the title or vice versa… I would like you to explain me what did you mean with such a strong title as "Lifehunger"?
Hváll: For me it's the so many details in life. So many things, so much noise around, and you don't know how you can focus on things. Strip everything down, for me, it's about staying in a life I want, doing what I want to do. It sounds like an easy thing but, you know…
MH: Indeed, it's not easy at all!
Hváll: Exactly! That's what it is all about. I've been through so many good things in the last years, I've also been through some of the most horrible things, I have experienced as a person in the past years, and all these things makes everything more clear for you. And for me it's very important to not base your life on hope. I don't think I know anything, but I think very many people base their life on hope. At this point of my life the thing that makes sense for me, for my family, for what I want to do is to do things when I can do them. And then… no one is doing them for you! I have to make sure that you put your energy in getting your life to be the way you want it to be. That's something completely different for you, for me, for everyone. Everyone has his own thing, but you are the only person that can do something about your life. For some persons, you know, it can be easy… you are lucky. For others it's really hard. For me that's hunger, that's everything. The only thing I am quite sure about is that I am gonna die someday. Hopefully it will be in a while. So again these are the classic things philosophers have been looking into it for thousands of years… and nothing is changed, you know? A lot of rough things, a lot of fun things, something we find that it stimulate us in many ways, I guess the most of the time you get down to the same core questions, so, that life I am curious of, something everyone is chasing someway, or not.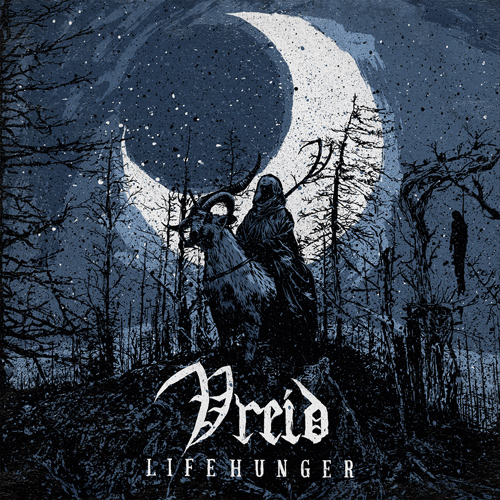 MH: And the cover?
Hváll: The cover, you know, I think that's … I pretty much explained what I told you to the artist. What's the essence of this album. What I see. How I want to see it illustrated in a way. And I told him: 'I want you to take that and don't get any more input from me. Just start working on it'. Then he came back with this, which is a bit different from what I had in my mind, but I was just like immediately… 'we don't work any further on this, it's perfect!'.
MH: It's a cover that matches the sound, maybe.
Hváll: Yeah, it matches the sound and I also think it is the whole landscape of the lyrics and how the album …I think also it's very much about the album title, you know, its extremities and how adverse they can be, how dual your life can be. And it voices down again to this simple dual: life and dead.
MH: One last question, that it just came into my mind. Out of the old stuff, the Windir stuff I mean, even if I am into black metal, there is one song, standing out of the box that I love so much. I'd like to know whether Vreid will ever get back to something similar. It's "Journey to the End". Mostly the electronic part I mean. I damn love it.
Hváll: I would say that I don't think we… I cannot say we are not… but… this was a pure creation of Valfar. I think this was maybe his amply strongest work. It says everything about his life, I feel it is a masterpiece. It's something that goes beyond borders of black metal, metal, I don't know it's something…
MH: It's hypnotic…
Hváll: It's purely about, you know, your inner voice, the atmosphere that you feel. He couldn't care less about the band responsibility. He was like 'black metal? I don't give a fuck!'. He loved black metal, but that's why he labelled the music with something like 'Sognametal'. People asked what is 'Sognametal'? Simple, it's metal from Sogndal!
MH: It's your stuff, it was his stuff!
Hváll: It's like when we see other band and they say they play 'Sognametal', it's fun… because the whole thing behind 'Sognametal' is… this is my work, developed around our unique things, how we create music. But it shouldn't be like a sound, 'oh… we call this melodic part Sognametal'. I of course can understand that, that was happening with other kind of music, that is a cool thing, but the intention behind 'Sognametal' is not like madness or whatever, this is our thing, this is our name.
MH: Which is what you are still doing with your music now.
Hváll: That's the whole spirit. After Windir, of course, I immediately said I don't want to continue as Windir. It's respectful. On the last two album I wrote as much of the music and lyrics as Valfar, we were like brothers, but we didn't want… it just didn't make sense. Windir died when Valfar died. That's it. And then I was like 'do I still want to make music?'. 'Yes.'. And 'Do I still want to make music with the other guys, like Sture, Stian and Jørn?'. 'Yes'. And they wanted to continue that. And the whole idea, decided immediately, was there are no limits. And we don't want to define what Vreid is or is not.
…Quickly we go upstaris. The kidnapping was over. Meanwhile from the speaker we could hear the beginning of "Flowers & Blood", the opener of "Lifehunger"…
(Luca Zakk)