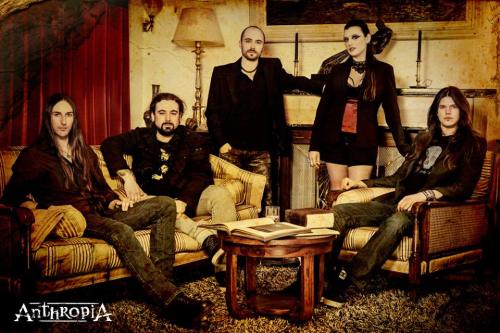 Lovecraft and prog metal fans: "Non-Euclidean Spaces", the new album of the French band ANTHROPIA, is right up your alley! Hugues "Hugo" Lefevre presents us the band, the lp and the most interesting songs. Enjoy reading! (leggilo in Italiano)
Hi Hugo, let's start with the explanation of band's name… pretty unusual I guess! Comes it from the ancient Greek?
Hi there! Yes absolutely. During my studies, I discovered "entropia": It's the disorder at the microscopic level. I found it quite funny to mix it with the Greek prefix Anthros (man) to illustrate the chaos that mankind could create.
"Non-Euclidean Spaces" is your third album, are you satisfied with the final result? Do you think that the band is matured from its beginnings?
Yes, we are quite proud of what we accomplished for this album. It was really a titanic job! It's nearly the sum of work of these last 5 years. We all had other projects to take care of, but we also took our time to make the best album possible. One of the benefits of being its own label :) I'm personally very satisfied with the result because it's really my vision of Lovecraft's work.
Yes sure, I think Anthropia's music became more mature over the years, even if I think "The Chain Reaction" was already a quite accomplished album. I sometimes listen to my first album "The Ereyn Chronicles Part One" and it's true that I notice some youthful errors in the process, even if it's a good album with good tunes… Anyway, I'm really proud of these 3 cds, but Non-Euclidean Spaces is clearly the most accomplished!
It' easy to suppose that you are great Lovecraft fans… what do his stories and his fictional world mean for you?
Well, it means a lot! I discovered Cthulhu Mythos as a teen, and was so puzzled by the atmosphere emanating from these stories, that I immediately became fan. It mixes a lot of themes that I love: mysteries, ancient cults, madness, aliens, magic… I also like the 1920's where most of Lovecraft's stories take place. All the band members are also huge players too, so we often play to role playing games, board games, card games.. Cthulhu Mythos is peculiarly well represented in this domain for our great pleasure!
Still about Lovecraft: I was always impressed from the philosophical implications of the Chtulu stories… do you agree with his pessimistic and nihilistic theories about the fate and the essence of mankind?
Good question! I can't say I totally agree with his pessimistic vision of the world, but I understand him at least. I'd say I'm halfway to his level (laughs). I can for example hardly watch the news lately. Between murders, rapes, thieves, lying politicians… it doesn't leave much hope. In these moments I clearly share his misanthropic thoughts.
But on the other side, I like what mankind can create in its best days (I like art in all its forms), and I'm also so attached to my loved ones, that I just can't wish Cthuhu to wake up and destroy the world (laughs)
You have a long list of guests on your booklet! How working with Edu Falaschi and Arjen Anthony Lucassen was?
Well a dream came true! I'm a big fan of Arjen and his various projects. I already contacted him for our previous album "The Chain Reaction", but he was too busy to take part of it. So this time I contacted him in advance and sent him one song (I think it was the Melancholy of RC). He liked it and accepted the job! He really is a great guy and very professional, as we expect from him J It's an honour to have him on the album.
For Edu, our drummer Damien took care of this. He mixed the last Almah album, and they became friends. Yann (guitar), Damien and I are big Angra fans, and I asked Damien to send the song "The Snake Den" to Edu, and see if he was interested to sing it as a guest. Again he liked it and was ok. Big thanks to him, this guy is an amazing singer.
So, let's talk now of my favourite tracks on the album: "The Melancholy of R.C." and "When the Stars come right". I particularly appreciated the vocals and the style of Nathalie Olmi!
Thanks, she'll be happy to read that! She often says that I torture her when we record, because I really push her to the limits (laughs) I really like the mix of our voices.
The Melancholy of RC is mainly based on the short story "The Silver key". Randolph Carter lost his ability to dream like he used to do during his childhood, and he's so depressed about it… He hates men in general because according to him, it's their fault if he can't dream anymore. "When the stars come right" owns in my opinion the best atmosphere of the album. It speaks about artists or sensitive people that feel that Great Old Ones are awakening… It's mainly based on " The Call of Cthulhu" or other short stories like " The Music of Erich Zann".
And what about your almost-ten-minutes epos "The Part of them in me"? A very impressive song!
Thanks! One of my favourite too. It's actually the first song I finished for Non-Euclidean Spaces. It's mainly based on "The thing on the doorstep" and "The Shadow over Innsmouth". Randolph is quite worried about his fiancée. She comes from Innsmouth and slowly begins to "change". He's aware of the curse of this town, and knows that someday she will dive forever in the ocean… This song mixes a lot of styles and influences, I think it's good summary of the album.
What can you tell me about the heavy/prog metal scene in France? Do you have any remarkable artists to mention?
I'm often told that we have great bands here in France. And I agree! I already worked with keyboardist Kevin Codfert (from Adagio) and with François Merle (from Manigance) on our previous album "The Chain Reaction". I also did a few guests on some albums from France, that was a great experience. I like the concept and hope to do it again in the future, always fun and interesting to get to know other musicians!
Will you have a tour now? Have you already booked some live shows? Is it easy to bring your music on stage?
I'd like to say so, but nothing is planned as we speak. Our drummer Damien now lives in Los Angeles and we are anyway a bit separated from each other geographically speaking, that doesn't help! But never say never, so we'll see, I hope so!
I leave you as usual the end of the interview. Thank you so much for your time and see you soon!
Thanks to you for your interesting questions! I hope your readers will like the album. You guys can get it on all digital platforms and on Digipack on our webstore : http://www.adarca.com/store. Cheers!
(René Urkus)