by redazione on Mag.23, 2019, under NEWS
Comunicato stampa
Versus Music Project ha appena annunciato la line up completa del Dissonance Festival 2019, che si terrà a Milano presso Santeria Toscana 31 il 7 e 8 luglio 2019:
7 luglio 2019
Whitechapel (US – Metal Blade Records)
Landmvrks (FR – Arising Empire)
Frontierer (UK – mathcore)
Drown In Sulphur (IT – deathcore)
Harmed (HU – Famined Records)
Cold Night For Alligators (DK – progressive metal)
Bleed Someone Dry (IT – Wormholedeath)
Rouge (IT – hardcore)
The Big Jazz Duo (IT – symphonic deathcore)
Got No Ego (IT – metalcore)
8 luglio 2019
MONUMENTS (UK – Century Media Records)
Polaris (AU – SharpTone Records)
Bad Omens (US – Sumerian Records)
Unprocessed (DE – Long Branch Records)
Siamese (DK – Long Branch Records)
ANEWRAGE (IT – alternative metal)
Earthists. (JP – Tragic Hero Records)
Prospective (IT – Long Branch Records)
Let Them Fall (IT – Antigony Records)
When Venus Weeps (IT – post hardcore)
Tickets on sale now at: Do It Yourself Ticket
DAY 1: 30€ + fees
DAY 2: 25€ + fees
DAY1 + DAY 2: 50€ + fees
DISSONANT BOX: 65€ + fees
liveyourmusic.it // Trust Nobody Clothing // WE ARE DEATHCORE // MIRKO COSTA – MRK guitars // Wavemotion Recordings // Inverno Studios // Band Dealer // Mogar Music // Domino PR // KINDA // Overload Custom Guitars & Basses // Uncomfortable Clothing // Hanakotobahime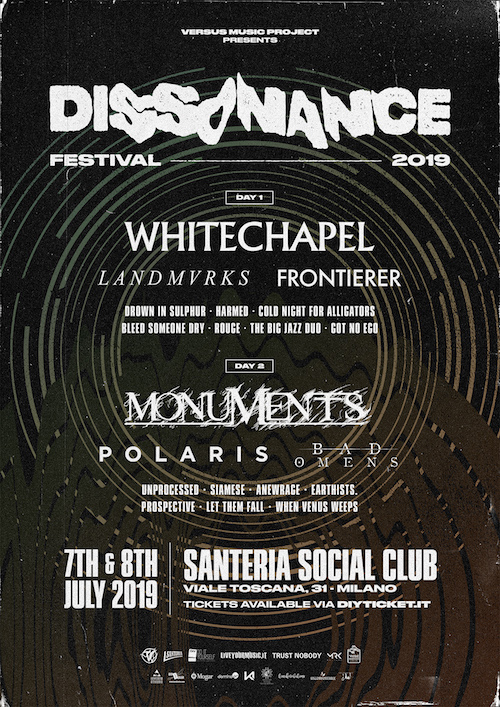 Attenzione / Warning

È vietato copiare, riprodurre, ripubblicare, pubblicare, visualizzare pubblicamente, codificare, tradurre, trasmettere o distribuire qualsiasi parte o contenuto di questo articolo senza previo consenso scritto da parte di METALHEAD.IT. È tuttavia liberamente consentito pubblicare un link diretto a questo articolo sui vostro canali e social network.

It's forbidden to copy, take screenshot, repost, publish, broadcast, show in public, encode, translate, transmit or distribute any section or content of this article without a written approval by METALHEAD.IT. It's allowed to post or publish a direct link to this article on your channels or social networks.
:
news