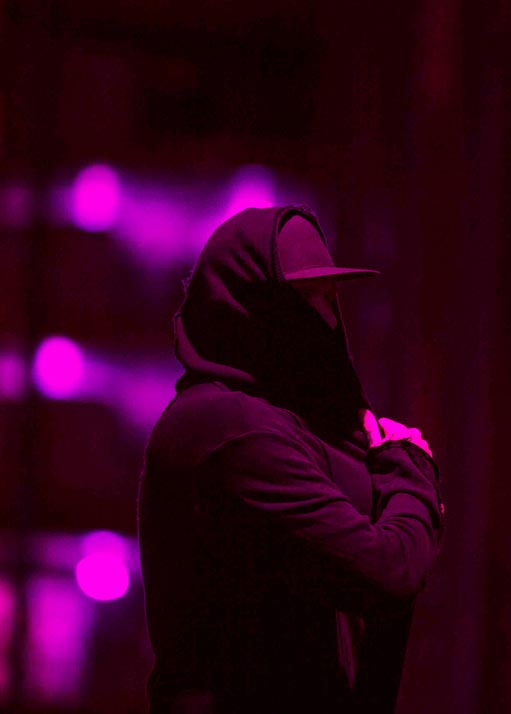 He has always been involved in extreme music projects, such as Nidingr, even though he became famous for being one of Mayhem guitar players. As a composer, a creative artist, now with this unexpected electronic release he kind of upsets the whole scene: many will understand how brilliant this project is, others will be disappointed, hating it while hiding themselves behind the 'metal or death' motto. It's just a a mater of point of views, after all. Given this, I felt it was about time to ask Morten Bergeton Iversen, also known as Teloch, few questions, trying to unveil his own point o view… (leggila in Italiano QUI)
MH: Hello Teloch, thanks for your time and congratulations for "Miami Murder" (review here). I got few Questions for you…
T: Thanks! Fire away!
MH: First something general, taking the chance to ask you things. You are universally associated to Mayhem, but after all, you entered the band in 2011, in the latest and newest version of it. You, anyway, still play with Nidingr, plus other projects such as The Konsortium. And now this alternative solo project called Bergeton. Let's not forget you are or have been session musician for 1349, Gorgoroth, maybe Shining and God Seed, among probably many others. Can you talk a little about your career at this point, the bands you play in, you played in, where you are and where you want to go, artistically?
T: I never played in Shining, but the rest of the bands are correct. My career kinda started when Tormentor from Gorgoroth asked me to guitartech for them. Think I did two tours an then ended up playing guitar for them on the next tour. Played with them for some years before I had a break, did live guitars for 1349, went back to 'Gorgo' that turned into God Seed. Mayhem asked me to join so of course I did that, I was finally at "home". Over the years I've played in numerous other bands as well, like you said Nidingr and Konsortium, but also Orcustus. The scene in Norway is very small, so its normal here to do multiple bands or projects. I also did music for Igorrr and wrote music for a theatre play for the Norwegian state theatre here in Oslo. I wrote "Esoteric Warfare" and 70% of "Daemon" (review here). I guess you can say that's the short story. Musically these days I'm in a limbo, not sure where to go or what to do. We were cut off in the middle of a very successful Mayhem tour. And we planned on have that album tour going for a couple of years. So right now I spend my time building my YouTube & Discord channel, with guitar videos showing people how I compose metal songs. If you asked me 6 months ago about this I would probably just laughed in your face. But here we are, and I am a fucking YouTuber!!! Damn you Corona.
MH: You've been playing bass, guitars and also did vocals (I think in the now disbanded Orcustus). As an artist, how would you define yourself? Do you have other artistic projects outside music?
T: Define myself as an artist? (Laughs, editor's note) Well, I have no idea. Maybe if you were to explain someone what I do, I would say that I'm all over the place and tap into anything I want. I'm also running a US based web-store where we sell 'devil's wear' or something like that. That's something I always wanted to do. And since I have been running Mayhem merch since I started in the band I have learned a thing or two. It's more a creative outlet than a moneymaking machine this web-store I'm doing. But its fun and it's cool when the guys I'm working with actually manage to not fuck up something. (Laughs, editor's note) I'm joking of course. Other than that I don't do much, music and making cool merch is my main thing. In addition to being a YOUTUBER these days.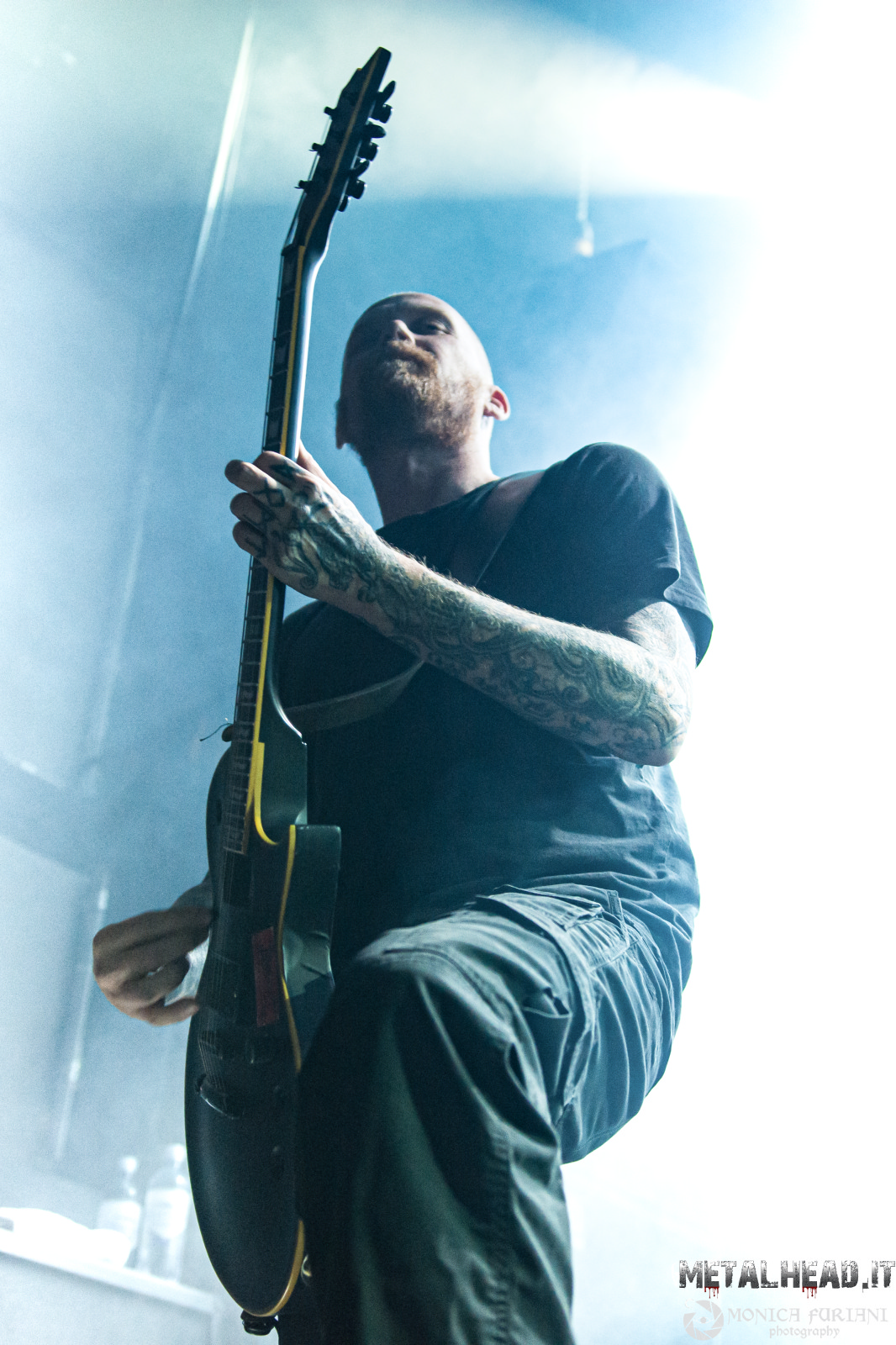 MH: Let's go to "Miami Murder". Of course I did my home work and read all the press release info, before doing the review you've read. But: what about the fact you apparently recorded it couple of years ago and couldn't find time to release until now? I know you were busy (seen you with Mayhem few times, also in Norway such as at Beyond the Gates), but if the music was ready, why not just giving it to a label for release… or did you want to be in control on every single process from master to the final release?
T: In retrospect that would probably be the smartest thing to do. But I'm not smart and there's something cool about doing everything yourself without having to deal with any labels. Insanely more work, but it's a cool ride. Also since I am the only member of the band I do not have to run everything that's going on with any other members, thus making the whole process much faster and enjoyable.
MH: The artwork. As a piston head myself I cannot avoid enjoying the Lamborghini Countach on it… without mentioning the track called "Lambo". Any love or special interest from yourself toward cars, speeds, sport cars, engines or Lamborghini itself?
T: No interest in cars what so ever. But seems Lamborghini is a big art of the synth-wave scene. Also I wanted a dead hooker in a car, so why not a Lamborghini?
MH: The press release claims 'retrofuturistic ride through nostalgic landscapes of Commodore 64 square waves'. Oh, being about your same age (argh!), being myself an 'IT' guy in real life and a vintage computers collectors, I don't see "Miami Murder" being done on a 8 bit machine. Even if some samples could have been (re)digitalized from those sounds. What did you use to create this music, from a technical point of view?
T: I'm using Reason Suite 11, with various VST soft synths. I don't have any analog synths, and I don't want any either. I'm geeking on plenty of other costly things, can't afford any more hobbies (laughs, editor's note). But yeah, I agree with that this couldn't really be made on a 8 bit machine. But I think you can hear that some inspiration comes from these old gaming consoles at least.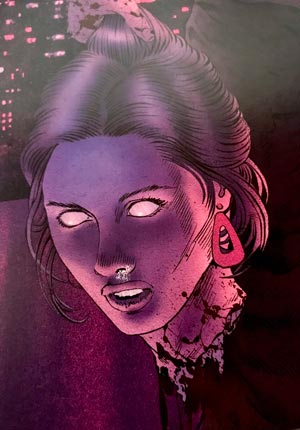 MH: How did you crafted the "Miami Murder" title? What did you want to say, mean or express?
T: I don't really remember, but I think it was something I just typed in real fast when making the song titles. To me the title means cocaine and how that destroyed so many lives in Miami in the 70-80s. The album cover also reflects this via the dead hooker in the car with cocaine residue in her nostrils, you can see if you look closer. (on the back side of the gatefold, editor's note)
MH: Ok, it is an instrumental album, but given that music might express more than thousands words… what was the topic behind the album… what do you "play" about?
T: There was no real concept behind the album. The whole ride started with me wanted to create a typical synth drum beat and some lead sounds. And it evolved from there into what now is that album.
MH: Also the videoclip of "Lambo" seems to be a modern version of a '80s video game… you really kept this topic high. How did it come out, how did you do it?
T: I sent the guy that made this, Dhope Design, color template and also inspirational keywords like "Lamborghini", "Rodeo Drive" and "synth-wave". And he came up with that thing without me telling him much else. Turned out much better than I thought It was going to. Happy with the result!
MH: On another side, the video for the title track looks quite different, with that sexy dancer that -thankfully- hasn't been digitalized. Can you talk of the process that did lead to this (amazing) video?
T: From the director Costin (Chioreanu, editor's note) of Twillight 13 Media: "a collection of both flashes from the story when the murderer meets the lady at a strip club and flashes of the murdered under various drug and alcohol influences (the fucked up ones).". So again this comes back to cocaine in a way, since the stripper got murdered in her hunt for cocaine and got herself killed. Oops! I gave him total creative freedom; at first I wanted him to do a animation video, that he does so well. But he wanted an animation break and wanted to shoot a video instead. I'm very happy he chose to do so and the result is great!
MH: In the track "Fort Apache Marina" you fitted a speed metal guitar in it. Definitely out of topic but totally fitting and pleasant. What can you say about this track?
T: This was one track I didn't plan on having on the album, cause I originally didn't want any guitars on it. But I removed another song in the last minute and needed something else. Hence I used "Fort Apache Marina".
MH: My review mentions the Windir track "Journey To The End". The electronic part of that song feels connected to your music. Was that track somehow inspiring for you?
T: I'm not really a Windir fan and haven't listened to any of their albums, so I can't say anything about it. No idea why, I think I heard one song many many years ago and decided I didn't like it and never checked out anything else by them. Could be I like their stuff if I put it on today. Who knows.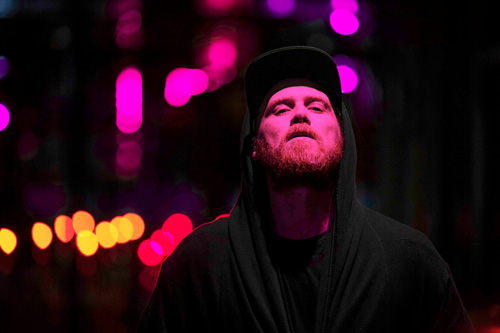 MH: Despite being myself about heavy metal on almost all its form, I cannot deny I love wandering on other lands: progressive rock is one of those lands, but electronic is another one, as I must admit I love music of artists such as Ulver, K-X-P, Televisio and other pretty 'digital' acts. Can you reveal your interest for this music that is quite far from the heavy metal boundaries in which you are famous to play… and I usually should write about?
T: Yeah man, my whole interest with music started with Synth-pop. So that has been something that has always followed me, metal in front, synth-pop in the back as I say. Also I think it's good to challenge yourself a bit and move a bit out of the metal comfort zone. Personally I think that can help you create better metal.
MH: Ok! Thanks for your time. Please, a message to your fans, both of Teloch as metal musician and Bergeton. Close as you wish, maybe telling people why they should own that neon purple vinyl… like I do!
T: Yeah, if you still haven't checked out my release, go have a listen! Whoohoo! Thanks for the purchase my man! And thank you for you support by doing this interview!
(Luca Zakk)
Photo: Monica Furiani, Nima Taheri, Luca Zakk