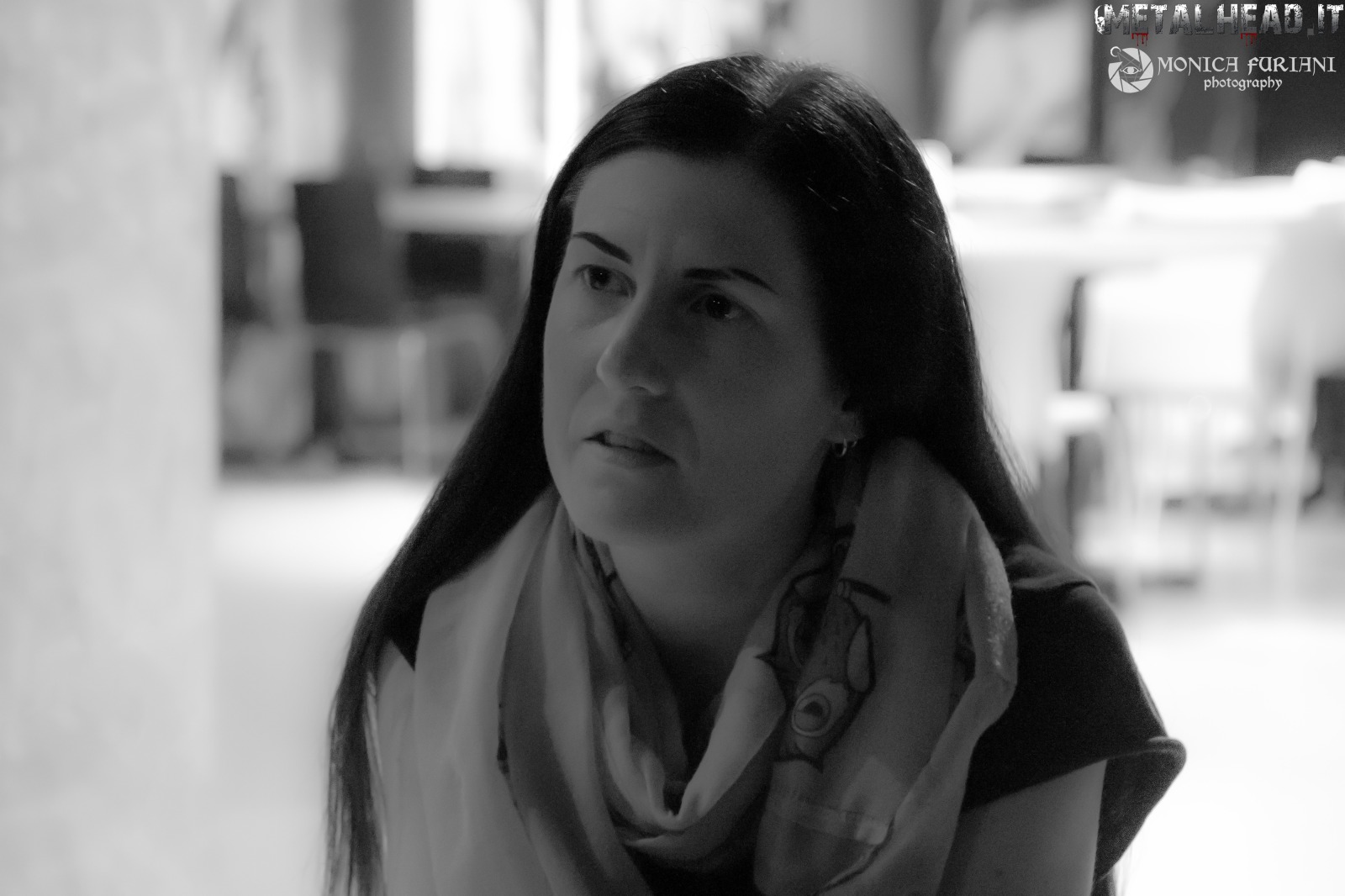 A different point of view. It was very strange talking about Cradle of Filth with somebody else who's not Dani Filth. And not even a core member such as drummers or guitar players. I had the pleasure to spend some time with Lindsay, female vocals and onstage keyboard player of the band. But given the typical erotic gothic oriented thematics of Dani's songs, it has been a pretty new and unusual angle from which looking at this band, getting close to the thirtieth of metal domination! (LEGGILA IN ITALIANO)
MH: Hi Lindsay. How is your tour going so far? Since you completed the eastern and the german area, and with today you're the "latin" leg of the tour.
L: Oh good, really good. We're finally in a flowery thing. Everybody is with the right spirit, we're having a good time, we enjoy our days off, our show days, we have a fantastic crew. Everything is been really good.
MH: Even the weather (it was a cold and dark day in the venue area, editor's note)
L: (laughing, editor's note) Oh yeah! Even that! I mean I am from Canada, I am used to -20°C, so this is nice for me!
MH: It's like summer for you now!
L: It's like summer for me (laughing, editor's note).
MH: Well, you are relatively new in the band. Only 2 albums with Cradle of Filth so far. How is it to be in a band with such a long history (27 years) and such a charismatic leader & master mind, like Dani?
L: I've been in the band for five years now. You know, in the beginning I wasn't sure if I was going to stay, like there was a lot of changing with the band … but you know I eventually got to the thing, I started to understand how Cradle of Filth works and it's been good, I know my place, I do my work, we made a work the line up and the album, which is huge, and so it's good working with Dani. Someone asked me the same on Twitter few days ago and I said that it's interesting to work with him: we are good on some things and we are not good on some other things, so when one is weak on something we give that job to some other. And this is what keeps this line up functioning.
MH: Knowing him, having met and interviewed him before (here), I know he quite the one that well chose who he wants to work with.
L: Yes!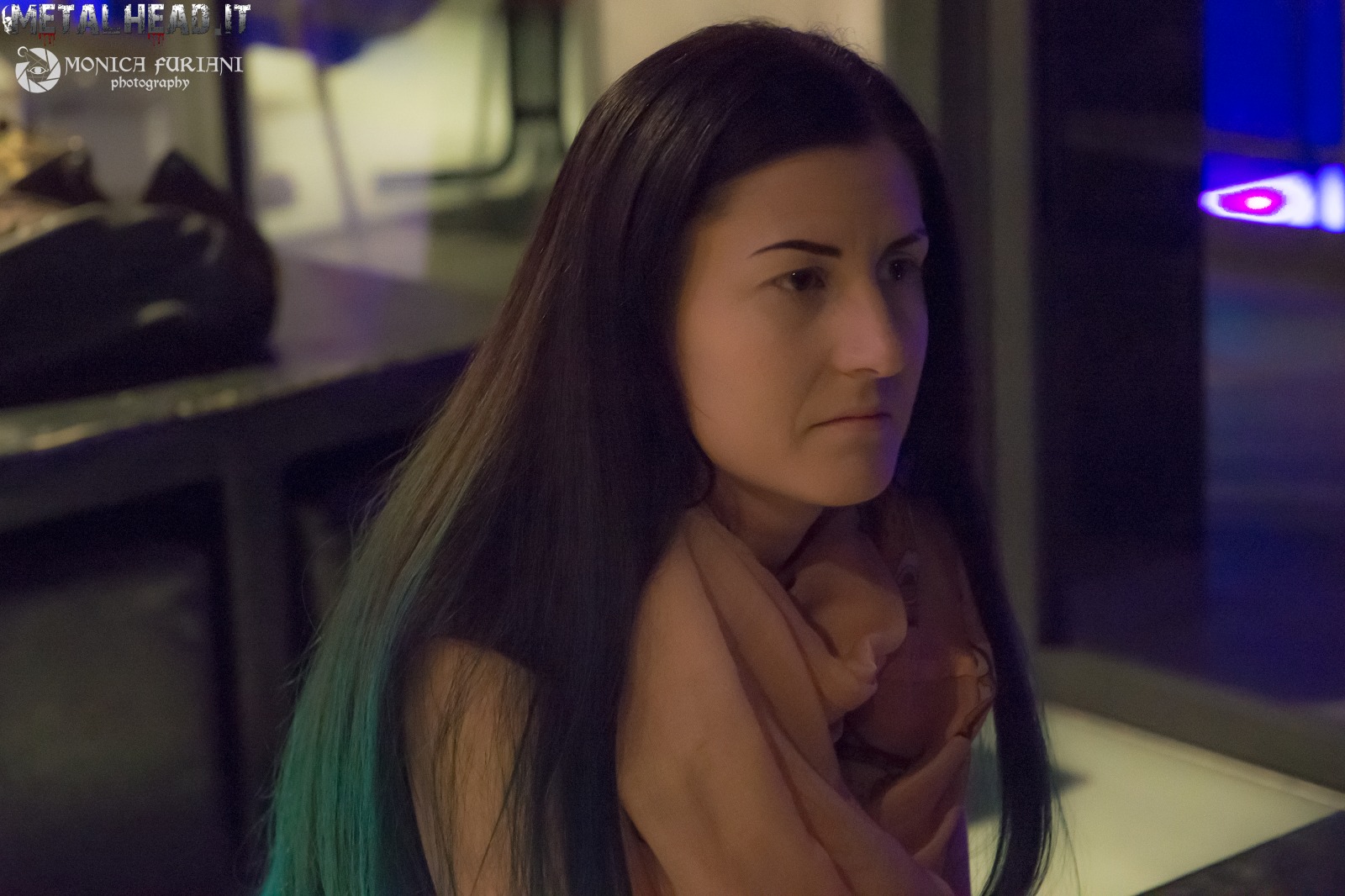 MH: This is a question I thought for you. I checked the set list you bring on this tour. I saw there's the one my my favorite songs of my favorite album, and this is "Bathory Aria". Do you do the speech live or do you use a sample?
L: We use a sample for the speech, because it's taken from the movie, it cannot be emulated, it's a very different voice from mine, so we feel I can't do that speech, but in the end there's the opera part and I've to sing it so…
MH: Because, I reviewed the album when it came out (here), and while focusing on your voice and singing you have a voice tone that I think it is compatible with Ingrid Pitt who was the original voice of the album…
L: Thanks! Cool!
MH: So I wondered if you have this song in the list because there's you that can do it!
L: No. No. When the song has been put in the list I asked Dani if I had to do the speech but he said no, we have the sample.
MH: Maybe he wants somehow do a tribute to the actress who died few years ago
L: Yes. Like a respect thing. It was anyway ultimately up to Dani.
MH: Still about your voice. I've seen you play also "Nymphetamine"...
L: Yes!
MH: It was quite a hit in 2004 when the album was released, and back then the band looked for a singer for this and it turned out to be Liv Kristine, still a guest on the new album, and I've seen that you do it live, I saw some videos…
L: Yes, we do "Nymphetamine"…
MH: and you sing it…
L: Yes! Yes!
MH: And so how is it with your voice which is quite different, not strictly a soprano, I think it's somehow deeper. How do you feel in singing it?
L: It's good I mean I pushed the way I know how to sing and Dani was ok with that. I told Dani I could try to sound like Liv Kristine, but I sound better when I sing like myself, and he said just go ahead and do what you know how to do.
MH: Maybe also because you have a wider range of voice…
L: Yes, he allows me to be myself as a vocalist and there's a lot of voices in Cradle's catalog, there's a lot of female voices, a lot of different speeches, a lot of different singers, and I am the very last and I have a color of four octaves range and because of that I believe I can sing almost every song. Some easier than others, but I find very easy songs like "Nymphetamine" and "The Death of Love", those are in my comfortable range of voice.
MH: In a way you give it a deeper tonality, like more soul somehow, a song that originally was quite high ranged.
L: Yeah! Thank you! Thank you!
MH: Anyway I want to see later onstage, a poor video on the net isn't enough…
L: Great! Thank you!
MH: On my review I wrote that "Cryptoriana", the new album, is a huge step ahead with a return to some emotional roots that the band had in the past. Compared to "Hammer of the Witches" is a step ahead, and compared to "The Manticore and Other Horrors" is even bigger step.
L: Thank you!
MH: Your opinion about this progression and this return to something more spiritual if you want…
L: Yeah, absolutely! I mean it's a good line up now, everyone is involved, is a full band now, I believe that with "Manticore…" there was some quarrels between Martin Škaroupka, our drummer, and Paul Allender at the time, so everything changed, we got four other people, four new people, and there's a lot of collaborating, opinions and there's a lot of material contributed. So because of that I think that we came back to a full band, with dynamic, and it turned out very well, a very powerful way of work. I had more involvement musically on "Hammer of the Witches", I've less on "Cryptoriana", but the guys guys – guitar, bass and drums actually- they were new and they wanted to do, so I took a step back. I knew they were doing fantastic things so I don't want to annoy that so, I kind of let them do what they need to do, what they wanted to do, and it's always a good… decision we all mix and it's decided by the band.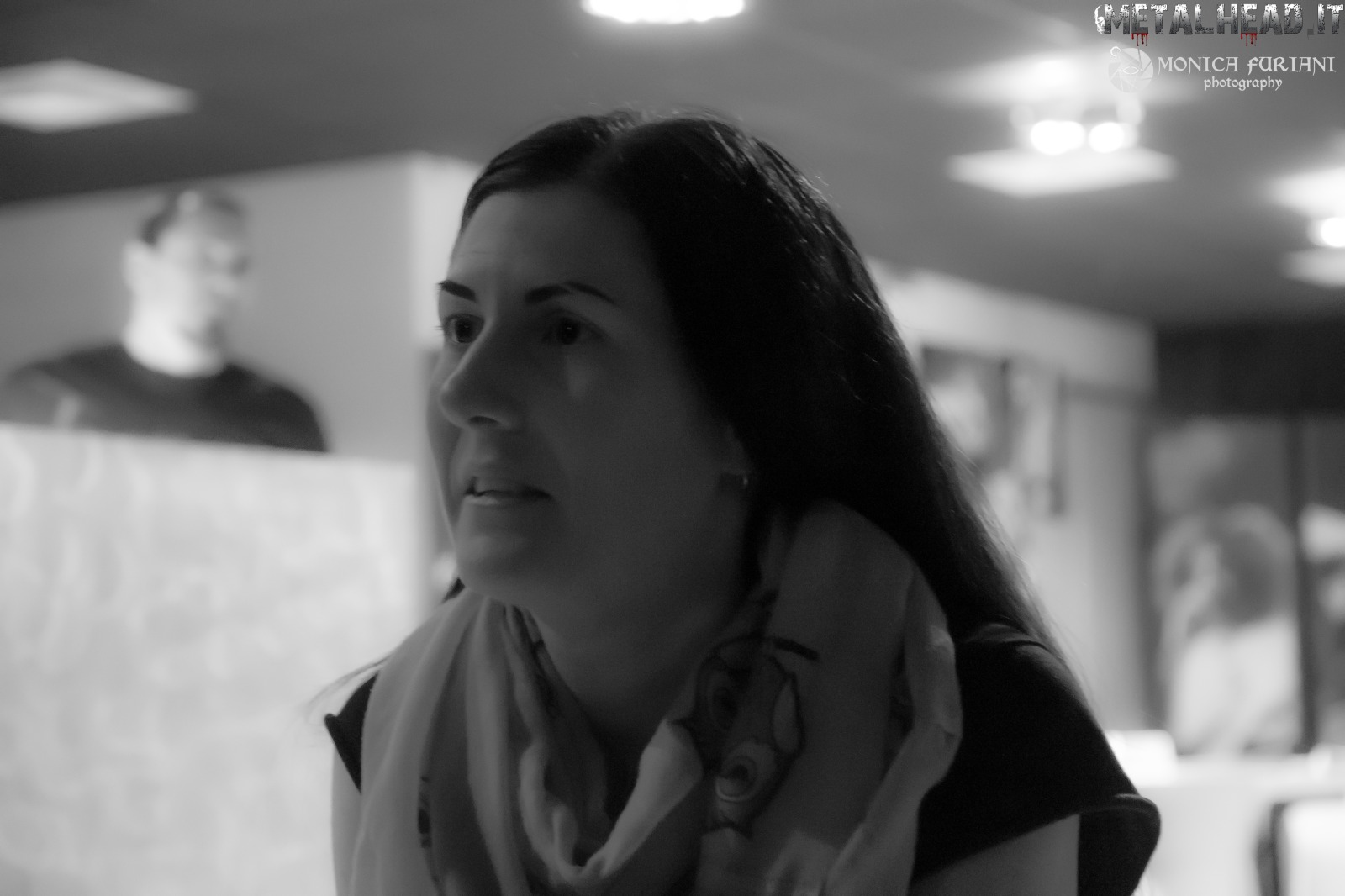 MH: Aside the female voice, you're not the only one taking care of the keys.
L: No, it's our drummer yeah.
MH: So in studio you don't do the keys
L: No. No. No. No. and it's not up to my choice, it's just up the way it is in this band. It's between Dani and Martin.
MH: and don't you think that if you had a full keys role you could contribute more to the sound …
L: Oh. (with a nostalgic sigh, editor's note) Yeah… I mean … I also think I would sound a little more different if I was doing what Martin does. Martin does a great job I think mine would sound probably a little more mainstream… romantic…
MH: … that would sell more!
L: Oh! I guess so! I mean it's one of those things where I kind of contribute what I can but at the end of the day it's up to Martin because it's been in the band for longer, and he is doing what he wants, so I mean I do try to contribute when I can but, I've contributed a lot in the past but the 80% of it gets rejected, and it's ok, because it's maybe not just for Cradle of Filth.
MH: I have some opinions I want to share with you, and get your point of view.
L: Yes.
MH: The return to the quality roots I feel on the last album: it is because of the new people and also because of Dani's side project, Devilment. From my point of view he kind of get out of his role when he is with Devilment, then he got new people in Cradle of Filth and hence refreshed it. So I'd like to know your insider opinion about it.
L: Yeah, I think so. I mean, he loves doing Devilment, it's something he does on the side to get away from Cradle of Filth to clean up, to refresh his mind, which is fine. But yeah, you know… it does help in definitely focus in come back to Cradle. Cradle is a big thing. Cradle is his baby, and he takes it very very seriously. You know, so he does create the containment… every one in the band is in different projects, so we all need to take time from Cradle to do something else, and when we come back we have a fresh approach and that's what keeps the band's dynamic pretty healthy.
MH: Your vision of the band today. All the side of it, band as band, composition, live, what do you see… I've been following the band from the beginning, so I'd like an insider view of what's the band today. Freely say what you think.
L: I think we have a very healthy dynamic. We're like a family, we take care of each other, look after each each other, during touring we help each other out, I think there is less egos, it's more about doing what it's better a great good for the band, and I think we're doing the best we can with what we got and and we are just keep on trying to push forward and do everything we can. Not just for us to make a band but also for the fans, I think, you know, we got some cool ideas and hopefully that can come into full formation in the future.
MH: But besides family or personal life, are you a bunch of people sticking together also on the free time?
L: Yeah! Of course! We all get along!
MH: But in your case, you still live in Canada, right?
L: I live in Canada, but we keep in touch, we get in touch each other almost daily.
MH: So it's not just a job…
L: No, it's just like friend within us (laughing, editor's note).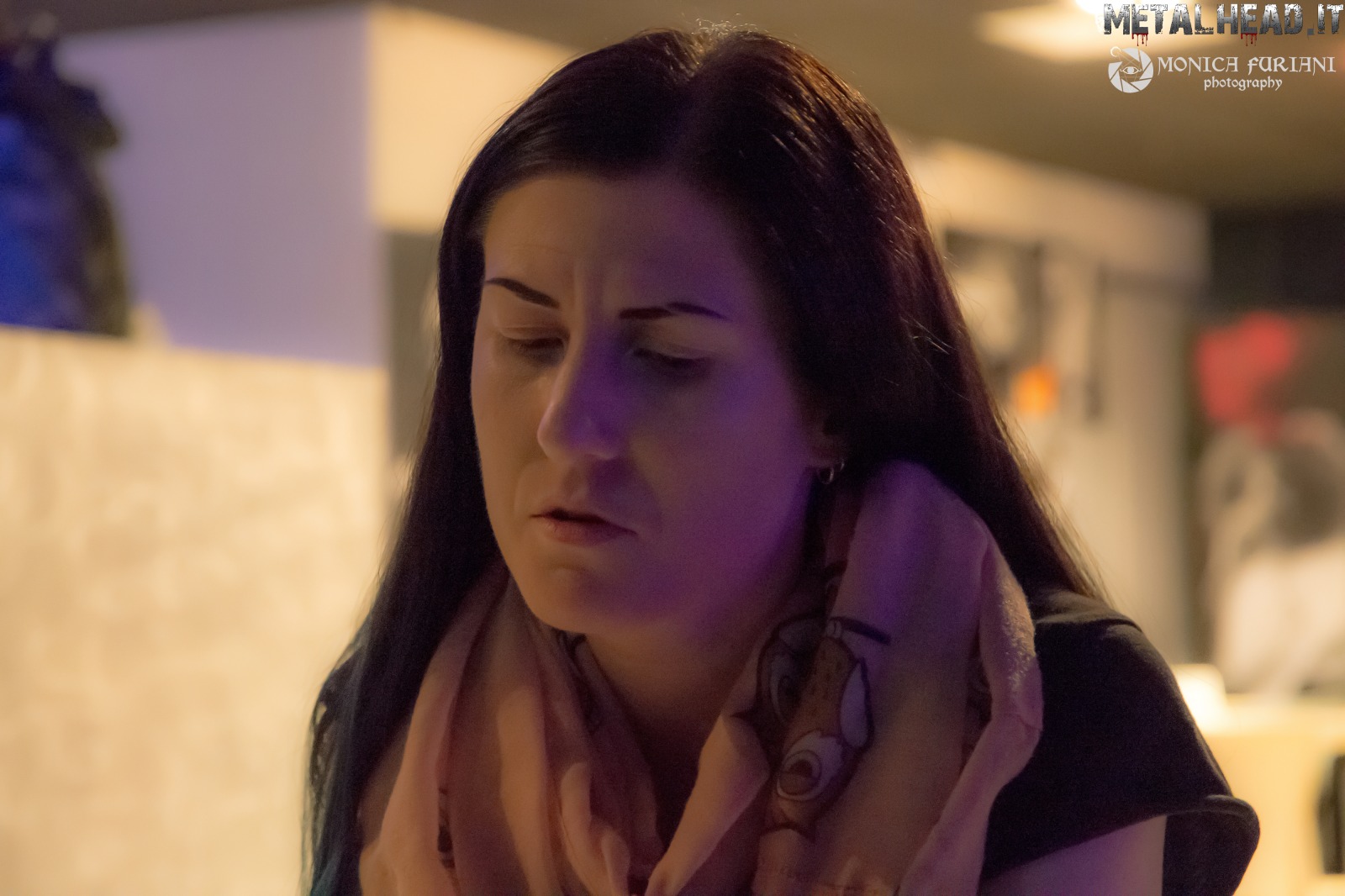 MH: When I interviewed him, Dani, I asked him a question I would like to ask to you too. Me and him are the same age, and so I asked him -I think it was five years ago- how he foresee himself and the band when he will be 50 or 60. And he gave me an answer back then. OK, you're much younger, but I want to ask how you foresee your artistic future. Because at your age being in a black metal band or somehow, is one thing. When you'll be 50 or 60 it's kind of…
L: Different…
MH: … so I would like to know if you have thought about that future.
L: I think about it. Yeah. I've a lot I wanna do. I do what I can for Cradle. I'm also a solo artist, I work really hard about it, I've a side project called Antiqva (with Ne Obliviscaris' vocalist Xenoy, editor's note) which is like black metal fast music combined with classical music.
MH: You were in Karmaflow also, right?
L: Yeah, I did, that was a one time thing. And I like collaborating and doing guest vocals for different projects. And I only ever wanted to something if I am really inspired to do it, and I am really feeling it's something I wanna do. First, when it comes to Cradle, my relationship with Cradle is 'call me when you need me', because you know that's what works best for Cradle, some members I think have to feel that way. Two, and as far as creativity goes, and it's not a Cradle feature, I think first my efforts are mainly focused on my solo band, and that would be my own league as that's something I really feel it's my creative future. I'd always do what I can do to help Cradle of Filth, but as a solo artist that's where I belong.
MH: Artistically would you see yourself in 20-30 years on a stage with a rock band like this or would you think of something deeper, some opera or something like…
L: I'd like of trying everything, like I think I would still be doing rock music, as I love rock music, I can do some heavy metal. I definitely wanna do stuff like stripped down orchestra, or some string sections in a choir, I think it would be something I'd be very interesting in trying.
MH: Thanks, fantastic, I'll ask you the same in 20 years maybe!
L: Yeah! Please do! Cool!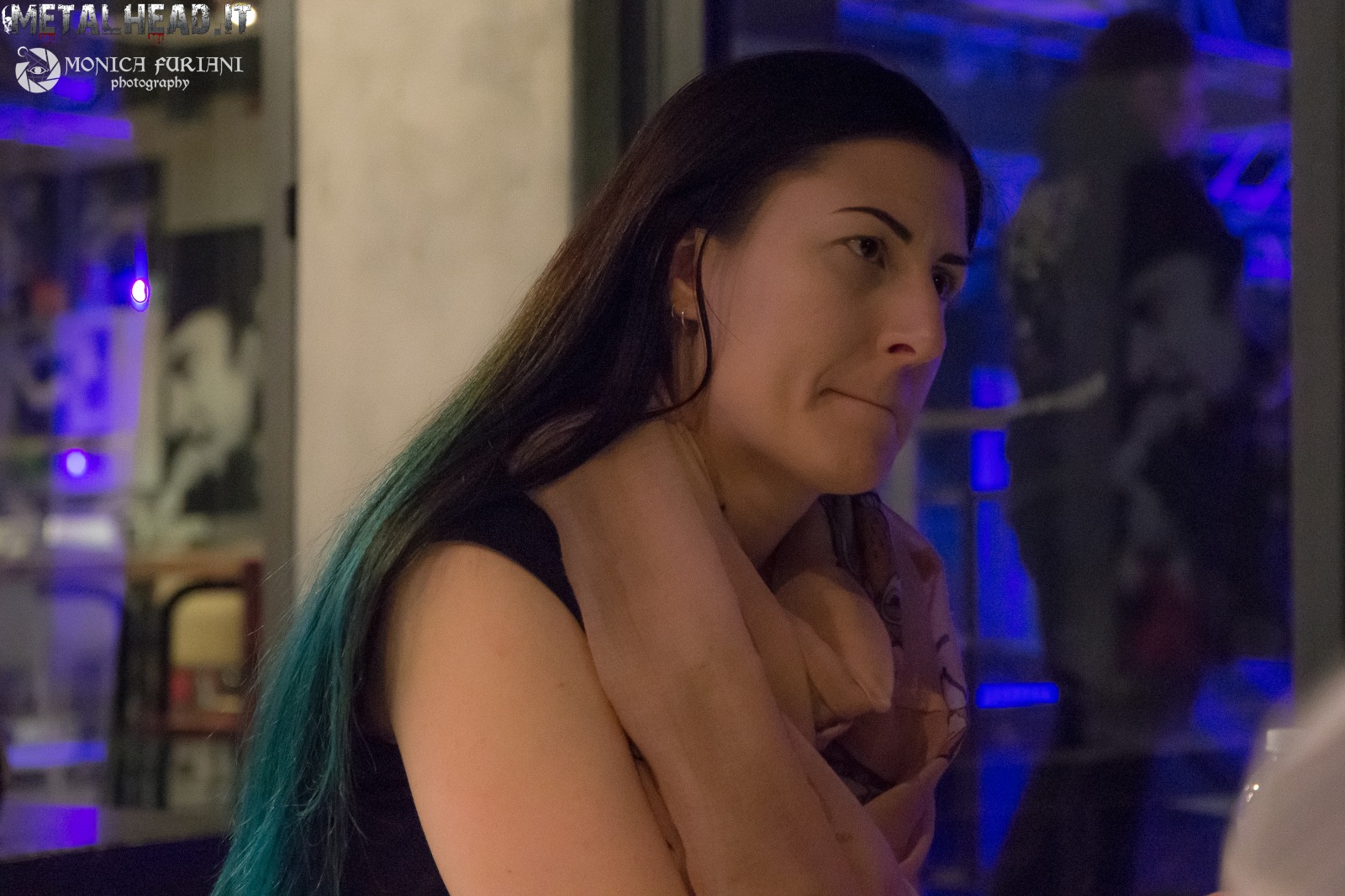 MH: A question coming up while driving here. Dani Filth as a lyrics topic which is quite erotic if you want.
L: Yes!
MH: For me of course it's ok.
L: Of course.
MH: I'd like to know the opinion of a woman playing with him and dealing with these topics on the lyrics, quite erotic, quite sexual -in a spiritual way if you want- and very dark. I'd like to know your female point of view and opinion.
L: It's interesting. In the beginning I wasn't super excited. But I said it's just my job, and I have to do it, but then I realized, you know, my voice has to play those character in the songs and I mean I never took it seriously, I just think it's just stories, and it's nothing really sexual or to jeopardize women. You know, it's just part of the human experience and that's fine.
MH: Ok, thank you! A message for the readers of METALHEAD.IT… and your fans!
L: Oh! Oh! Thank you very much for the support! And thank you for caring about this interview! We will try to keep to come in tour and see everyone, every time in every way we can!
MH: Thank you!
L: Thank you so much!
(Luca Zakk)