So. One day I get this promo from Napalm Records. I mean, Napalm sends us stuff like Satyricon, Candlemass, W.A.S.P. & HammerFall. La Crème de la crème of modern and classic heavy or extreme metal. For some reason I decide to spin "Energia!"… I didn't rate it high, but I found it pretty extravagant, not normal at all. But it did not dig into me. A couple of years later the label sends us "Peace, Love & Russian Roll". I took care of it as I had taken care of the previous, almost an "office task"… but after the first spin, not only I finally understood what "turbo-polka" and "hip-ska" means, but… well.. I felt in LOVE! It haunted me for months to come… the full album still is constantly in my personal playlist. Lately I had the honor to review the madness of "Kosmopoliturbo"… well… what the hell is a band like Russkaja doing in the roster of Napalm Records? So, with the help of my zine-mate, Alberto, I discussed the topic with Engel (guitars)… English version here)
MH (Luca): Hello there! I was saying… "where is metal in your music?"… but also it wants to say… "hey, that's so damn metal, just messed up with a dozen of other music styles". This ain't a question, I agree… but well.. give me a non-answer… have fun…
ENGEL: Yeah that's exactly our thing, mixing up all the stuff is the most fun for us!
MH (Luca): How do you guys got together and gave life to the band? I mean, it's not you put an AD in the next guitar shop saying "Dude wanna set up a metal band, need drum and bass, bla bla – dial 555-666-666". That would take two pages of AD, as instead of 'metal' you should list few dozen of music genres and not less than ten different music instruments!
ENGEL: Georgij (lead vocals, editor's note) had the idea of setting up a band mixing the Russian background he has (born in Moscow and came to Vienna, Austria at the age of 10) with all the other cool stuff out there. Metal, Ska, Rock, Funk etc. Thanks Georgij, it turned out fucking great!
MH (Alberto): Talking about the (recent) past: Back in autumn 2016, you pushed the "Peace, Love & Russian Roll" tour in the "Club-Tour" version… that meant you also devastated smaller clubs, some even with a great past. I saw you guys in Strasbourg (see here). How was it? Was it exciting? Something that might happen again?
ENGEL: That was great, La Laiterie in Strasbourg was really nice! We are touring with the new album right now and it's going great too. We've already devastated Holland and our Hometown Vienna! We'll be on the road til Christmas, so everybody check the dates, come to the shows and have some Vodka and Beer with us!
MH (Alberto): Onstage you are pure fun devastation. Mario talking with me after the gig said the choreography is "all together"… can we dig a little deeper on this?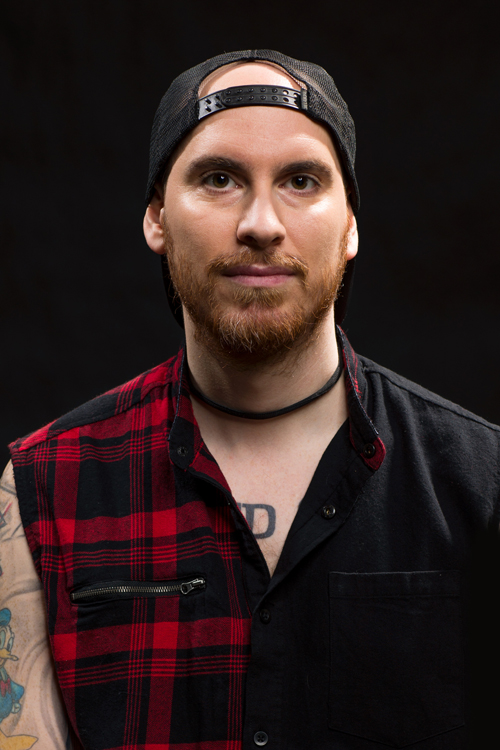 ENGEL: I'm not sure what he meant when you guys were talking but I guess we wanna do the best show we can do for our fans each and every night! Everybody in the band goes on stage with that aim every time!
MH (Luca): This Alberto's question made me remember how I sent him to see Russkaja. The day before he asked all METALHEAD team what would we suggest him to go to see. There were two gigs in the area he could reach. One was a famous gothic metal band, one was Russkaja. The team obviously suggested the goth stuff, while I screamed out loud, yelling him to ignore the goth thing and go to see Russkaja without any single doubt. He is still thanking me for that. Being in a metal label but not really being metal, being the weird thing you are, covering so many styles without belonging to any given genre… how is Russkaja expanding its fanbase? Luca cannot tell everybody "skip the goth and check out these power-ska freaks!"… even if Luca would love to!
ENGEL: (laughs, editor's note) That's funny! I think spreading the word about our music is still the best way to expand! Hopefully we reach as many people as possible!
MH (Alberto): Expanding fans means also touring. Do you confirm your plans to tour the USA? Music genre apart, it's definitely a country to tour around!
ENGEL: Our Booking is still working on that one and I'm really hoping it will happen! And I also hope we'll be touring Japan someday, such a great culture and really different from what we know!
MH (Luca): Somewhere in the 3 reviews I wrote for your releases, I mentioned Manu Chau. To be clear I compared Russkaja to something like "a power-Manu Chao in a schizoid version". Is him an inspiration for Russkaja? Any other artists that really inspired you guys?
ENGEL: For a band like Russkaja there's many inspirations of course, but Manu Chao is definitely one of them! I also love Gogol Bordello a lot! And of course I love all the classics from Jimi Hendrix to Iron Maiden, Miles Davis to Duke Ellington, Ivan Rebroff to Chico Science. We also listen to Eros Ramazzotti a lot in the Tour Bus!
MH (Alberto): You covered some songs and they sounded superb. What's the process you follow for choosing the songs?
ENGEL: We tried to choose some songs that were on the radio at that time and wanted to make them sound "Russkaja Style". Turned out really cool and we're thinking to do that kind of stuff again! Maybe we do a full album of those cover songs one day!
MH (Alberto): Back to label roster topic, let's upgrade to "stage workmates": what band would you love to tour with? And what about sharing the stage and do some fun jam?
ENGEL: I'd love to go on tour with Gogol Bordello or Korpiklaani. We already talked with Korpiklaani's Booking, but unfortunately the timing wasn't right! I hope we find a way to do it in the future. Manu Chao would also be really cool!
MH (Alberto): Your albums artwork got a very unique style. Any guidelines to craft them?
ENGEL: We just follow what the record sounds like. This time we had an excellent Designer called SBÄM. That guy is a genius, please check out his stuff! I have never been happier with a design and he's a very cool dude too.
MH (Luca): I take the chance, after last Alberto's question… starting from the covers… nobody can ignore that peaceful ironic left-winged attitude, which somehow shows up in the lyrics as well, partly in a fun way, partly in a pretty serious way. I don't mind asking political questions, not my job or interest, but what's the thoughts, the ideas, the beliefs spawning a turbo power band like Russkaja, both musically and lyrically?
ENGEL: Russkaja's music is not political, there's so much different influences musically that I don't think anyone can read politics out of it. And we also don't care about putting that kind of stuff in the music and/or lyrics!
MH (Luca): We talked about touring around, the origins of the ideas, the range of styles… you are a band from Austria, you sing in SO MANY languages… you come from so many places. Where are you (many) guys from?
ENGEL: Just like the new album's title says we see ourselves as COSMOPOLITANS. Not the cocktails of course (laughs, editor's note). We travel around a lot and our music is loved by so many different people. We have 1 Russian and 1 Ukrainian guy in the band but we all met in Vienna, Austria. But some of us don't even live in that city currently (laughs, editor's note)
MH (Luca): Sticking to languages. I love your english, sometimes forced with a "heavy" and "foreign" pronunciation (so fun, I love it!!!)… but you sing Russian too, also Spanish, Italian and few more. Can't judge your perfect spoken "vodkized" Russian, but speaking myself Spanish… well congratulations for the job… and being myself Italian, I damn loved the way Georgij sang in Italian (song "Mare Mare"). How many languages do you really know, and how much of what I heard is reached thanks to a language coach?
ENGEL: Georgij can speak Russian, German, English and Spanish. Besides that he is really talented when it comes to whatever language! He's always the first to tell us the words he checked out for the city we're playing in!
MH (Luca): the mentioned "Mare Mare" is so fun. It's almost making fun of Italy and Italian culture (it killed me! I loved it!). But I felt you did the same with few others cultures in other lyrics and using other languages. Where's the limit, the border between being serious and meaning what you sing and being fun and just, well, inject an overdose of (much needed) irony?
ENGEL: In fact we didn't want to make fun of any culture or language! We just fell into the sounds of Adriano Celentano and Paolo Conte during the Songwriting and thought it would be cool to try that with Russkaja as well!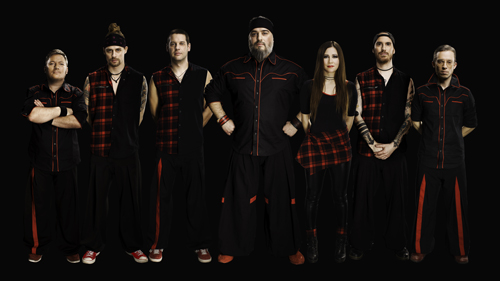 MH (Alberto): Coming to an end: the dream, the target, the highest spot that Russkaja wanna reach?
ENGEL: I try to quote the beloved Dalai Lama: "Expect nothing and you will get everything!" And we want everything of course (laughs, editor's note
MH (Luca): Alberto saw you in France, I missed you in Italy. When will you be back? After all now you got a 100% Italian song!
ENGEL: We'd love to come back to Italy, there's nothing fixed in the moment but I hope there will be some shows very soon!
MH (Luca): Ok! That was great! Thanks for the time. Mostly thanks for the turbo-polka you injected in the world of music. We damn needed it. Please, close this with whatever you feel like saying to old fans, new fans, fans wannabee, fans to be, haters and all readers of METALHEAD.IT.
ENGEL: See ya all at the shows and we're gonna party there! Peace, Love & Kosmopoliturbo!
(Luca Zakk & Alberto Vitale)